Drishti Pant proud to be part of Gujarat's historic Hero Junior Girls' NFC run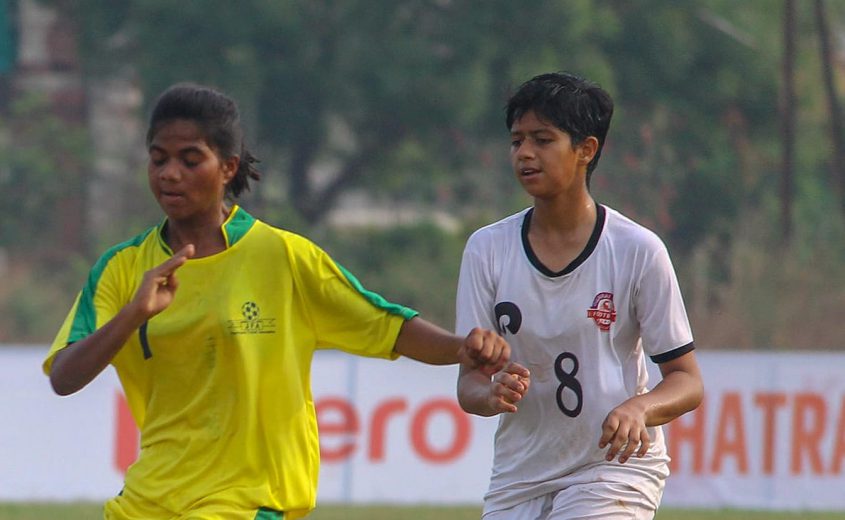 Gujarat bowed out of the ongoing Hero Junior Girls' NFC semifinals after a 3-0 semifinal defeat at the hands of Jharkhand on Monday but not before creating history as the team became the first-ever side from the state to reach the semifinals of any national football championship. 
One of the standout players from the Gujarat side was midfielder Drishti Pant, who played a box-to-box role and was vital for her team on both ends of the pitch, especially in the memorable 1-0 win against Mizoram in the quarterfinals.
Talking about her team's successful run, the 14-year-old from Ahmedabad states, "We reached the semi-finals for the first time ever! We were told it was about 56-57 years ago we had achieved some similar. It was a great feat for us and we can go back with our heads held high. The tournament was a memorable one and I am proud of the way we played."
It was in school that Drishti was first introduced to the beautiful game and in almost no time, she took to it like a duck to water. "I was in 5th standard when I started playing football in school and was completely into it within one year," she explained, before adding, "I train for four hours a day now – two in the morning with my father and two in the evening with the U-15 boys' team of Kahaani FC."
She was impressed with her positional sense, ability to break up play and passing range during the tournament. Talking about her style of play, she opined that she is quick to adjust according to the team's needs. "I alter my game as per the match situation and what the coach requires. I have worked a lot on my shooting and anticipation skills and feel I can play both as an attacking and defensive midfielder," Drishti explained.
The youngster has been training day-in-day-out while balancing sports with studies, and with India set to host the FIFA U-17 Women's World Cup next year, Drishti has her eyes firmly set. "As soon as I heard the news, I was determined to give my best every day in training and at the nationals. I hope I can be a part of the team and make the nation proud," she concluded with a wide smile.
INTRIGUING CONTEST IN STORE BETWEEN JHARKHAND & HIMACHAL IN FINAL
Jharkhand and Himachal Pradesh will face off in the final of the Hero Junior Girls' NFC on Wednesday and the clash between them promises to be a thrilling one – with both teams having displayed immense attacking quality over the course of the tournament and not conceding even one goal so far.
Jharkhand began their campaign with a whopping 21-0 win over Jammu and Kashmir, and their tally now stands at 38 goals in four games – with nearly half (17) scored by forward Sumati Kumari.
Another key player for them has been centre midfielder and skipper Astam Oraon, who has impressed with her playmaking ability and knack of scoring, which has seen her find the target six times.
Himachal Pradesh also boast of a fine and speedy attacking unit, consisting of Manisha up top and the firepower coming from Nisha and Riya Sharma down the wings.
However, their standout player has been midfielder Poonam, scoring three goals – including the injury-time winner in the semifinal against Haryana, and keeping the team ticking over from midfield with her superb ball-playing skills and vision.
---
Follow us on Facebook, Twitter, and Instagram for all the latest happenings in the world of Indian football.