Want my mother to watch me play live, hopes Ashalata Devi
When India won the Hero Tri-Nation tournament in Imphal early this week, India Women's Senior National Team captain Ashalata Devi watched the games with pride, not just for the game, but bursting at the seams with love for the game itself.
"It was a really proud moment for all of us," she says. "And I was watching on social media, the interest, the passion and the numbers of fans who turned up to support the team in Imphal… it was great to see. It shows you how much we care about football."
While feeling proud, Ashalata was also keen to temper this with expectations for more. A simple one, really, one that every sportsperson, young or old, wishes for.
"My mother has never seen me play live," Ashalata says. "I've always wanted her to see me, and have always been waiting for the perfect time to do so. I'm hoping that this experience and the fandom will mean that the Federation will look to return to Manipur soon, and with the women's team that too," hoped the star Indian player.
If so, it would be backed vocally, and visually, like it was done with the Indian team in Tri-Nation tournament. With the Senior Women's National team boasting a sizable Manipuri contingent, helmed and marshalled by the most experienced — and most decorated member of the side, for the girl from Imphal, whose first steps in the game were almost fully financed by her toiling mother, it wouldn't just be a sweet homecoming, but also a redemption tale that could further boost women's football in the state.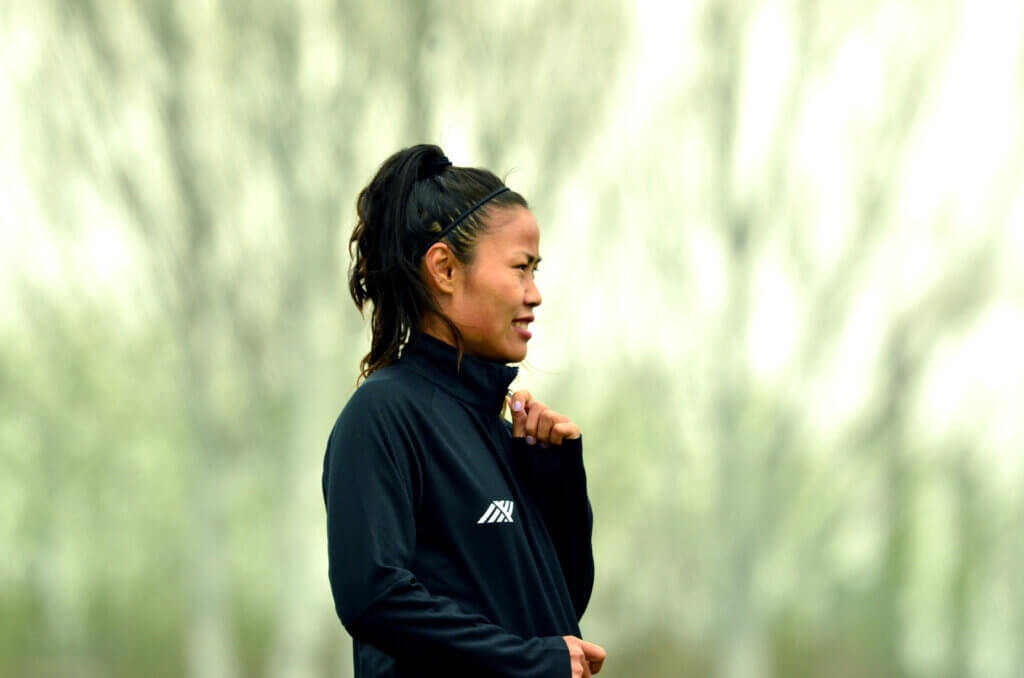 For now, though, Ashalata's focus — akin to a blinkered approach — is erasing the pain of a previous AFC Olympic Qualifier campaign, from 2019, when the team were knocked out in Round 2 on goal difference.
"There are many of us in the team now who were a part of that campaign," she says. "And many more who are injured, recovering, not part of this campaign, who will also be keen to erase those memories. We owe it to them also to go and win these fixtures, so that they can get their chance at redemption in Round 2, too."
The team has been in a three-month camp this year, and the time spent together has strengthened bonds and helped them focus harder on a common goal. The long camp has also meant that several players have shuffled, with injuries pushing some out of the squad and clearing the space for younger, newer faces to come in. For each of them, Ashalata becomes the guiding hand, the one they turn to for advice and even support.
"I always tell them to make sure they are ready to contribute to the team. It doesn't matter whether you get 90 minutes or five minutes, you have to put in full effort when you put on the jersey," she says. "Just playing full out, gaining that experience will help their careers, they'll learn from us, and we will constantly stay on our toes when we are pushed by them.
"I always believe you have to play every game like it is your last. You have to sweat it out, and leave it all there on the pitch," Ashalata said.
Also Read: IC Colts Champions of 5-a-side 50+ Veterans Cup
Also Read: Maharashtra off to a flying start in Hero Senior Women's National Football Championship