From Partizan to Mohammedan, Stojanovic comes full circle in Black and White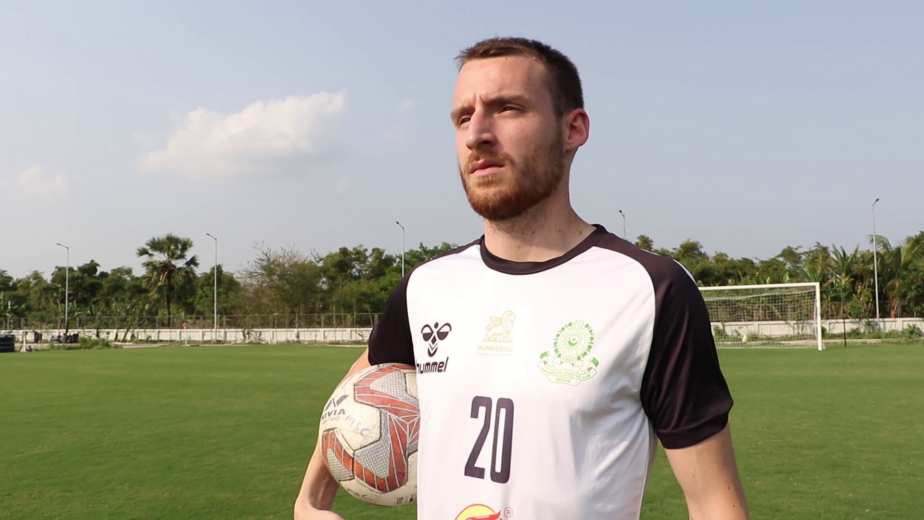 Following the events of the penultimate round of the Hero I-League 2021-22 Championship Stage, Mohammedan Sporting Club has been given an unexpected shot at snatching the title out of Gokulam Kerala's hands. The top two will do battle in a virtual cup final of sorts on Saturday, May 14, at the Vivekananda Yuba Bharati Krirangan where Mohammedan SC skipper Nikola Stojanovic will lead his side out onto the hallowed turf.
The Serbian has been one of their outstanding performers this season with his all-action displays, leading the charts in assists as well as challenges and he sat down for a chat with www.i-league.org to take us through his journey. EXCERPTS:
It has been almost a year since you joined Mohammedan SC in which you have reached the Durand Cup final, won the Calcutta Football League and are currently second in the Hero I-League. How has your experience been?
In Europe, some people speak about India like it is a strange place or some world but when I came here, I was very surprised in a positive way and everything started very nicely. The team accepted me and made me feel at home and the results also picked up soon after. I can say that this is the first time it feels like the club is one really big family and I'm happy to be here.
You started your career at Partizan Belgrade which is a huge historic club in Europe. How did that experience help you in becoming the player and person you are today?
Partizan is like my love. In our country, we say that those who love Partizan have black and white blood! Being part of the academy there helps you not just in football but in life as well like how to respect people and build good relationships with elders. It is a very good starting point like building a house from scratch and everything thereon becomes easier.
Were you always a midfielder from the beginning? Who was your idol when you were growing up?
I changed positions many times. I played as a midfielder but also a little bit like a striker. The midfielders that I liked the most were Andrea Pirlo and Xavi and my favourite striker was Filippo Inzaghi because he scored so many goals very close to the offside line and the way he passionately celebrated after.
On a side note, let's talk about your love for coffee, and running your own cafe, how did that come about?
When I was young, I had the privilege to learn from a man called Dacha who is sadly not with us anymore and he had this pizzeria called Tavolino in Belgrade. He was like a second father to me in terms of learning this Italian way of living. I'm of course proud of where I come from but I always liked this way of life. Later, one of my very good friends opened his own restaurant and then I joined in to help him and it was a nice experience.
How would you assess the season as a whole?
I think it has been a very good season for us in general. Mohammedan SC had gone without winning titles and being competitive for a while so I hope that we showed that this club deserves to be winning and being the best. I'm proud to be part of this group of guys. I never like to speak about personal achievements so I can only say that I am very happy with the season.
Credits: I-League Media
For Trial related updates: Latest trials updates in Mumbai Football
Also Read: Blue Tigers to play All Stars from Hero I-League, Hero Santosh Trophy
Follow us on Facebook, Twitter, and Instagram for all the latest happenings in the world of Indian football