India thump a 5-star win over Sri Lanka in SAFF U-15 Championship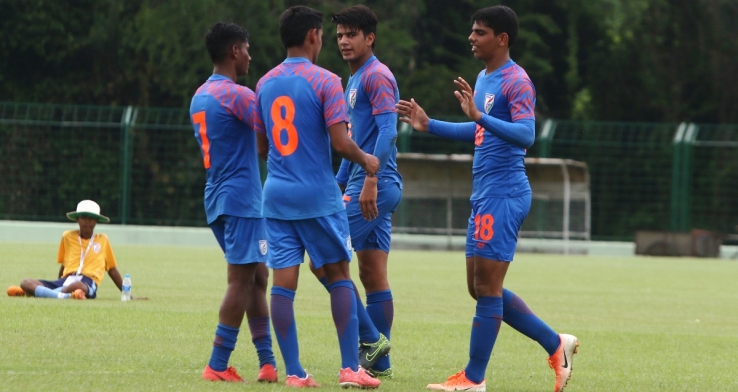 27th August, Kalyani Stadium: The Bibiano Fernandes led India U-15 squad emerged triumphant against Sri Lanka U-15 by a huge 5-0 margin.
The Blue Colt, Himanshu Jangra ran the show as he went on to score a hat-trick. His three goals came at 32′, 42′, and 61′.
The other two goals came from Maheson Singh at 39′ and Subho Paul at 45+3′. Bibiano Fernandes made two changes in his lineup where he introduced Himanshu Jangra upfront in place of Sridarth, and Sibajit Singh was replaced by Satvik Sharma in the midfield.
The Blue Colts were dominant since the match commenced, but the Sri Lanka defence held tightly. India attacking midfielder Maheson Singh was on form, giving ample opportunities to striker Jangra.
However, the striker broke the deadlock when Maheson found him with a defence-splitting pass, as Jangra put the ball into the net.
Soon after, Maheson made an excellent effort from outside the box and doubled the lead, before Jangra could complete his brace as he slipped one past the Lanka keeper.
Shubho Paul made it four during injury time of the first half, as he cut in from the left flank and curled it into the net.
Jangra completed his hattrick in the second half when he skipped past a defender to score.
India is set to play their final fixture of the group stage game against Bangladesh, which starts from 3:00 PM tomorrow at the Kalyani Stadium.
---
Football Counter would love to hear your thoughts or feedback on your experience: Feedback on Football Counter experience
Follow us on Facebook, Twitter, and Instagram for all the latest happenings in the world of Indian football