We have been patiently waiting for this moment to play in front of fans – Kenkre Head Coach Akhil Kothari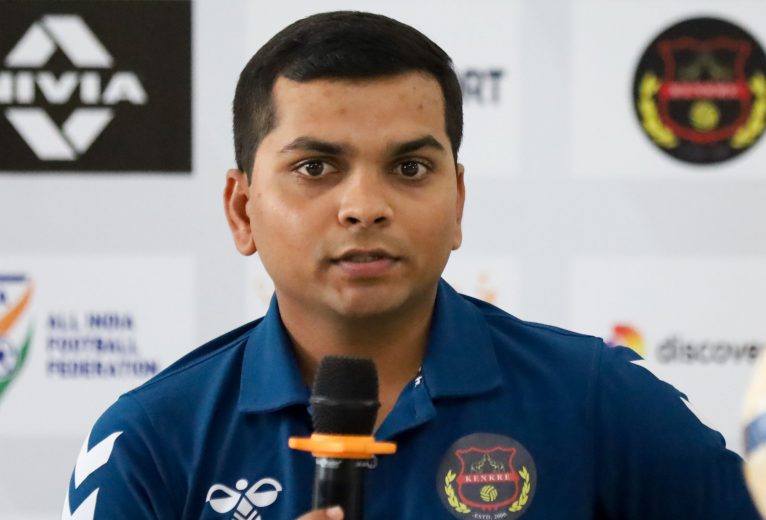 The Hero I-League 2022-23 makes its way to the City of Dreams as hosts Mumbai Kenkre FC get set for their first home game of the season.
Kenkre FC will be up against neighbors Churchill Brothers FC Goa at the iconic Cooperage Stadium on Thursday, November 24, 2022.
After having waited for 13 games to find their first win last season, Kenkre made a positive start this time around, registering a magnificent 2-1 win in the opening game against Sudeva Delhi. Although they suffered a loss in the next game against TRAU, Kenkre head coach Akhil Kothari still called it a good start and termed tomorrow's match as a new challenge.
Speaking at the pre-match press conference, he said, "Our start has been good and even though we lost our previous game, we did create a lot of chances. Tomorrow's match will be an exciting one and all of us know our roles and responsibilities. Churchill Brothers are a seasoned opposition and the match will be a new challenge for us."
Kenkre has faced the Goan outfit twice before, including last month in a preseason tournament. Brushing them aside Coach Akhil mentioned focusing on the match tomorrow. "We faced them in Baji Rout Cup but that was a preseason tournament, Tomorrow will be a fresh league game and we need to follow the roles and responsibilities given and hopefully we will have an exciting game."
Forward Ranjeet Pandre expressed his delight ahead of his team's first home match. "We are all very excited to be playing for the first time at the Cooperage Stadium in the Hero I-League. We will have our Friends and family watching us. I hope the fans come out in numbers to support us and we can pick up the victory for them," he said.
Adding about tomorrow's game in front of the fans, Head Coach Akhil Kothari added "Yeah, it will be special for us as our team is majorly comprised of local talents of Maharashtra. As a club, we have been patiently waiting for this moment since the club's inception. We want the people from Mumbai and Maharashtra to come and watch us play. This club was simply started by people who loved the sports and I hope our players can excite and motivate young footballers to take up the sport."
Also Read: We know we need to play very well against Kenkre to get the three points – Churchill Brothers head coach Antonio Rueda