Challenge Accepted | The untold story of Pratik Chaudhari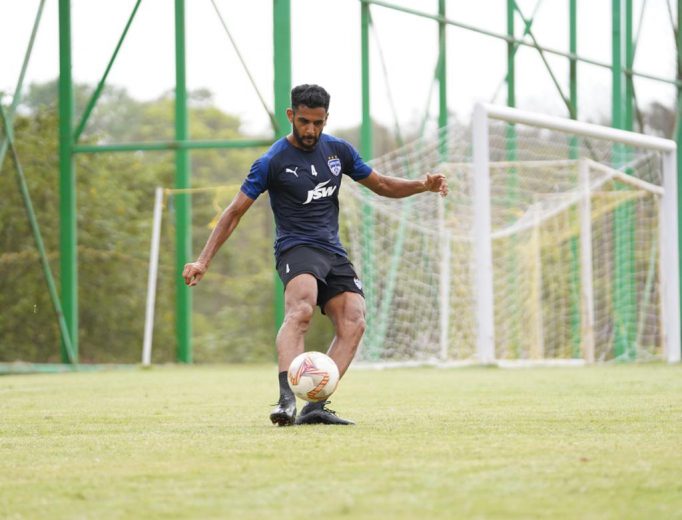 Growing up in Mumbai, football for Pratik happened at St. Sebastian School in Chembur. He showed keen interest to learn the game and slowly started to improve his craft.
"After my school, I was introduced to RCF Youth Council JAT Boys – the local team in the 3rd division of MDFA. The start was slow, but my interest and inclination towards football kept growing. Coming from a humble middle-class household, having to focus on studies was always a priority. Things took a serious turn after I joined Pillai college and was introduced to higher division teams like Bank of India & Union Bank of India."
Living in urban Mumbai demands higher costs, and the responsibilities get bigger when you are the sole earner for your family. Pratik took up a job in a call centre to make ends meet and support his parents whilst juggling academics and football. While he was in college, he would train long hours either in the morning or evening and then go for his job.
Pratik's friends also shared some of their memories with him during their college days. "Maturity kicked in much earlier for Pratik than it did to most of us. Having realised that he has responsibilities to shoulder, he opted to work at a BPO which got him a decent amount of money to support his family. Having been in the same college, we saw him work night shifts at the BPO and get dropped home at odd hours of the morning. But he persisted through adversities and stood robust to achieve his dreams."
Fortune favours the Brave
"Getting a chance in the squad and receiving a decent stipend reinstated my faith in the initial days. I kept believing in myself and worked hard. As luck would have it, back in the day, when one of my teammates did not turn up, and I who until then was playing the role of a Central Attacking Midfielder was asked to pitch in as a makeshift Stopper Back by our Coach Julian Sir against a larger than life Air India Senior team. Luckily for me, I had an exceptional day and stood my ground. It caught the attention of coaches at Air India, who later approached and gave me my first professional contract."
After his stint in the MDFA, Pratik started playing in the I-League for Air India. Becoming one of the pillars at defence, he soon received calls from Rangdajied FC and Mohun Bagan.
"The turning point of his career was the game for UBI where he got the chance to play against the Air India senior team. For the first time, he played in defence and had a very good game. He was noticed by Godfrey Pereira – the coach of Air India, and the rest is history" told one of Pratik's friends.
Perseverance Pays
Finally, after stints at the I-League, his persistence got him a contact at the ISL. Pratik went on to represent Kerala Blasters, Delhi Dynamos, Jamshedpur FC, Mumbai City FC and finally Bengaluru FC. 
While discussing the perks and differences between I-League and the Indian Super League, he said, "Getting into Air India & Rangdajied FC was my introduction to a professional setup and then playing for Mohun Bagan & Mumbai FC added to the experience. Playing in the ISL has its own set of positives"
Representing five teams in the ISL, Pratik explained how different the exposure has been.
"Every team has its unique strategy & vibe. For me, each opportunity has been a learning experience in itself wherein I have not only learnt a lot about the game but also about myself.
All the teams, players & coaches I have played for in the past and present hold an important place in shaping my character & career. Especially my first coach Jude Patrick Sir and also to my coaches in the Mumbai Football League, to I-League & the ISL, all of them have played a vital role in the making & moulding of what I am today. Owe a lot and everything to them."
When asked how difficult it became to manage the job and football during his initial days, he replied, "Nothing comes easy in life but doing what you love can be a way to make things easy. Taking up a job was a necessity for me and my family, but pursuing my passion was a challenge I took for myself. It is perhaps something that kept me going and helped me work harder than anything else."
Pratik currently plays for Bengaluru FC alongside Indian football captain Sunil Chettri and co.