Journey from academy football to I-League | Madan Ghogale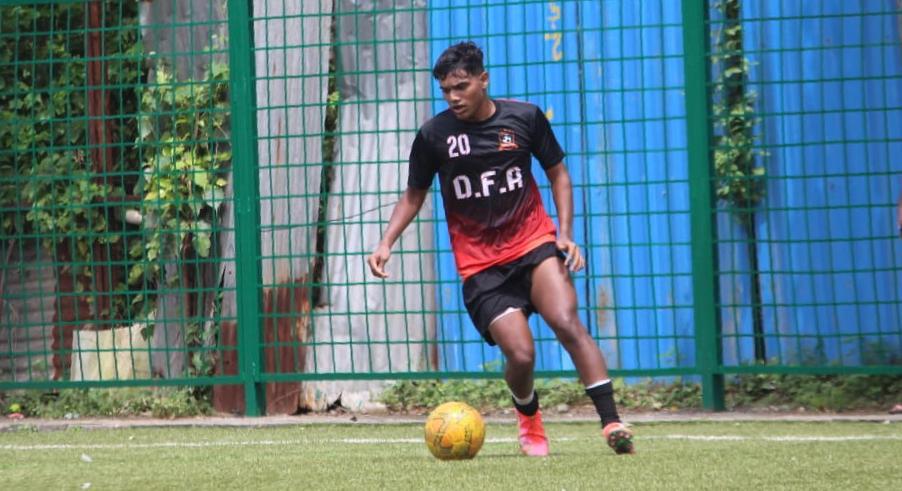 FootballCounter went up and close with Madan Ghogale, who recently got promoted himself to Neroca FC, an I-League team. Previously, he plied his trade for Mumbai-based D'Souza Football Academy. 
Excerpts
How are you feeling after this switch from DSouza FA to Neroca FC?
It's like a dream come true, I have worked so hard to reach here, and it feels good to get results finally. Playing at this level can be arduous, hence the focus is to take one step at a time.
 Run us through your initial days in football and the journey so far?
I have loved the sport since childhood. My journey was never a smooth sail, but persistence made it count. I've worked hard and tried to dream big always. I think that is the reason I received an opportunity. My family played a pivotal role in my journey, and so did my friends. (laughs)
Learnings from last season with Dsouza FA?
Last season was incredible for me. I scored many goals and won many games!
DFA helped me build the basics. Thanks to the coaches, teammates and staff. I have shared unforgettable memories with this club, which can be cherished for a lifetime. Special thanks to my constant motivator Clayton Dsouza sir.
 Future plans and ambitions?
I plan to perform and give my everything to Neroca FC and their fans. I hope we will get back on track and win the I-League. My ultimate dream is to represent India. 
Madan also had a brief stint in Spain. He represented Elite Union Academy in Europe's biggest youth tournament, the MIC cup in Spain. He has also been to Spain before at 16 to play for Malaga City FC in Torrox Cup 2017-18.
Enlisting himself in the elite club, the 20-year-old left-winger looks forward to a bright season in the I-League with added zeal and commitment!
For Trial related updates: Latest trials updates in Mumbai Football
Also Read: "The Istanbul opportunity is like a dream come true", says UK United captain Shravan Shetty
Follow us on Facebook, Twitter, and Instagram for all the latest happenings in the world of Indian football