PIFA Colaba FC outclass Sellebrity FC, Mumbai Soccer, Chheda Nagar win big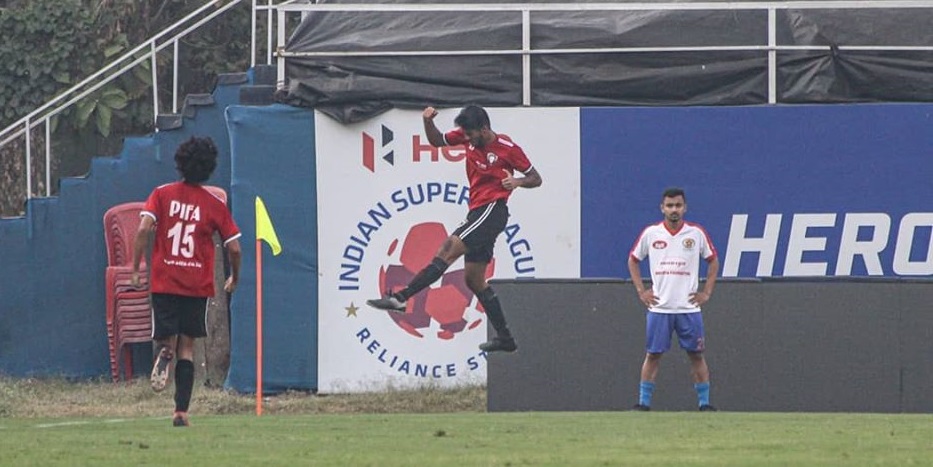 Second half goals from Kaiwalya and Nawab gave PIFA Colaba FC a 2-0 win over Sellebrity FC in MDFA Elite Division encounter. Meanwhile, Mumbai Soccer, Chheda Nagar win big in Super Division
The MDFA Elite Division (Private) group game between PIFA Colaba FC and Sellebrity FC was played out at Mumbai football Arena, Andheri on Tuesday.
After a cagey start with a goalless first half, PIFA grew in to the game and started attacking with more intent. They finally managed to break the deadlock when in the 70th minute Hafiz Rehman sent in a through ball for Kaiwalya whose shot in a one on one situation rebounded off the goalkeeper as the ball bounced up awkwardly Kaiwalya was alert enough to head it again goal wards as the ball nestled back in to the net to put PIFA 1-0 up.
Ten minutes later, Nawab doubled the lead when he headed a ball past the goalkeeper from a well taken freekick from near the corner post.  2-0 up PIFA then went on to comfortabley close down the game to take all three points.
Meanwhile in Super Division, Mumbai Soccer rode on Gaurav Adhikari's 2nd half hat-trick to beat Central Railway MD 5-1. After veteran Kasif Jamal scored a 44th minute goal to send CR in lead at break, Shavez Surve struck an immediate equaliser after restart to bring the game on level terms. Then Gaurav Adhikari struck an impressive hat-trick with Girish Kamath  chipping in with one to close the game 5-1.
Also Read: Azza injury time goal propels Air India to win over Central Railway
Meanwhile in other Super division encounter, Chheda Nagar demolished Tarun Sporting Club with a 6-1 victory margin. Yash Babar, Hriday Shetty, Saif Khan, Sumit Chaurasiya, Pranit Gaikwad, Pushkar Patel all scored a goal apiece while Aakez Abuzer scored the lone goal for Tarun SC.
Results:
Elite Division:
PIFA Colaba FC (Kaiwalya Tare 70', Nawab Chhabra 80') 2 – 0 Sellebrity FC
Super division:
Mumbai Soccer (CNP) (Shavez Surve 50′, Gaurav Adhikari 58′, 70′, 90+2′, Girish Kamath 69′) 5 – 1 Central R.MD (Kasif Jamal Ansari 44′)
Chheda Nagar F.(Fan) (Yash Babar 5′, Hriday Shetty 43′, Saif Khan 66′, Sumit Chaurasiya 50′, Pranit Gaikwad 85′, Pushkar Patel 90′) 6 – 1 Tarun Sporting Club (Aakef Abuzer 26′)
2nd Division
KNFC (Zaid Khan 38', 45') 2 – 1 Britacel Silicones (Sandesh Gupta (Own Goal) 70+2')
Oscar SSE 0 – 3 7070 FC (Adnan 11', Arun Gupta 17', Rajesh 50')
Air India Youth (Siddhant Pawar 27', Shubham Shukla 57') 2 – 1 United FC (Sohail Ahmed Shaikh 51')
---
Show off your Indian and European football knowledge with the football fantasy game from Playerzpot. Download the App with our special Footballcounter referral code, start playing and win cash daily.
Download app here: Link or click on the image below