India's drought continues as they concede at the dying moments against Oman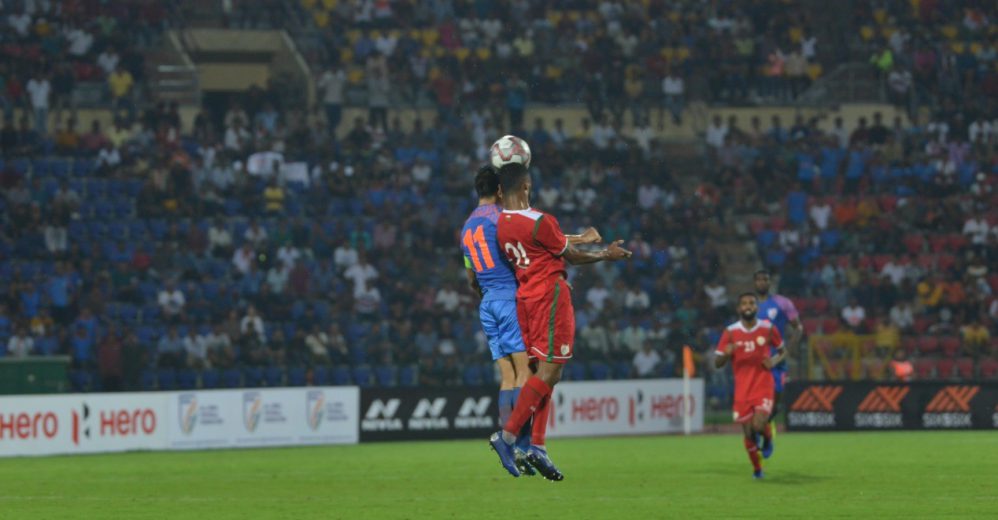 5th August, Guwahati: India's ship sunk to Oman's strike at the dying stages. The Indian team lost 1-2 at the fag end of the match. History repeated itself, as the same happened when India faced Oman in 2015 for the Russia 2018 World Cup Qualifiers. The team lost 1-2 in Bengaluru. The only goal came from Sunil Chhetri's left-footed attempt that day.
Ironically, the captain, leader, legend scored today as well but failed to lead his side to victory, yet again. India started the match well. They were the dominant side in the opening half. The team had the opportunity to take an early lead at the 15th minute. A mistake from the opposition keeper while taking a freekick saw Anirudh Thapa play a lofted ball to Sunil Chhetri. Chhetri could have made an individual effort but he instead played a crisp pass to Udanta who went on to hit the woodwork.
Similarly, in the 20th minute, Sandesh Jhingan's header from a corner couldn't find the net. Soon, the talismanic Sunil Chhetri rose to the occasion and netted the first goal of the match at the 24th minute. A pass from Brandon Fernandes from a free-kick saw Sunil's left-footed attempt hit the target. The Indian team drew the first blood after continued attempts.
Oman's only considerable chance before the first half came at the 43rd minute. Gurpreet Singh made an amazing save to keep the Omani striker's header at bay. The first half ended on the home team's favour where they headed to the tunnel with a solitary goal lead.
The second half commenced witnessing the travelling team launch several attacks. Igor Stimac's boys applied a much more cautious approach after the change of ends. The Indian team initially dealt well with the opposition. But soon the men in Blue seemed tired. Gurpreet Singh Sandhu made crucial saves to keep India into the game.
However, the last 15 minutes for team India under Igor Stimac has been more of a nightmare. India has lost most of their matches conceding at the last 15 crucial minutes. Nothing changed today, as, at the 82nd mark, Al-Mandhar of Oman equalled the deficit. He further went on to complete his brace at the dying minutes of the match. When the clock struck 90 and the game was headed towards the added time, Al Mandhar finished it in favour of Oman. The 24-year-old on the last minute of regulation time, cut in from the left and rifled his shot into the back of the net. India failed to script history and the drought continues.
Team India now look forward to playing against Qatar, at their backyard in Doha on 10th September 2019 for the joint qualification of the 2022 FIFA World Cup and the 2023 AFC Asian Cup.
CREDITS: AIFF Media
---
Football Counter would love to hear your thoughts or feedback on your experience: Feedback on Football Counter experience
Follow us on Facebook, Twitter, and Instagram for all the latest happenings in the world of Indian football