Astonia Tech, 63 Moons dominate day 1 of Nashi Argan Pneuma Corporate Cup 2018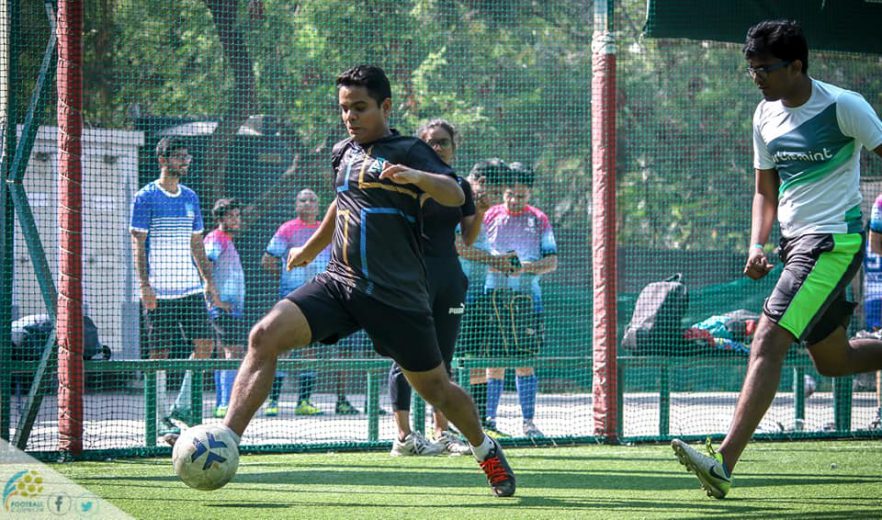 Day 1 of the Inaugural 'Nashi Argan Pneuma Corporate Cup' concluded with all three table toppers ending the day with all win records. 63 Moons alongside the two sides fielded by Astonia Tech topped their respective groups.
Group A:
With a close 2-1 win over Afcons, followed by a 3-0 win over IMCL, 63 Moons claimed the pole spot. Meanwhile, Afcons who had earlier succumbed to a narrow defeat bounced back with a 7-1 win over IMCL to take the 2nd spot.
Group B:
In group B, Astonia Tech 1 topped the group with dominating wins over Bruce logistics and Turtlemint. However, the latter two played out an entertaining draw to salvage a point for themselves with Bruce Logistics poorer goal difference keeping them at the bottom spot.
Group C:
Astonia Tech 2's slick passing clinical approach to the games has put them out as one of the favourites for the title. Astonia Tech 2 dictated terms in both the group games, running riot in front of goals, scoring 11-0 and 13-0 wins. Of the other two teams, Aasaan Jobs picked a comfortable 8-0 win over Fashion Identity.
Four teams qualified for the next round to be played next week, apart from the 3 table toppers, the best 2nd placed side goes through to join the other three. Both Astonia Tech teams and 63 Moons qualified on the basis of topping the table. Group A side Afcons and Group C side Aasaan Jobs both had 3 points in total with the former going through to next round having better goal difference.
For complete information on the tournament click here: http://bit.ly/2zPNtrU
Follow us on Facebook and Twitter for more updated on Mumbai & Indian Football