Age group I-League sees 206 teams participating in all for this season
As many as 206 teams will ply their trade across the three different age-group competitions this season which will kick-off in October 2017.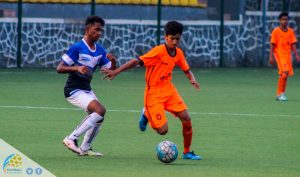 In pursuit of creating a robust football structure across the length and breadth of the country, the All India Football Federation has always been supportive and encouraging to the Grassroots Football.
Teams from I-league, Indian Super League, Second Division League (as per last year only), Sports Authority of India and accredited academies under the AIFF Academy Accreditation Program are going to participate in the three separate Youth Leagues (U-13, U-15 and U-18 age-groups). It'll be the first season of the U-13 Youth League while the U-15 Youth League will fall into its third season.
Speaking on the huge participation in the youth leagues, Mr. Sunando Dhar, CEO of I-League said, "206 is a huge number and it rightly depicts that we're heading towards the right direction to broad base the youth football across the country."
This is the first instance when the AIFF will implement the 'Home-grown' rule which signifies that each of the 206 teams has to register a minimum number of 6 home-grown players in the squad. A player who is born in the same state where the parent club is registered will be tagged as a 'Home-grown' player.
Also Read: India jumps three places in the latest AFC club competition rankings
Mr. Dhar stated, "This Home-grown rule will not only help us reach out to every nook and cranny of the country but also aid the State associations to build a strong football pyramid. Eventually, it'll serve its purpose to pick the talents across the whole nation but not from certain pockets of the country."
When 80 teams have already confirmed their participation in the U-15 age group, 70 and 56 teams will take part in the U-13 and U-18 Youth League respectively. U-18 Youth League qualifying round is scheduled to start in Chennai, Maharashtra, Kolkata and Delhi at a time on November 20, 2017.
Having the pre-qualifying rounds for U-15 and U-13 Youth League already kicked off in New Delhi, the U-15 and U-13 Youth League qualifying rounds are scheduled to start on October 26, 2017 and October 28, 2017 respectively.
– Courtesy AIFF Media
Follow us on Twitter and Facebook for more updates on Indian Football