Usham Singh the Phoenix rises to silence doubting Thomases
The beautiful game often presents opportunities to those who play it. Perhaps more so to the attackers than to the ones at the other end of the pitch.
But every once in a while, it's the defenders who turn up at the right spot at the right time, and fire it home to earn their team the points, which is exactly what happened in the India U-16s' opening match of the SAFF U-16 Championship 2023 against Bangladesh at the Changlimithang Football Stadium in Thimphu, Bhutan.
India fullback Thoungamba Usham Singh made a lung-bursting run all the way into the opposition box in the 74th minute and was rewarded for his efforts when a rebound off a Manbhakupar Malngiang shot fell to the former, with the goal gaping wide.
"I couldn't believe it when I saw the ball land at my feet. The goalkeeper had just made a save and he was in no position to save it, and all I had to do was to poke it in," said a grinning Usham after the match.
It was an afternoon of hard toil for the team against Bangladesh on Saturday, September 2, but it was also a very special occasion for all the Indian boys on the pitch. This was the first time that they were playing international football at any age group.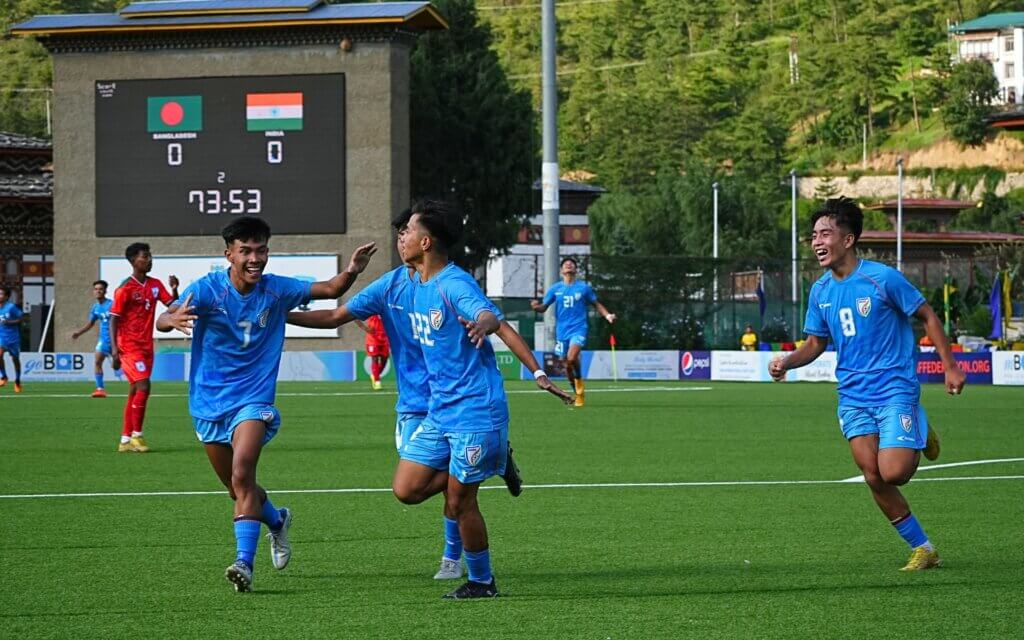 "It was a very memorable day for us all. We had all played for our clubs domestically, but never have we operated at the international level in such a manner before," said Usham. "It was a different feeling to experience all the pre-match ceremonies, the anthems, and the photos. We were all in a bit of awe when these things were happening.
"But once the match started, it was all about the game," he recalled.
TRY AND TRY AGAIN
Grit and determination are two things that clearly define Usham Singh's journey so far. The youngster, who hails from the Kakching district in Manipur, was born to a family that runs a rice mill and is one of three siblings.
Growing up, Usham had played football with his friends at the grassroots level, before deciding that he may just well be good enough to go for trials at various clubs. In fact, the nimble fullback had been rejected by the academies of two major football clubs from the North and South of India, before ultimately being accepted by RoundGlass Punjab three years ago.
"It was not easy to be rejected at the trials again and again. I constantly had doubts about whether any academy would accept me. I even thought maybe I should just quit playing football seriously and focus on my studies," said Usham.
In fact, the doubts seeped into his family as well, so much so that despite ultimately being accepted by RoundGlass Punjab, Usham's parents were not quite convinced.
"My parents saw me being rejected by a few clubs and they did not quite buy the idea of me pursuing football. Even after I went for the U-16 National Team trials in Punjab and got shortlisted, they were not convinced," he said.
Now, having made it to the final squad for the SAFF U-16 Championship, and after scoring in his first game, things seem a little better at home. "They're obviously happy that I scored. I haven't had the opportunity to speak to them for long, but we will see once I get back," said Usham.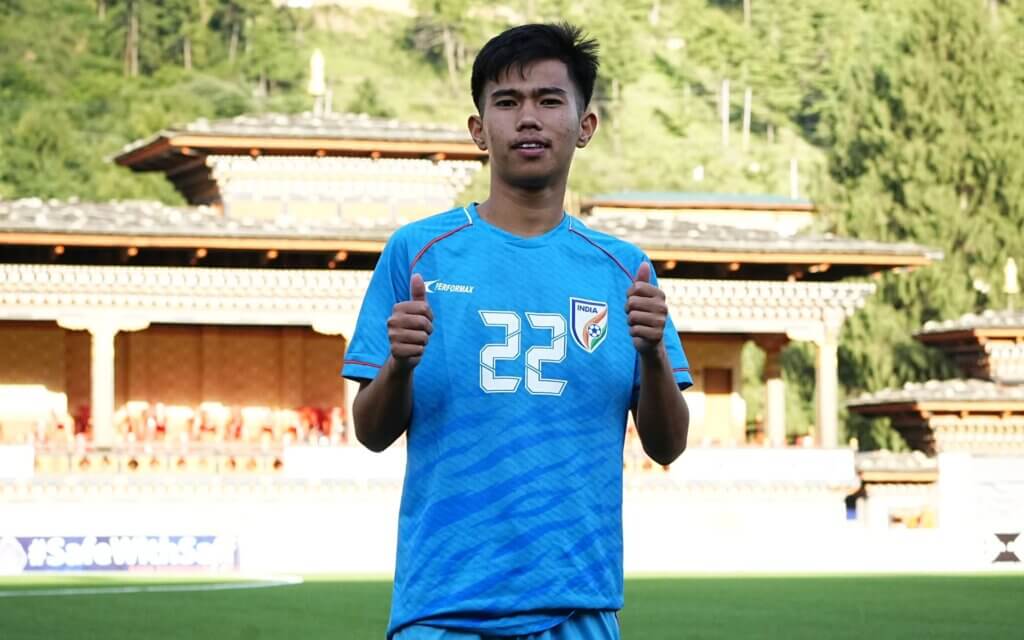 The 15-year-old, however, has his head placed securely on his young shoulders, even after being named the MVP in India's match against Bangladesh.
"It's just one game, and we have to do better in the next one. I was able to score only because the entire team worked hard as a unit. Now we need to ensure that we sustain that momentum in the Nepal match as well," said Usham.
India will play their second match in Group A of the SAFF U-16 Championship against Nepal on Wednesday, September 6, 2023, at the Changlimithang Stadium in Thimphu, Bhutan; the game will kick off at 2.30 pm IST and will be streamed live on the Sportzworkz YouTube channel.
Also Read: Mumbai Soccer Prodigies clinch a convincing 3-0 win over United Villagers WA
Also Read: Punjab FC signs Colombian forward Wilmar Jordan Gil
Follow us on Facebook, Twitter, and Instagram for all the latest happenings in the world of Indian Football