Thrilling showdown ends in 2-2 stalemate as Bengaluru FC and Kerala Blasters FC share spoils in Durand Cup clash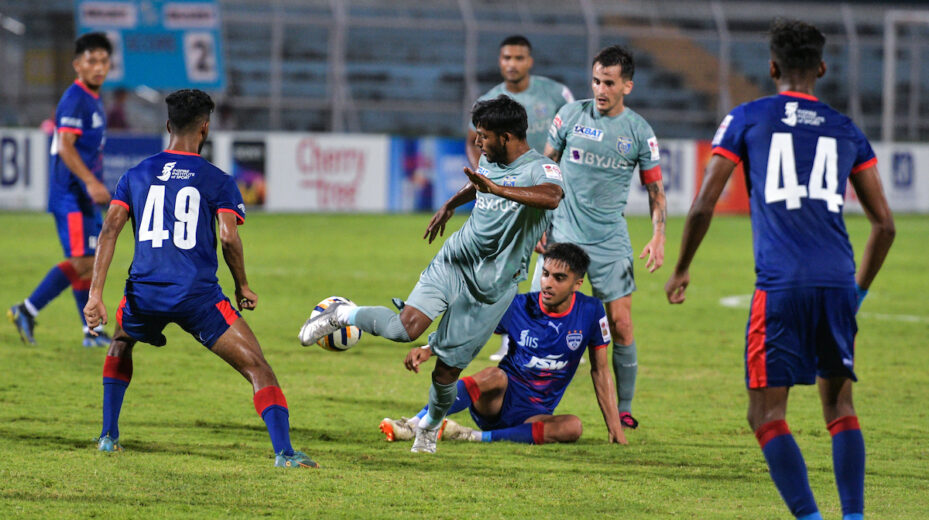 In a captivating clash that had fans on the edge of their seats, Bengaluru FC and Kerala Blasters FC battled to a 2-2 draw in a riveting encounter at the 2023 Durand Cup held at the Kishore Bharati Krirangan on Friday.
The match saw an early breakthrough from Kerala Blasters FC, with Justine Emmanuel (14′) finding the net, igniting the excitement. However, Bengaluru FC responded valiantly, turning the tides with goals from Edmund Lalrindika (38′) and Ashish Jha (52′) to claim the lead. Yet, the drama continued till the final whistle, as Mohammed Aimen (83′) emerged as the hero for Kerala Blasters FC with a late equalizer.
Throughout the first half, Kerala Blasters FC dominated proceedings, showcasing their attacking prowess. Captain Adrian Luna orchestrated the initial chance, delivering a cross to Emmanuel Justine, whose shot was brilliantly saved by Bengaluru FC's goalkeeper, Amrit Gope. The Blasters persisted with relentless pressure, eventually capitalizing on a defensive lapse to break the deadlock.
Bryce Miranda capitalized on a misplaced pass, setting up Vibin Mohanan, who in turn found Emmanuel. The Nigerian forward displayed composure as he slotted the ball home near the post, earning Kerala Blasters FC a well-deserved lead. The Blasters continued to create opportunities, with Emmanuel and Farooq coming close to extending their advantage.
Bengaluru FC, however, displayed their resilience, equalizing against the run of play. Bekey Oram seized a long ball and assisted Edmund Lalrindika, who outwitted the goalkeeper with a well-executed low shot.
As the second half commenced, Kerala Blasters FC maintained their dominance, dictating the tempo of the game. However, Bengaluru FC orchestrated a surprise, taking the lead through Ashish Jha. Oram initiated a swift counter-attack, releasing Lalrindika with a perfectly placed through ball. Muhammed Saheef's inability to clear the ball was swiftly exploited by Jha, who elegantly converted his chance.
The introduction of Ishan Pandita added vitality to Bengaluru FC's attack, yet his header from Saurav Mandal's cross narrowly missed the target. Kerala Blasters FC remained determined, relentlessly pursuing the equalizer. Their perseverance bore fruit when substitute Mohammed Aimen showcased his prowess, calmly slotting the ball into the far corner after receiving a pass from Adrian Luna.
The match took a dramatic turn as Ruivah Hormipam received a red card in the 85th minute, reducing Kerala Blasters FC to ten men. Despite the setback, they managed to secure the draw in a thrilling seesaw battle.
As the group stage concludes, Kerala Blasters FC will square off against the Indian Air Force, while Bengaluru FC will face Gokulam Kerala FC. Both teams have displayed exceptional spirit, leaving fans eager for more action-packed clashes in the Durand Cup.
Also Read: Unveiling India's futsal debut: A candid conversation with player Jayesh Sutar
Also Read: Chennaiyin FC continues dominance with 2-1 win over Delhi FC, tops Group E in Durand Cup
Follow us on Facebook, Twitter, and Instagram for all the latest happenings in the world of Indian Football