Sreenidi Deccan and RoundGlass Punjab: Scriptwriters of a new Hero I-League saga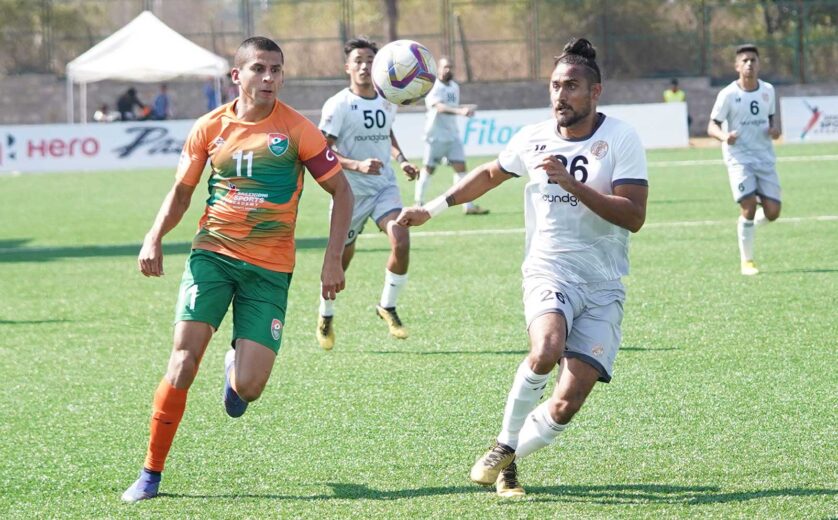 NEW DELHI: Five games to go, no points to separate. That's how we stand in the race to the 2022-23 Hero I-League title at the moment. Sreenidi Deccan FC and RoundGlass Punjab FC are locked on 37 points each, with the former ahead only by virtue of a better head-to-head record.
As a matter of fact, this kind of scenario is nothing new in this league. Seven of the last eight champions have been decided on the final day, and it seems that's the way things are headed this season as well. 'Whatever you can do, I can do too' has been the case between Sreenidi Deccan and RoundGlass Punjab as they continue to notch wins week in and week out.
The two protagonists sit a long way clear of the rest of the pack. Gokulam Kerala, the champions of the last two seasons, never found their feet and looked like genuine challengers for the crown this time around. The Malabarians are in third place, ten points off the pace. Churchill Brothers and TRAU, on 26 points each, have had positive campaigns but haven't been consistent enough to find themselves among the running for the title.
RoundGlass Punjab have lost just once in the last two months. That was against Sreenidi at the Deccan Arena, the only time they failed to match their title rivals this season. The Deccan Warriors were a class apart that day to be fair, scoring four unanswered goals. Punjab had won the reverse fixture 2-1 in Panchkula, but the 4-0 success for the Deccan Warriors was more than just three points for Carlos Vaz Pinto's side. It has given them an all-important head-to-head advantage, and if they remain parallel on points come the final day, Sreenidi will be crowned champions in just their second-ever Hero I-League campaign.
Impeccable performances at home have been the biggest fuel in this title race. Both Sreenidi and Punjab remain unbeaten at their Deccan Arena and Tau Devi Lal Stadium respectively, dropping just two points each all season.
"Our performances at home have been really good. We've only drawn one game. The home form has been very important," says Sreenidi Deccan coach Carlos Vaz Pinto.
But it's the showings away from home that have been slightly concerning for the Deccan Warriors. They have four wins and four losses each so far, and with three of their last five remaining games on the road, the Portuguese coach knows his team needs to step up and stay focused.
"We will fight to get all nine remaining points away from home. We believe that we can be the best team at home and away as well," Pinto adds.
Despite all the anticipation and calculations of the last five rounds, RoundGlass Punjab head coach Staikos Vergetis has held a pragmatic approach since day one. "We don't look at the table. We take things match by match," he says. "We don't judge a side by where they are in the standings. We know how difficult it is for a team in this league to win successive matches."
And indeed that's true. Punjab's back-to-back away draws against Mumbai Kenkre and Sudeva Delhi, the two relegation-zone occupants, are a testament. The Mumbaikars also stunned Sreenidi Deccan 2-1 in arguably the biggest upset of the season.
RoundGlass Punjab have racked up two crucial away wins over Gokulam Kerala and Aizawl in their last two games. That's as many points as they collected in their previous six games on the road. Any additional title-race pressure? "Absolutely not," affirmed Vergetis on the eve of the Aizawl game. "You cannot be completely relaxed before any game, but you cannot be anxious or nervous either. You have to balance it."
Exactly what they did the next day, grinding out a much-needed 1-0 victory to keep up with rivals from the south in the table. Vergetis' counterpart Pinto predicts the title will not be decided until the last game. "Our focus at the moment is on the last five games. We believe we can win them all and finish on top," said the Sreenidi boss.
Six different champions in the last seven seasons. Labelling the Hero I-League as unpredictable has become routine over the years. Another nail-biting finish awaits us this year. But this year, it means more. It's not just about lifting this coveted trophy, but also about earning a chance to be promoted to the Hero Indian Super League. The 2022-23 Hero I-League champions are less than a month away from coronation.