Discover the Transformative Power of the IKF Workshop: Real Stories, Real Success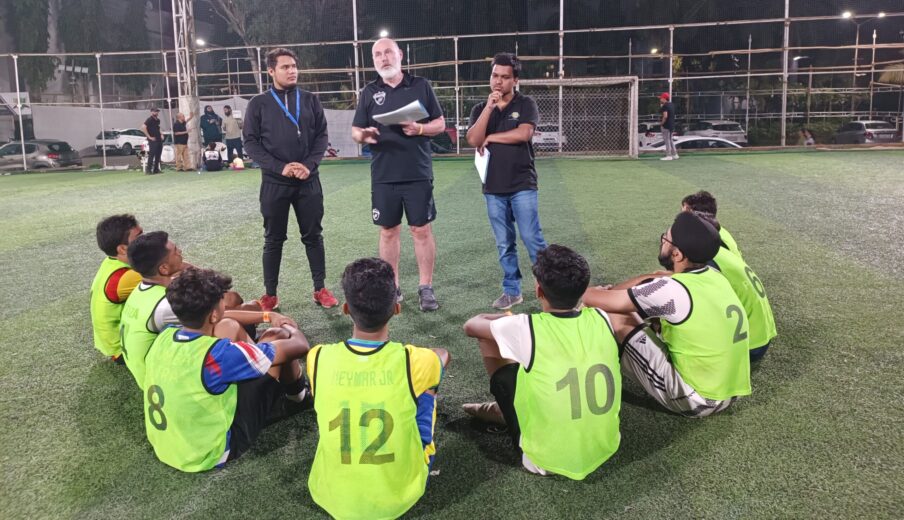 The IKF Workshop is not just another event; it's a life-changing experience that leaves an indelible mark on young footballers.
The countdown has begun for the IKF Workshop Season 3, a transformative event designed to nurture India's football stars. With an unrivaled legacy of expertise and global connections, IKF brings Premier League Academy Scouts and Agents to your doorstep for an unmissable opportunity.
As we gear up for this year's edition on September 15th, let's hear from those who have already benefited from this incredible platform.
Testimonials Speak Volumes:
I am from Kolhapur, and when I attended the workshop in Mumbai, I was blown away by the professionalism. The drills, matches, and feedback from Chris Mcgrath Sir were invaluable. My detailed assessment report arrived later, marking this as my best experience.

– Pranav Telvekar, Player from Kolhapur
India Khelo Football has cultivated an identity and trend that India needed at the National level. The extensive platform of India Khelo Football IKF has been a game-changer. Participating in Mumbai selections and then in Ghaziabad, my son got invaluable insights into Indian players' potential. IKF has given a huge impetus to Indian football at the grassroots level. As a parent, I'm amazed by the pathways IKF and ProSoccer Global coaches have unveiled for players. The feedback they provide is a treasure for improvement.

– Dr. Nilesh Vishwakarma, Pratyush Vishwakatma's Father
We attended the workshop in New Delhi, and it was conducted with utmost professionalism. The feedback from PL Academy scouts Jimmy and Chris was valuable, and the technical assessment report that followed was incredibly insightful. Mongtsu's victory in the workshop was a pleasant surprise, and credit goes to IKF for offering such a remarkable platform.

– Surojit Mitra, Workshop winner Mongstu Tungoe's Uncle
Unlock Your or your Children's Potential: These testimonials echo the profound impact that the IKF Workshop has on players and their families. It's more than just a workshop; it's a catalyst for growth and a testament to the power of nurturing talent from all corners of India.
What's in Store:
Expertise from the Best: The IKF team, backed by a collective 30+ years of experience in UK and European professional clubs and academies, is here to provide you with invaluable insights and assessments.
Tailored Feedback: Receive personalized feedback and assessment reports, thanks to IKF's MI-TAS Report, curated specifically for your playing position by PFSA-certified scouts and Premier League Academy scouts.
Elite Opportunities: Exceptional players have a shot at flying to the UK for the Elite Player Development program, courtesy of 100% scholarships provided by IKF.
Zonal Finals Wild Card: City workshop winners earn a direct entry to the IKF National finals, a chance to compete at one of India's biggest football trials.
For Whom: Players in the U13, U15, U17 & U19 categories, ready to elevate their game to the next level.
Cities, Dates & Event Venue:
Mumbai – 15 & 16 Sep – Kalidas Sports Complex, Dhanraj Football Turf, Mulund.
Pune – 17 Sep – 4 Lions Football Academy, Pimple Nilakh.
Bangalore – 19 Sep – Pendleton Park, United Football Turf, Hennur
New Delhi – 23 & 24 Sep – To be announced soon
Expertise That Matters:
Premier League Academy Scouts themselves will conduct the workshop.
Gain genuine insights through expert feedback sessions.
Scholarship Dream:
Standout performers can secure 100% scholarships in international academies located in Spain, UK, Brazil, and Poland.
Success Story: Mongtsu Tungoe, winner of Workshop Season 2. He clinched a 100% scholarship at the Steven Gerrard Academy, UK, for the Elite Player Development program. His journey showcases the potential within your reach.
Register Today:
Fees: Rs.5000
IKF Season 3 kicks off on September 15.
Reserve your spot and experience the transformative power of the IKF Workshop
Register Now: Click Here
Use FootballCounter's discount code – FTCTR00500 and get 500Rs off
These testimonials are not just words; they're real stories of success, growth, and passion ignited by the IKF Workshop. Your journey to football excellence begins here. Register now and become part of a community that's driving Indian football to new heights!
Also Read: MI-TAS Report: A Comprehensive Player Assessment Tool by IKF
Also Read: Mastering the Art of Football Trials: Key Pre-Trial Factors to Keep in Mind
Follow us on Facebook, Twitter, and Instagram for all the latest happenings in the world of Indian Football