Arif Shaikh reflects on Maharashtra's performance in Hero Santosh Trophy campaign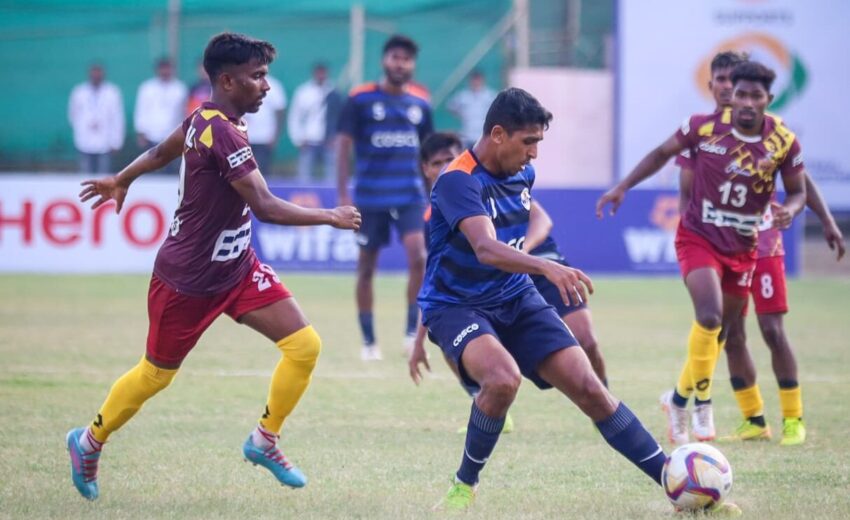 Arif Shaikh, the striker for Maharashtra in the Hero Santosh Trophy, in an exclusive chat with us speaks about his team's performance in the campaign, his experience playing under coach Steven Dias, and his thoughts on his own individual performance.
When asked about the team's performance in the campaign, Arif stated, "Performance wise I feel each team member gave their 100%, the team management was motivating and encouraged us throughout this campaign. On one level I could call this campaign a successful one since we qualified and at the same time we need to work on our potential to achieve our target."
Though Maharashtra won 4 games in the group but in the final group game theylost to West Bengal by 2-1 margin, which kept them at the 2nd spot in the league table. Speaking about the mood within the team after the loss against West Bengal, Arif said "We wanted to win to top the group. The team was disappointed with the loss, although we fought back, it was their day."
Arif had previously played under coach Steven Dias at a club level but this was the first time for the state team. When asked about his experience playing under Coach Steven Dias, Arif said "We all consider playing under coach Steven Dias a great honour and privilege as he is a football legend. As a coach he is very calm and professional and understands every player personally, he ensures we bring out the best in us to reach the highest level."
Arif finished the campaign with 6 goals, top most scored alongside Naro Shrestha of West Bengal and Nijo Gilbert of Kerala. When asked about his own individual performance, Arif stated, "Under the given circumstances, I gave my best although I feel I can do better. As this is a team game every goal I scored was a team effort."
Football fans in Kolhapur came in numbers for every Maharashtra matches. The final group game against West bengal saw a record 20000 people in the stands. Speaking about the crowd, Arif said, "The organizers did a fantastic job of hosting this tournament in Kolhapur making it a memorable experience for us. The atmosphere was electrifying and we felt their presence encouraging us. Personally and for the whole team it was a dream come true playing in Chhatrapati Shahu stadium."
Arif's words give a glimpse of the unity and team spirit that the Maharashtra team possessed during the tournament. His dedication to improving his performance and the team's potential to achieve their goal is a positive sign for their future campaigns. The support of the coach and the home crowd made the tournament a memorable one for Arif and the team as well.
Also Read: Kerala to host Hero Super Cup in April
Also Read: Mumbai Kenkre stun league leaders with late-winner