Harwood Champions League: Bank of Baroda beat IT 3-1, take pole position in the table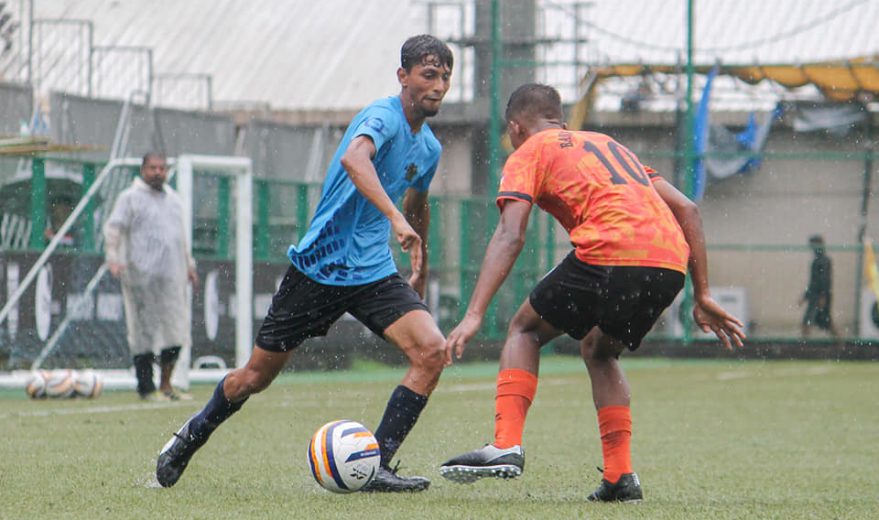 Goals from Saurabh, Denzil, and Sanket give Bank of Baroda their second win of the campaign as they sink Income tax with a 3-1 win.
Bank of Baroda continued their winning run with another comprehensive 3-1 win over Income Tax on a rainy afternoon today at Cooperage Stadium.
The game began with BOB starting on the front foot when Saurabh won the ball in the attacking half, passing it to Denzil who laid it for Rakhsit, a last-ditch challenge from Mrunal denied the BOB striker a shot on goal before Linekar cleared it away.
In the eight-minute of the game, BOB broke the deadlock when a cross from the right flank was tapped into the empty net by unmarked Sanket Humbe. A few minutes later, a poor Goal kick from Income tax found Bank of Baroda player Denzil who set up Rakshit, whose shot went just wide.
Around the half-hour mark, a mistake from the IT defense allowed Saurabh to break the offside trap before slotting home the ball from Denzil Mascarenhas to make it 2-0.
At the other end, IT created a chance of their own however, Linekar's ball into the box was headed straight into the keeper's hand.
Early in the second half,, BOB won a set-piece as Anas sprayed the ball to the right flank for Karthik, who cut inside before sending in a dangerous left-footed cross to Saurabh as he finished it off with a brilliant header to make it 3-0.
In the 67th minute, IT received a lifeline when BOB's Suraj fouled Hiten inside the box while attempting a clearance. The referee called for the spot-kick which Sandesh Gadkari stepped up to take. With a clean shot past the keeper, IT pulled one back.
Income Tax had a couple of more chances in the dying minutes of the game including a close miss by Henderson Dias but nothing materialized as the match eventually ended in favor of the bankers
FT: Bank Of Baroda (Sanket Humbe 8', Denzil Mascrenhas 28', Saurabh Nikam 48') 3 – 1 Income Tax (Sandesh Gadkari 67' (P))
For Fixtures, News, League Table, and Stats on the Harwood Champions league – Click here
For Trial related updates: Latest trials updates in Mumbai Football
Also, Read Ambernath United – Atlanta FC ride on Himanshu Patil brace to beat Mumbai Customs 3-0
Follow us on Facebook, Twitter, and Instagram for all the latest happenings in the world of Indian football