Looking to develop football in the state, Rajasthan United FC aim for Hero I-League promotion
The Hero I-League Qualifiers 2021 is set to play host to a number of debutant teams, and one of them, hailing from the 'Land of the Maharajas', will be looking to leave their mark on the sands of Indian Football – the club being Rajasthan United FC.
Founded in 2014, the club was rebranded as Rajasthan United FC last year, before they booked their spot in the Hero I-League Qualifiers. The Jaipur-based club is out on a mission to improve grassroots football in Rajasthan, thus ensuring a steady flow of quality footballers from the state.
Now having made it to the Hero I-League Qualifiers 2021 by virtue of winning the Rajasthan state league, RUFC will be looking to take the next step to the Hero I-League.
"The ultimate vision is to create a facility and provide a platform to all the players of Rajasthan to grow and showcase their talent who will eventually represent the national team and make everyone proud," club director Rajat Mishra said to i-league.org. "The club aims to develop youth players of Rajasthan through our residential facility and the prime focus will be grassroots development. Our entry in Hero I-League Qualifiers would motivate more players to come forward and play as they'll have a platform now."
Unlike most other clubs that have had their pre-season in Kolkata, Rajasthan have prepared for the Hero I-League Qualifiers on the other side of the country in Goa, where they have been able to play against some of the local sides like Sesa Goa FC, Dempo SC, Salgaocar FC, and FC goa Reserves.
"The preparations are going in the right direction, and the Rajasthan United management gave us full support during our pre-season camp," said head coach Vikrant Sharma. "We earned some satisfactory performances against some good sides and will look to carry that forward in the Hero I-League Qualifiers."
Much like the other clubs, RUFC have also been preparing their players for the mental rigours of playing from within a bio bubble.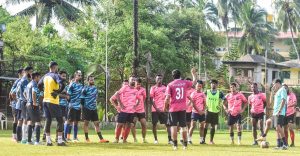 "We have briefed all the players about the bio-bubble, and keep the boys mentally prepared. We keep talking to them, and getting their feedback on various issues. Some of us have already played from inside a bio bubble, so that makes it a bit easier for the rest," he informed.
The side from Jaipur has adopted a rather unusual approach in terms of leadership within the team. Instead of having one clear-cut captain, they will have three players who will be sharing the leadership responsibilities.
Goalkeeper Vishal Joon feels that the team is ready for the challenges that lie ahead. "The boys are pumped and are ready to play their first game. We have been waiting for this day for so long. We have prepared long and hard in our pre-season camp in Goa, so we are all waiting to give it our best."
Centre back Floyd John feels that it is important to keep the lads motivated, even when the chips are down. "It's important to keep motivating the players. Winning and losing are a part and parcel of the game, but we need to fight till the end. If any player is not playing well, we will encourage him to work even harder," he said.
Fullback Harmanjot Singh, who is an Indian Arrows product, believes that it is important for football in Rajasthan to have a team in the Hero I-League, a dream that Rajasthan United is striving to achieve.
"It will be amazing to get promotion to the Hero I-League. As far as I know, there has been no club from Rajasthan to achieve this feat. If we qualify, I am sure it will give football in the state a huge boost," said Harmanjot.
For Trial related updates: Latest trials updates in Mumbai Football
Also Read: Mumbai City FC confirm signing of goalkeeper Mohammad Nawaz
Follow us on Facebook, Twitter, and Instagram for all the latest happenings in the world of Indian football