"We need to break the taboo, have comfortable conversations around menstruation" – Dawn Scott
"Women are not men and cannot be trained the same!"
Modern day sport is all about fine margins. Athletes push their bodies to the limits while diligently adapting minute changes to their lifestyles in the quest to reach the very top of the pyramid. One person, keenly aware of the margins and complexities that separate winners from runners-up is Dawn Scott.
The England Lionesses' High Performance Manager was speaking on 'Women's Football' at the AIFF's three-day International virtual coaching conference.
Scott has been at the forefront of high-performance support in the World of Women's Football. In a trophy-laden ten-year spell with the USA Women's National Team (WNT), she played a key role in building a side that won back-to-back World Cups and an Olympic Gold.
Now she's back home with a new mission, helping England dethrone her former team as World Champions.
Speaking to coaches in India via a virtual presentation, Scott used data from the 2015 and 2019 World Cups to highlight how the women's game is getting faster and more physically demanding and presented a holistic player development model which helps tackle these demands.
However, one challenge that remains unique to women's sport and which is often only discussed in hushed tones is "How do we address the menstrual cycle for players?"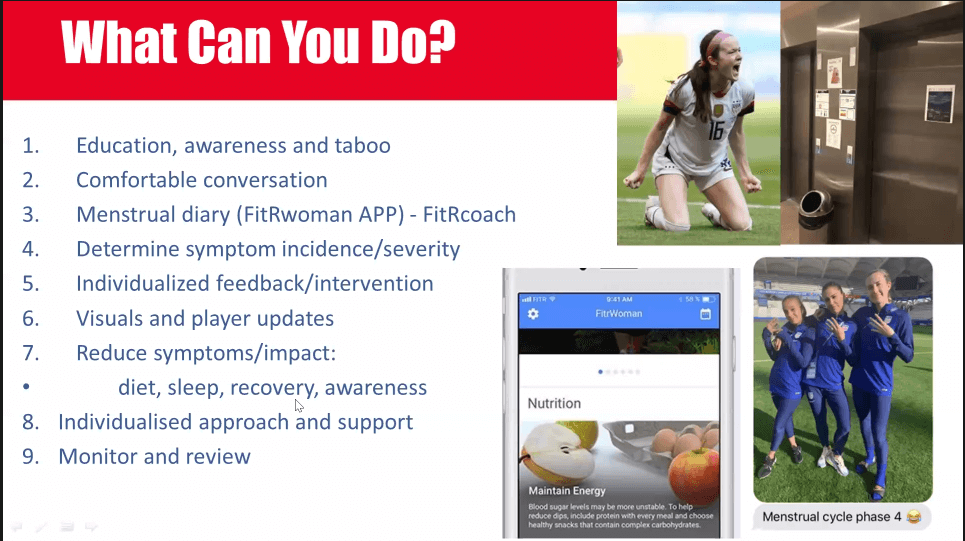 "We need to have conversations with players to make them comfortable. Educate, spread awareness and break the taboo." opined Scott. "Menstrual cycles and hormonal fluctuations can have a significant impact on a player's performance and needs to be studied in detail with an individualised approach adapted for each athlete."
While highlighting common symptoms that female athletes face such as heavy bleeding, sleep cycle disruption, joint laxity, etc. Scott accepted that "there is no magic answer right now."
Dietary changes are known to play a major role in easing symptoms during the menstrual cycle, often helping players avoid medication. But Scott stressed that individual players have different requirements.
What's vital is developing a culture where players are encouraged to have comfortable conversations that help determine severity and develop specific interventions.
Scott offered the example of how the USA WNT had charts put up around the team hotel with dietary plans broken down into four phases of the menstrual cycle. This contributed to developing a comfort level where three players sent Scott a group picture from the ground, holding up four fingers captioned: "Menstrual cycle phase 4."
Scott also advocated encouraging players to maintain a menstrual diary and using apps such as 'FitrWoman period tracker' to monitor menstrual cycles and gain some level of expert understanding.
More specifically, when quizzed about mobility or strength sessions during the period, Scott advised focussing upon good technique and efficient movement. Helping players look at basic movements, stability, balance, etc. is more important than merely focusing on different phases of the cycle.
CREDITS: AIFF Media
For fixtures, standing and all news on I League 2nd Division – Final Round – Visit here
Also Read: I League Qualifiers Preview – Bhawanipore look to make History
---
For articles on unknown talented footballers – Visit here
For Trial related updates: Latest trials updates in Mumbai