I am ready for national leagues – Dhruwesh Nijap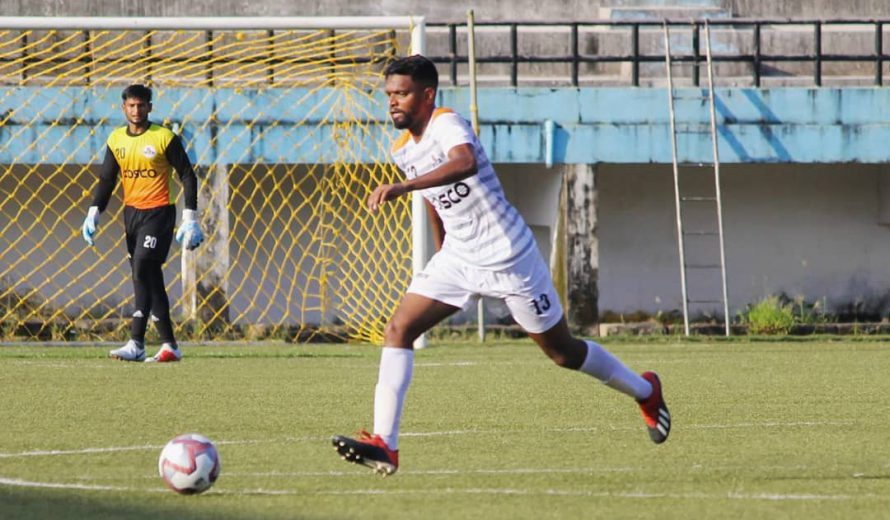 One of the core members of ONGC's strong defensive unit, a side that has conceded just 3 goals last season before the season's abrupt end, Centre back Dhruwesh Nijap talks about his football career so far, his inspirations and his aim going forward.
The 24 year old has already been part of some of the top clubs in Mumbai. While Indian legend Sunil Chhetri is an inspiration for many, Dhruwesh took his early inspirations from local Cuff parade, Colaba players – Harshad Meher, Karim Shaikh.
Having started out with the then I league side – Mumbai FC's age group teams, Dhruwesh began his professional career at Air India U19 side in MDFA Super Division. Later on, Dhruwesh went on to represent Dena Bank, UBI and finally ONGC.
Like many in Mumbai football, Dhruwesh's connect with football began way back when he was in his school. Playing for Sai Ushadevi School in Colaba, Dhruwesh went on to represent them in the National School games. Talking about his son commitment to football, Dhruwesh's father Anil Nijap, states "I am very proud of him, He was always interested in football. From school level itself, he has been self-motivated and has worked hard to improve himself. My dream for my son is to see him play in the national colours."
Outside of school, Dhruwesh was a part of Mumbai FC U16 team before getting selected for Maharashtra U17 side. In last two seasons, Dhruwesh has been a regular member of the senior Maharashtra team that participated in Santosh trophy.
After representing Air India U19 – his first professional club under Coach Shyam Sawant, Dhruwesh switched to Dena Bank before playing two seasons with Union Bank of India. While at UBI, Dhruwesh played a crucial part in the team's 3rd place finish in Elite division. Talking about his stint at UBI Dhruwesh recalls,"I was trained under Mr. Julie sir & Mr Ryan Sir at Union Bank.  We were a good unit and had a successfully season with 3rd place finish in MDFA elite division."
The centre back was soon picked up by ONGC and since 2018-19 seasons, he has been part of one of the strongest defensive unit in the city. It was with ONGC that Dhruwesh managed to carve out a name for himself. ONGC Coach Caetano Pinho hailed Dhruwesh consistency, "Dhruwesh is an elite player for us. Alongside Himanshu, Arif, Siddharth and others, Dhruwesh has been very consistent in his performance throughout the seasons. Very disciplined, dedicated & committed, he is a team player and a leader with a very eye on technical ability & tactical insights."
Pinho, who represented ONGC a decade ago, believes Dhruwesh has a versatility factor and just needs the proper guidance. "Although Dhruwesh plays at the heart of the defence, If he is guided & coached well, he has the capability of playing as the full back & as well as a defensive midfielder."
Dhruwesh alongside his defensive teammates at ONGC have been consistently in top form conceding just 10 goals in last 2 seasons. This season, a 6 game winning streak with absolute dominance in defence saw the ONGC rapidly climb the league table despite the late entry. However, the league had to be unfortunately abandoned midway due to Covid-19 pandemic.
"ONGC is the one of the best team in Mumbai.  I have played lots of All India Tournament with ONGC. It's a great place to get some good experience. It's a one big family, where senior players are like family members – awesome & helpful.  At ONGC, Players work hard & do serious practice on ground but at the same time we are encouraged to have fun."

– Dhruwesh Nijap, on his experience at ONGC
Dhruwesh, who considers Sandesh Jhingan as a role model, believes he is ready for higher challenges as well. "I am ready for national leagues and my aim is to play for the best Indian clubs out there and eventually represent my National team."
Echoing the defenders words is his Coach Pinho, who believes Dhruwesh has got what it takes to make it at the top level, "I think that he is ready to take on higher challenges in the national leagues in India. At higher level, he will be required to work even harder, be more disciplined on his nutrition, rest & recovery (sleep). As far as I know him, he has those capabilities."
Also Read: ISL to happen behind closed doors, Goa one of the favourable regions
For Trial related updates: Latest trials updates in Mumbai Football
Follow us on Facebook, Twitter, and Instagram for all the latest happenings in the world of Indian football