"Effective communication is the key to become a good leader" – Bhumika Mane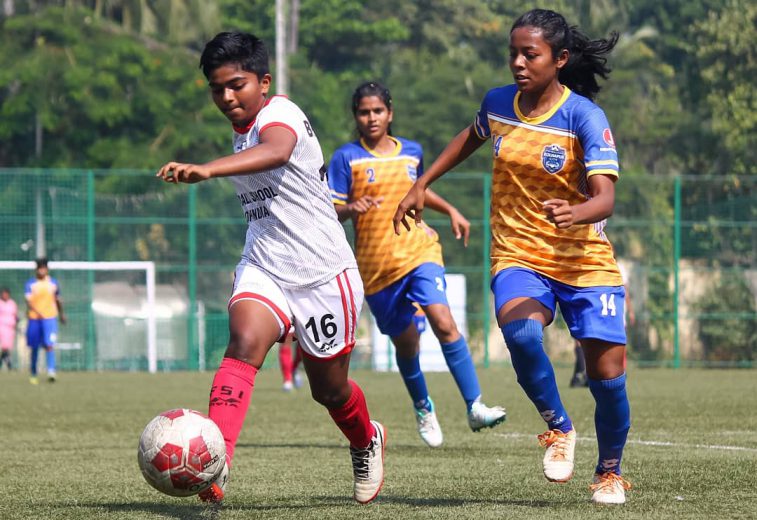 Mumbai in the recent past has seen an upsurge in Women participation for Sports. As research suggests, active participation from Women in sports not only uplifts gender equality but helps improve health all around the world. Now critics might say, in a poor country where people fail to make ends meet daily, how can sports be imperative? Well, to answer the same, female participation in sport is not dependent on the fortune of a country. Some of the highest inactivity from female in sports appear from affluent middle-eastern countries.
In Mumbai, the sports scenario for women is at a "rise" says Bhumika Mane. Growing up watching her father do wonders on the field, she was very inspired to follow his footsteps. "I used to accompany my father when he used to play matches. I would go with him and in the half-time, I would play with the football" reminisced Bhumi.
Catching eyeballs at a tender age, the coach of Dadar XI, Mr Clarence Lobo suggested Bhumi's father to focus on her and a new chapter was hence unfurled. Bhumi started her training when she was eleven-years-old. Her first organized training happened at Raja Sports Academy, where she learned the basics of the game from Coach Raja Shetty.
To improve and better herself, she soon joined Dadar XI, where her father used to play. Under the guidance of Coaches Clarence Lobo, Alex Ambrose, and Manohar Shetty, Bhumi developed at a rapid pace. Not having a women's team at Dadar XI, the coaches decided to send Bhumi to Companeroes FC as she deemed fit for a professional contract.
At Companeroes, Bhumi got her first taste of professionalism. "Sir Sydney Alexander, my coach at Companeroes FC has helped me develop my skills, strength, and speed. Not only did he guide me to become a better footballer, but he has helped me become a good human being" quipped Bhumi.
Once Bhumi proved her mettle at Companeroes, she was directly called up to represent the state team. On many instances, she was bestowed with the captaincy to lead the side. "My experience to represent Mumbai and Maharashtra has been good so far. I am learning each day. I keenly follow the gameplan of the coaches and try to implement them and focus on leaving a mark. Talking about my experience in captaincy, it was a great moment to be the Captain of the Mumbai team. I have learned a lot and it has boosted my morale" said Bhumi.
Speaking about the leadership qualities one must possess to lead an outfit, she says communication is the key. "According to me, leadership is all about effective communication with people. A leader needs to encourage people, and if they get down for some reasons, it is the leader's responsibility to encourage the person to move forward" says the 15-year-old Bhumika Mane.
What makes Bhumi special amongst her colleagues is her scoring prowess. She is a box striker and knows how to find the net. Speaking about her learnings as a striker, Bhumi describes what are the attributes a striker must-have. "According to me, a striker should have some skills, strength to shield the ball, speed, shooting, decision-making and positioning sense." narrates Bhumi.
Talking about her inspiration, Bhumi says that she is learning about life and football from her father, who himself was a notable footballer. Speaking to his father, Mr Bharat Mane, a football lover and a renowned Lawyer, he was filled with joy to speak about his daughter. "Being a father I always try to support, encourage, motivate and also tell her the mistakes and how would she improve them. I always try to be with her everywhere she goes to play. During this pandemic time, I have personally taken the onus on myself to train her. My dream is to see her don the national colours. I want to see Bhumi winning a gold medal for the country" quoted Mr. Bharat.
With the constant support from Canossa High School in Mahim, Bhumi's school Principal Sr. Ruth Furtado has given her several concessions to balance sport and studies. She has represented her school in several Mumbai School Sports Association and District School Office tournaments and achieved a great feat. Talking about balancing sports and studies, Bhumi greets her school for the active co-operation.
Idolizing Megan Rapinoe who is the American Women's Football Team legend, Bhumi is determined to improve and has aspirations to represent India in an age-group category within the next five years.
Also Read: Thank you Football, says U-17 WWC probable Sai Sankhe after securing 96.2% marks in Class X boards
For Trial related updates: Latest trials updates in Mumbai Football
Follow us on Facebook, Twitter, and Instagram for all the latest happenings in the world of Indian football