As Mumbai football takes a break, Mumbai Custom holds the top spot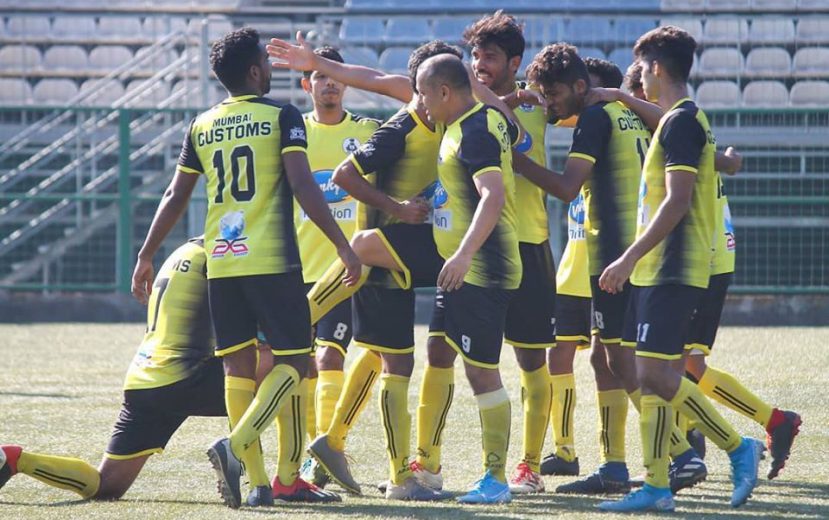 League leaders and defending champions Mumbai Customs will be wary of the competition as just two points separates the top 5 teams with late entrant ONGC on a stellar 6 game winning streak.
Despite an unbeaten run and leading the group table, Defending MDFA Elite Division champions Mumbai Customs would love to keep the momentum on the high with far too many competitors still in the race and that too at just sniffing distance.
Regarding the heavy competition, Mumbai Custom's defender Hekmat Singh believes it is a good thing to have and brings out the best in them, "As always it is good to have a competition as it brings the best out of you and your team. This year, it will be tough but we will definitely try to keep this trophy and once again prove we are the best in the city." Agreeing on the same Midfielder Praneel added, "Competition is great this year, all the teams are almost equal in the league, Customs are on top of the table and we have 4 matches to go, we will try our best to win all the remaining matches as other teams will be waiting for a slip up from us."
One of the finest attributes of Mumbai Customs has been their fighting spirit. Late goals have been a trend for them this season with 65% of the total goals scored by the club coming in the second half.  Out of the total 17 goals, 8 came after the game hits the 75th minute mark. Out of the 8 games that the Mumbai Customs played, on four occasions Customs managed to pick all 3 points with a late winner while one time they rescued a point with a late equalizer.
It has been an all round team performance from Mumbai Customs that has kept them going this season with as many as 10 players contributing in goals. A notion reiterated by Mumbai Custom's player Shrikant Veeramallu, "All Players are contributing quite well. We are a proper team in terms of scoring and putting in the work-rate. Experienced players like Jinto bhai, Hekmat singh are the pillars of strength in defence while Praneel is the backbone in midfield. Even our youngsters Marc D'souza, Dhawal Waghela, Reinaldo and Pramod Galave have played a crucial part in team's success"
"Our team never relied on a single player, it the mix of youngsters and experienced players."

– Praneel Mendon, Mumbai Custom Midfielder
Customs didn't have the brightest of starts as they were held to a 2-2 draw in their season opener against HDFC. The game saw the defending champions overcome a 2 goal first half deficit, to rally back in the second half and snatch a late point. The following game against UBI once again saw Customs conceding first before Dhaval Waghela leveled things up with five minutes of normal time left. However, Veteran Custom player Hekmat Singh came up with an injury time winner that gave the defending champions a vital three points over their direct rivals.
In the third league game against former champions Air India, it was Pramod Galave who came up with injury time goal to snatch all three points for Customs. A clinical performance against a struggling Western Railway side seemed to have put the defending champions back to their dominant best. However, in the game against MSP and then against Central Bank of India despite dominating possession Mumbai Customs had to fight hard to find all three points and once again it was courtesy of late winners.
As the tournament had to be halted for a while due to the deadly Corona Virus outbreak, Mumbai Customs find themselves at the top of the table with 20 points from eight games, followed closely by Income Tax and Bank of Baroda who are at 19 points from nine games. However the bigger threat for Customs to holding the pole position would be ONGC, who are yet to drop points this season and are currently occupying the fourth spot with 18 points in 6 games. Former Champions Air India are also in the loop occupying fifth spot with 18 points from 9 games.
This break is absolutely gonna hurt not only us but all the teams. I feel momentum is everything in these league games. You keep improving with confidence as well and you perform much better because of the momentum. I feel the team is eager to come back on the field and continuing to resume where we halted

– Shrikant Veeramallu, Mumbai Customs Player
Regarding the current league break, Hekmat believes the momentum could be affected but it will also be an opportunity to refresh themselves, "Yes, definitely it will break our momentum but I believe time is the best healer. We will come back and practice harder, so that we can maintain our winning streak and our top position."
Whether Mumbai Custom manages to hold their lead remains to be seen, as of now the city waits under lock down while the isolation and lack of football action as made the wait a excruciating one for the fans.
For Elite Division League Fixtures and Table – – -> Click here
Also Read: 'Football will be the unifying factor soon,' states Sandesh Jhingan
For Trial related updates: Latest trials updates in Mumbai Football
---
Follow us on Facebook, Twitter, and Instagram for all the latest happenings in the world of Indian football.