Mumbai FC Opponent Watch: Shillong Lajong
Mumbai FC's first assignment of the new I-League season is on the road, away in Meghalaya's capital city of Shillong, where The Yellow Submarines take on Shillong Lajong. Over 2700 kilometers away from the financial capital of the country, this is Mumbai FC's second longest trip in the I-League, only second to Shillong's northeastern neighbours, Aizawl FC.
History of Shillong Lajong
Formulated by Shri Kitdor Syiem and P.D. Sawyan, two football fanatics from the city of Shillong in 1982, the aim was always to put Shillong on the map of Indian Football. However, their dream took its own time to realize and twenty seven years later, Shillong Lajong gained promotion to the I-League. Since then the Shillong outfit have been a main stay in the I-League and realizing the dreams of their two founders.
Head Coach
Thangboi Singto has been Shillong Lajong's First Team Head Coach since 2014, when he took over as interim manager of the club, who were at that time fighting for their lives in the I-League with just 15 points from 17 games. Singto quite tactfully steered them to safety and since then has been at the helm of the Shillong based club.
Singto has instilled a great attacking style of play at Shillong, which our fans very well know from their great win over Mumbai FC last season. Shillong Lajong are expected to be out with the same approach this time out as Thangboi Singto believes they are stronger than last time out.
Key Players
Having let Cornell Glenn go, Shillong Lajong have replaced him with Brazilian center forward Fabio Henrique and retained the services of Uilliams and midfielder Penn Orji. Japanese Yusuke Yamagata has been brought in to aid a leaky defense, while the likes of Aiborlang Khongjee and Zodingiana Ralte who impressed in the Indian Super League expected to forge a much more solid back line.
But the biggest threat to Mumbai would come from the forwards Uilliams and Fabio Henrique who will receive plenty of service from Penn Orji. The Mumbai rearguard will have to be on top of their game, if they wish to start the season on a winning note.
Stadium – Nehru Stadium, Shillong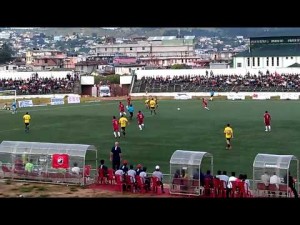 The Nehru Stadium in Shillong is at the heart of the city and is very open. That makes up to a very windy and chilly atmosphere, which isn't something us Mumbaikars are used to. With an average attendance of over eleven thousand, a figure only bettered by Champions Mohun Bagan last season, will add to Mumbai FC's task on the night.
If Mumbai FC can quieten the crown early on, then they might just be able to earn revenge on the 6-0 loss inflicted on them by their hosts for tomorrow, last season.
Returning Heroes
Mumbai FC's Taisuke Matsugae and Min Chol Son will face their former club. Taisuke moved to Mumbai FC last season, while Son's debut for Mumbai FC will come against the side that he played for last season. Sometimes, fate plays interesting games with you and Min Chol Son is set for an emotional re-union with his former employers.