Top 10 youngest players to score in Premier League
It's a dream of any footballer to start their career at such an age where more than half of the population are still confused regarding their career, some are still studying and some are just dreaming about their future.
Pick any young footballer and ask them about their goal and ambition, I'd assure you that most of them wants to become famous as soon as possible. For that one must have an audacity to do something outrageous that can go in history books.
The roof went off Old Trafford when new teenage signing Anthony Martial scored on his Manchester United debut. Here is the special moment when the touted new 'Henry' re-lived the legend with a brilliant goal. Here is the link to the video
https://www.youtube.com/watch?v=dbiLXAlhTD8
Let's talk about goals, maybe? It's a childhood dream of any young footballer to see their name on score sheet at the very high level in a very young age. I am going to list down the top 10 youngest footballers to score in Barclays Premier League:
10: Danny Cadamerteri (17 years 348 days) – Everton
Danny Cadamarteri scored in his third ever Premier League game match, a 4-2 victory over Barnsley at the start of the 1997/98 season. That time his age was 17 years 348 days.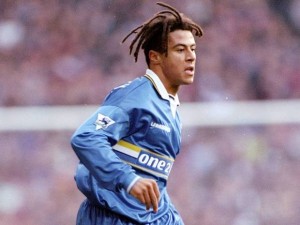 9: Mikael Forssell (17 years 346 days) – Chelsea
Mikael Forssell scored the opening goal in a 3-1 victory for Chelsea at Nottingham Forest. His age was 17 years 346 days when he scored his first goal.
8: Raheem Sterling (17 years 321 days) – Liverpool
The talented forward has looked lively to start the 2012/13 Premier League season and his winning goal versus Reading is set to kick start his career.
7: Federico Macheda (17 years 231 days) – Manchester United
No player in this list has scored as important goal as this Italian teenager Federico Macheda scored. Thrown on the hour when Manchester United trailed 2-1 at home to Aston Villa. Cristiano Ronaldo equalized in the 80th minute before Macheda struck a stunning 90th minute winner. At time he was 17 years 231 days old.
https://www.youtube.com/watch?v=DpbHcgi-ONA
6: Andy Turner (17 years 166 days) – Tottenham Hotspurs
As part of his Tottenham career, Turner set a then-Premier League record as the division's youngest-ever goalscorer, when he scored against Everton on 5 September 1992, aged 17 years and 166 days.
5: Michael Owen (17 years 148 days) – Liverpool
Michael Owen made his professional debut in season of 1996/7 and scored goal in his debut match. At time he was 17 years and 148 days old.
4: Francesc Fabregas (17 years 118 days) – Arsenal
Fabregas started his career as a La Masia player with Barcelona but was signed by Premier League side Arsenal in September 2003.
The Spanish sensation is the 4th youngest player in history to score a premier league goal. He was only 17 years 118 days, when he scored his first goal.
3: Wayne Rooney (16 years 364 days) – Everton
Rooney made his professional debut at age of 16 years in 2002, for everton. He scored his first goal in age of 16 years – 364 days.
https://www.youtube.com/watch?v=KTJuzhHXCM4
2: James Milner (16 years 360 days) – Leeds United
James Milner (born 4 January 1986) is an English footballer who plays as a midfielder for Premier League club Liverpool and the England national team. He started his Premier League career with "Leeds United" and became the 2nd Youngest Player to score a goal in Premier League history. He was 16 years 360 days, when he scored his first ever goal for Leeds United.
1: James Vaughan (16 years 274 days) – Everton
He has represented England at U17, U19 and U21 level but has since expressed a desire to represent Jamaica at international level. He is the Premier League's youngest goal scorer. James Vaughan Scored his first ever Premier League goal at age of 16 years & 274 days.