Om Saidham SM secure convincing victory over Soccer Saga SA
26th September 2023, Neville D'souza Ground – In a thrilling MFA Super League encounter, Om Saidham SM emerged victorious with a commanding 4-1 win over Soccer Saga SA.
The match kicked off with Soccer Saga SA showing early promise. Allwyn Dsouza, in particular, showcased his skills with an audacious bicycle kick attempt that unfortunately didn't hit the mark. Shortly after, another opportunity arose from the left flank, but the final touch went awry, sailing over the crossbar.
Om Saidham SM, on the other hand, capitalized on their chances efficiently. They broke the deadlock with an exquisite finish in a one-on-one situation. Exploiting a high defensive line, Om Saidham's midfielder lofted a precise ball over the defensive line, allowing the left-winger Aylmer Gonsalves to exploit the space and deliver a clinical finish.
Half-time: Soccer Saga SA 0 – 1 Om Saidham SM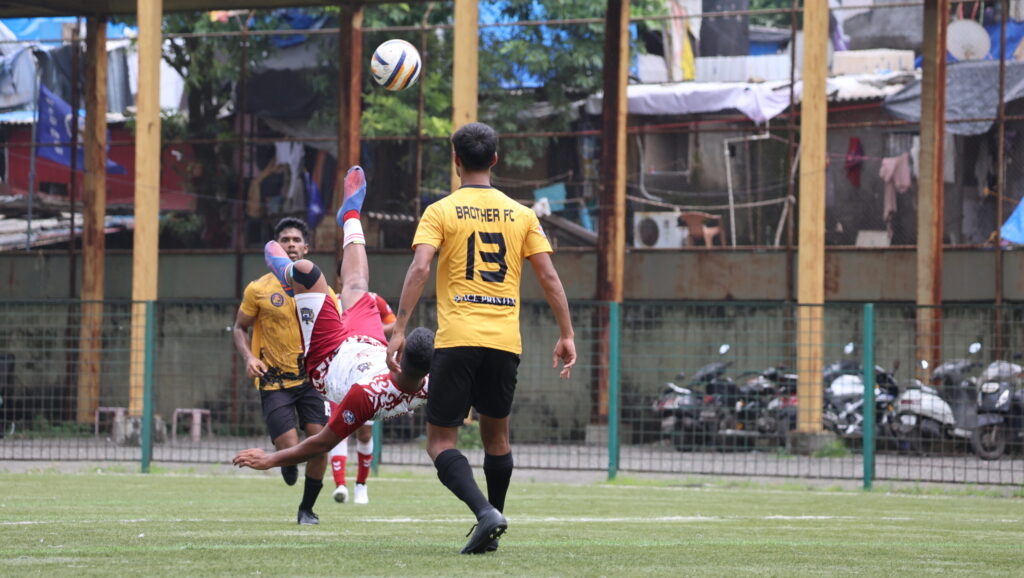 The second half saw Soccer Saga SA committing more men forward in search of an equalizer. However, they encountered a resolute Om Saidham defense that proved hard to breach. Om Saidham soon doubled their lead with a sublime finish and added two more goals in quick succession courtesy of goals from Aylmer and Ravi. The first was the result of a precise strike off a well-placed cross to make it 3-0 while the fourth goal came off a simple tap-in from a rebound after Soccer Saga's goalkeeper made an initial save to a poweful shot.
In the latter stages of the game, substitute Vipul Lad managed to beat his marker and score a consolation goal for Soccer Saga SA.
Om Saidham SM will now set their sights on Spartans FC, with a match scheduled for October 9th. Meanwhile, Soccer Saga SA will face Bombay Gymkhana on October 23rd in their quest for a strong comeback.
Full-time: Soccer Saga SA 1 – 4 Om Saidham SM
For Fixtures, Standings – Check here
Also Read: Millat FC placed in Group D of I-league 3; fixtures out
Also Read: East Bengal FC, Jamshedpur FC share spoils in a closely fought encounter
Follow us on Facebook, Twitter, and Instagram for all the latest happenings in the world of Indian Football