MFA Weekly round-up: KSA maintains League lead, Atlanta FC keeps up the chase
It was another week of thrilling football action in the MFA league as fans were treated to a host of entertaining matches.
The week started with Match 71 where Millat FC dominated Rudra FC with a commanding 6-0 victory. Adnan Ishke scored a brace while Ravinder Pal, Duane Dsouza, Jiten Koli and Brijal Possa all added to the tally. The win moves Millat up to 4th spot in the league table.
In Match 72, Bombay Muslims chose to forfeit the match, giving Mumbai Knights JMJSC three points and a move up the league table. Meanwhile, DK Pharma FC recorded a convincing 6-0 victory over Silver Innings FC in Match 73. Ishan Shaikh, Zeeshan Akhtar, Leimajam Singh and substitutes Kumam Singh and Mohammed Ashraf all found the back of the net to help DK Pharma return to the top three.
Match 74 saw PIFA SC and Iron Born FC play out a hard-fought 1-1 draw. Mohammed Khatib opened the scoring for Iron Born early in the first half before Shamer Swamy equalized for PIFA in the 68th minute.
The Oranje FC continued their impressive form with a 5-2 victory over GMSC in Match 75. Yogesh Kadam and Rinaldo Fernando both scored braces while Amar Adam added one more. Despite Sudhakar Ranjan's efforts, GMSC couldn't manage to mount a comeback and The Oranje FC walked away with all three points. The win puts them in the 5th spot in the league table.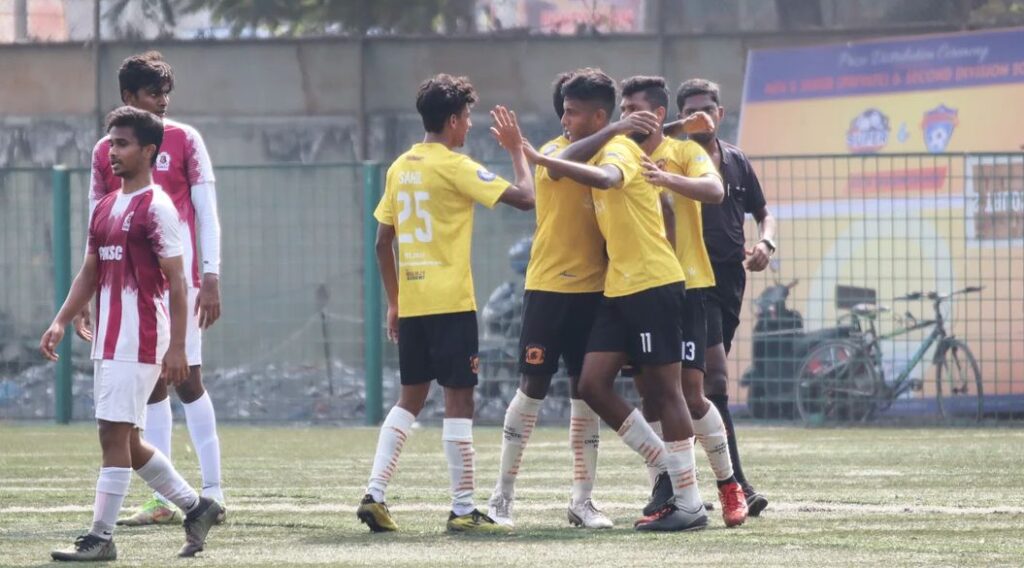 Karnatak Sporting Association continued their dominant form with a 9-0 victory over India Rush SC in Match 76. Pragnesh Solanki and Sanchit Singh both scored hattricks while Mohammed Zaid, Asadul Khan, and Pratham Ghatnur all added to the tally. The win keeps KSA top of the league table with 28 points from 10 games.
Atlanta FC maintained their chase for the top spot with a 7-1 victory over Kenkre FC in Match 77. Mandeep Multani, Arif Shaikh, Himanshu Patil, Nishant Shetty, and Sunny Thakur all found the back of the net. Jay Bhavnani scored a consolation goal for Kenkre. The win keeps Atlanta hot on the heels of KSA, with just a point separating the two teams and Atlanta having a game in hand.
The week rounded off with Match 78 where Bombay Muslims recorded a 2-0 victory over Mumbai Strikers. Aakef Momin scored a brace on either end of the game to secure the win for the Muslims.
Overall, it was another exciting week of MFA football, with plenty of goals and drama to keep fans entertained. With the league table starting to take shape, all eyes will be on the top teams as they battle for supremacy in the coming weeks.
Also Read: Hat-trick of substitutes as India run riot against Bhutan
Also Read: Respect and courage, the cornerstones of India U-20 Women's Team