Late goals sting India's hopes as China PR Prevails in AFC U23 Asian Cup Qualifiers
Football is a game of fine margins and the India U-23 team learned it the hard way in their Group G match against hosts China PR in the AFC U23 Asian Cup Qualifiers at Dalian Suoyuwan Stadium on Saturday, September 9, 2023.
The valiant effort put up by Clifford Miranda's determined squad didn't prove to be enough as they found themselves on the wrong side of a 2-1 scoreline due to a few momentary lapses at the back.
After a neck-to-neck battle for more than an hour, in which the Indians did a commendable job, the deadlock was broken in the 68th minute when Vibin Mohanan conceded a penalty off a sliding tackle, easily converted by China's captain Tao Qianglong.
However, India managed to level the score in the 92nd minute thanks to an own goal by China. Narender Gehlot took a smart low drive from a melee and the ball hit China's Hu Hetao before rolling into the net. Just when it seemed the match was heading for a draw, China's Naibijiang Mohemaiti struck the winning goal in the 96th minute, leaving India a dejected lot.
This defeat was particularly significant after India's opening match was canceled due to The Maldives' last-minute withdrawal from the tournament. As a result, Group G featured only three teams, India, UAE, and hosts China PR. With this loss, India faces a tough challenge to qualify from the group. China's victory propelled them to the top of the group with four points, while India are yet to earn a point. To have any hope of qualifying, India must secure a substantial win against the UAE on September 12 and rely on favorable results in other matches.
In the context of the AFC U23 Asian Cup, only the group winners and the four best second-placed teams overall will advance to the Finals. Hosts Qatar are automatically qualified. The Finals are scheduled to be held from April 15 to May 3, 2024.
The match saw India taking the initiative with Rohit Danu's early attempt on goal, which was comfortably saved by China's goalkeeper, Jian Tao. China faced a setback when midfielder Mutalifu Yimingkari had to be substituted in the ninth minute due to injury. Xie Wenneng replaced him and later played a pivotal role in earning the decisive penalty for China.
China gradually found their rhythm, with their first real threat coming in the 28th minute when Aifeierding Aisikaer made a promising run. However, India's Jitendra Singh intervened effectively to thwart the attack.
India also created opportunities, with Rohit Danu setting up a chance for captain Siva Sakthi Narayanan, who passed to Suhail Ahmad Bhat, but Bhat's shot missed the target. Vibin Mohanan attempted a long-range shot in the 33rd minute, but it too went off target.
China responded vigorously, putting India's defence under pressure, but the Indian backline held firm. After halftime, China increased their intensity, but India's goalkeeper, Prabhsukhan Singh Gill, made crucial saves, denying a free-kick from Jia Feifan and a long-distance effort from Tao Qianglong.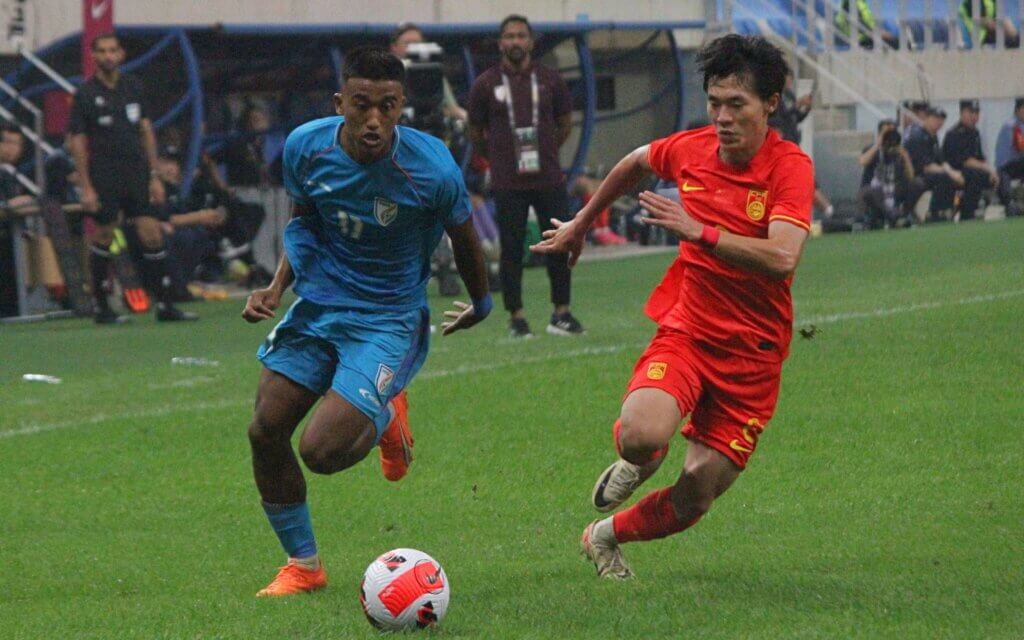 India's attacking intent persisted, and in the 52nd minute, Parthib Gogoi's excellent cross found Thoiba Moirangthem, who failed to keep his shot on target.
China eventually broke the deadlock in the 67th minute when Mohanan fouled Wenneng inside the box, resulting in a penalty that Qianglong converted.
India, however, managed to equalise in the 93rd minute when a free-kick taken by Jiteshwor Singh led to a chaotic sequence. Narender Gehlot took a low shot from the melee and the ball hit China's Hu Hetao before going in.
The elation was short-lived for India, as China found the winner in the 96th minute when Naibijiang Mohemati calmly slotted home an innocuous cross.
India's final group match will be against the UAE on Tuesday, September 12.
India XI: Prabhsukhan Singh Gill (GK), Sumit Rathi, Narender, Jitendra Singh, Siva Sakthi Narayanan, Rohit Danu (Abdul Rabeeh 61′), Parthib Sundar Gogoi (Ninthoinganba Meetei 67′), Sanjeev Stalin (Brison Fernandes 79′), Vibin Mohanan (Sourav 79′), Thoiba Moirangthem, Suhal Ahmad Bhat (Lalrinliana Hnamte 67′).
Also Read: Torrential Tussle: India on Track trumps Mumbai Soccer Prodigies in rain-drenched clash
Also Read: Heartbreak for ROQS as late goal seals win for West Zone United
Follow us on Facebook, Twitter, and Instagram for all the latest happenings in the world of Indian Football