ISL Matchweek 2 Preview: Hyderabad FC aim to continue consistent run as they kick-off their season against East Bengal FC
Hyderabad FC will kickoff their Indian Super League (ISL) 2023-24 campaign by locking horns with East Bengal FC in the latter's backyard at the Salt Lake Stadium in Kolkata on Saturday, September 30. In their first encounter, the Red and Gold Brigade, under their new Head Coach Carles Cuadrat, played out an engaging but eventually a goalless draw against Jamshedpur FC at this very venue on Monday.
What's at stake?

East Bengal FC

Carles Cuadrat has certainly imprinted his philosophy pretty impressively in the East Bengal setup, which was evident from the swift and sustained phases of attacks that they brought about in the last game. The key now is in capitalising on those opportunities as dropping points early on can be costly for their prospects later on in the campaign.

Hyderabad FC

Hyderabad finished second on the points tally last year with 13 wins and just four losses from its 20 league games. So, the team will be carrying the expectation of opening their campaign with a win this time around as well. Amidst all the expectations and consistency over the past two seasons, they go into the season with a new Head Coach – Thangboi Singto.
Key Players
Cleiton Silva (East Bengal FC)
After failing to open their account against Jamshedpur, East Bengal will be aiming for goals galore against Hyderabad FC. In that regard their Brazilian forward Cleiton Silva will play a crucial role in this match. The 37-year-old who joined East Bengal from Bengaluru FC on a free transfer this season brings in a wealth of club football experience.
Makan Winkle Chote (Hyderabad FC)
Keep an eye on young winger Makan-Winkle Chote. Hyderabad FC prized out the 23-year-old from their ISL rivals FC Goa on a free transfer this season. Chote has four goals and four assists to his name at club level and will be expected to net in a few more this time around.

Head-to-Head
Matches Played: 7
East Bengal FC: 0
Hyderabad FC: 4
Draws: 4
Trivia: East Bengal are yet to win a match against Hyderabad. Last season, East Bengal were leading 3-1 at the half-time in a Super Cup match against Hyderabad. But they conceded two second-half goals and the match ended in a 3-3 draw.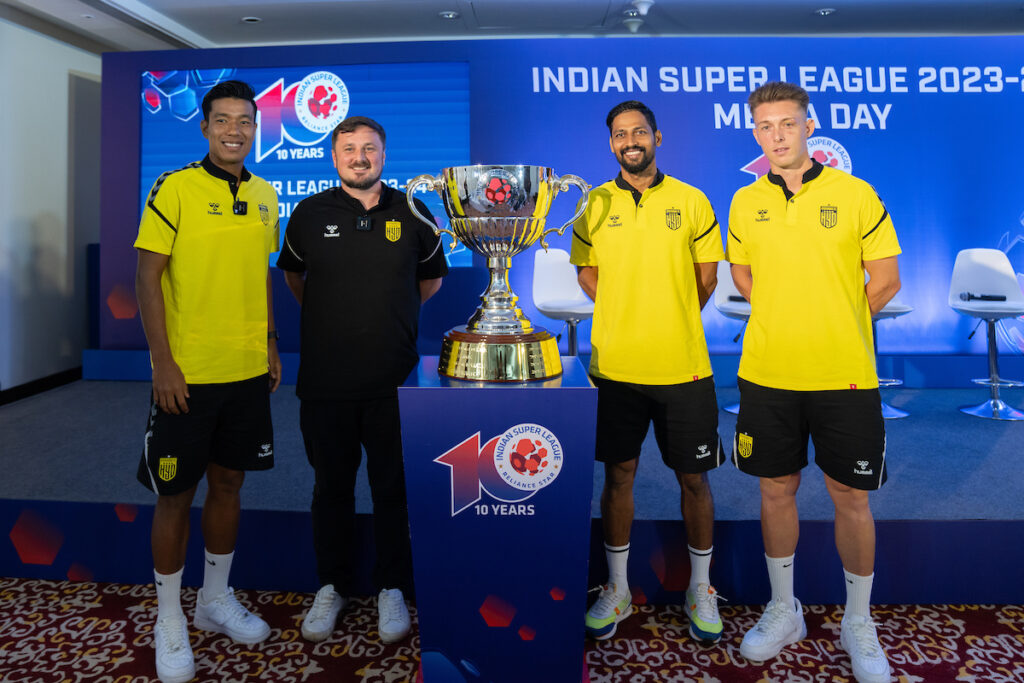 Team Talk
"Every ISL game is a challenge. All the teams have equal opportunity to win games. As Hyderabad FC, as players and staff we are ready. We are excited to face Bengal. One of the strengths of Hyderabad FC is the togetherness and the camaraderie in the group. The new players that have come in have bonded really well with the previous players. There are some senior very experienced players who have bonded well with the young players. So I think as a point weather we are fighting for points on the field or working hard off it. We will always go for top honours. We are working hard for playoffs. From there we think of what next.", said Hyderabad assistant coach Thangboi Singto ahead of the match.
"We are doing the work to win the game. The last 15 minutes of the first half against Jamshedpur was terrific. It is always good to see the other team in a friendly but of course it is a friendly situation. We have to be ready for a close game. 0-0, 1-0 ,0-1, they are good in that so we have to be mentally ready for that. I am not agreeing that the conversion rate of our team is poor. Important thing is to create chances and the team is creating chances. It is new season, new players, new transfers but it always helps to have some bit of information about other team players. The style of football we are playing has to work.", said East Bengal FC coach Carles Cuadrat before the match.
Where to Watch
Viacom18 is the new home of Indian football and the match between East Bengal FC and Hyderabad FC will kick off at prime time of 8 PM on September 30, 2023. Fans across the country can catch the action in English, Hindi, Bengali, and Malayalam. Fans can watch the action on the linear channels like, Sports18 Khel (Hindi), Sports18 1 SD & HD (English), VH1 SD & HD (English), Surya Movies (Malayalam), DD Bangla & Colors Bangla Cinema (Bengali).

In addition to this, as part of FSDL's partnership with OneFootball, ISL live streams and highlights to all matches of the upcoming 2023-24 season will be delivered across more than 190 countries.
ISL Fantasy:
HFC- Jonathan Moya (7.5 Cr)
New to the league but very experienced
122G and 36A in 355 career apps
EBFC- Borja Herrera (9.8 Cr)
Pulls the strings in midfield
4G and 5A last season

Matchweek 1 – Roundup
Highest Score – 74 points.
Average Score – Players amassed an average score of 29.7 in the game post the first five games.

If not registered already, fans can participate in the overall league or club-based leagues based on their preferences.  create private leagues, inviting friends and fellow football aficionados to compete. Prizes include a Sony PlayStation®5 gaming console, EA Sports FC 24, signed club merchandise, and a Gift Card worth INR 20,000, will be awarded to 100 winners at the end of the season. Sign up at:  https://fantasy.indiansuperleague.com/
Also Read: Minds without fear: How the India U19s braved Dashrath Stadium storm to prove their mettle
Also Read: Valliant Blue Tigers fight to the bitter end against Saudi Arabia
Follow Indian Super League on Facebook , Instagram, Twitter and YouTube.