Durand Cup: Mohammedan SC Secure a Commanding Win Over Jamshedpur FC
In an electrifying encounter at the 132nd IndianOil Durand Cup, Mohammedan Sporting Club showcased their prowess with a resounding 6-0 victory against Jamshedpur FC, although their bid for a quarterfinal spot fell just short.
The Kishore Bharati Krirangan witnessed a spectacular performance from David Lalhlansanga, who scored four goals, supported by F. Lalremsanga's brace. Despite their impressive win, Mohammedan SC's quarterfinal hopes narrowly missed the mark.
An Offensive Onslaught: Mohammedan's Intent Shines Through
Mehrajuddin Wadoo's Mohammedan SC charged onto the field with a clear mission – to secure a significant victory that would propel them into the quarterfinals. From the opening whistle, the Black Panthers demonstrated an unyielding attacking approach. Bikash Singh's early header narrowly missed the target, setting the tone for an unrelenting onslaught on the young Jamshedpur side.
Lalremsanga Sparks the Frenzy: A Quickfire Double
In the 10th minute, Lalremsanga capitalized on a well-timed pass from Uzbek playmaker Mirjalol Kasimov to find the back of the net, establishing Mohammedan SC's early lead. Lalremsanga's prowess came to the fore once again just five minutes later, as Alexis Gomez's perfectly executed cross allowed him to slot in his second goal of the game.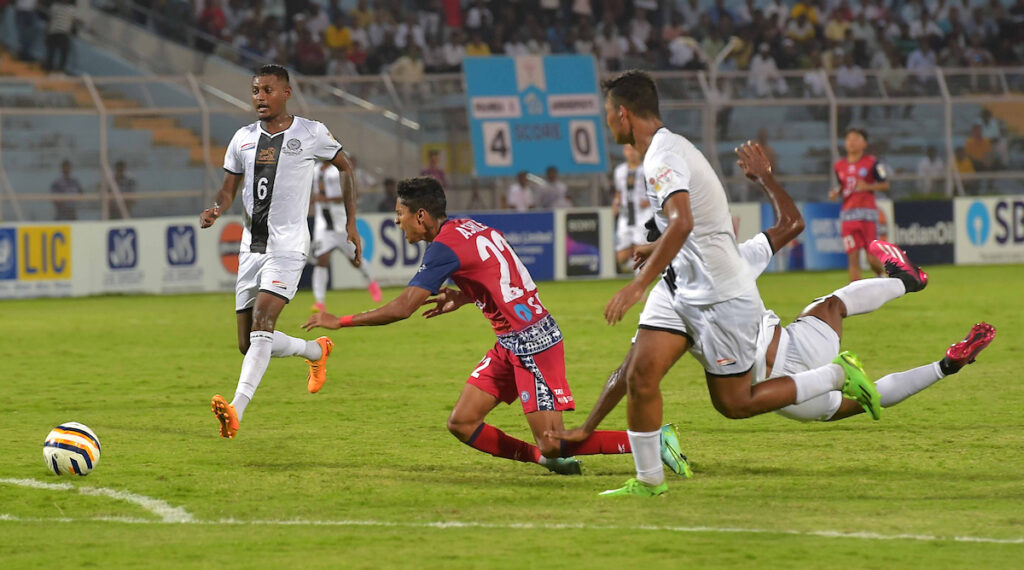 Lalhlansanga's Hat Trick: A Masterclass in Front of Goal
David Lalhlansanga took center stage, delivering an outstanding performance that would etch his name into the match's narrative. His first goal arrived in the 28th minute, thanks to an inch-perfect cross from Alexis Gomez. Lalhlansanga's precision diverted the ball past the goalkeeper, securing his hat trick with remarkable finesse.
Continued Onslaught: Relentless Pressure and Scintillating Goals
Mohammedan SC's hunger for goals remained insatiable as the match progressed. David Lalhlansanga calmly rounded the goalkeeper in the 69th minute after receiving a well-timed through ball from Kasimov, extending his tally to four goals. Despite a valiant effort from the young Red Miners to organize their defense, they struggled to contain Mohammedan SC's offensive prowess.
Heartbreak for Mohammedan SC: Despite Triumph, Quarterfinal Hopes Fall Short
While the Black Panthers showcased their dominance, the cruel margin of victory required for quarterfinal qualification proved elusive. The dream ended for Mohammedan SC, even though they delivered an emphatic performance. The final score of 6-0 epitomized their attacking spirit, yet it wasn't sufficient to propel them into the next stage of the tournament.
Final Score: Mohammedan SC (Remsanga 10', 16', David 28', 69', 82', 89') 6 – 0 Jamshedpur FC
Looking Ahead: Double Header Showdown
As the Durand Cup action continues, Kerala Blasters FC will aim to conclude their campaign on a high note as they face Indian Air Force FT in a Group C clash at the East Bengal Ground. Meanwhile, the Indian Army FT and Rajasthan United will lock horns in a highly anticipated match to determine the victors of Group F at the SAI Stadium in Kokrajhar.
Also Read: Unveiling India's futsal debut: A candid conversation with player Jayesh Sutar
Also Read: Mastering the Art of Football Trials: Key Pre-Trial Factors to Keep in Mind
Follow us on Facebook, Twitter, and Instagram for all the latest happenings in the world of Indian Football