AIFF wins AFC President's Recognition Bronze award for Grassroots Football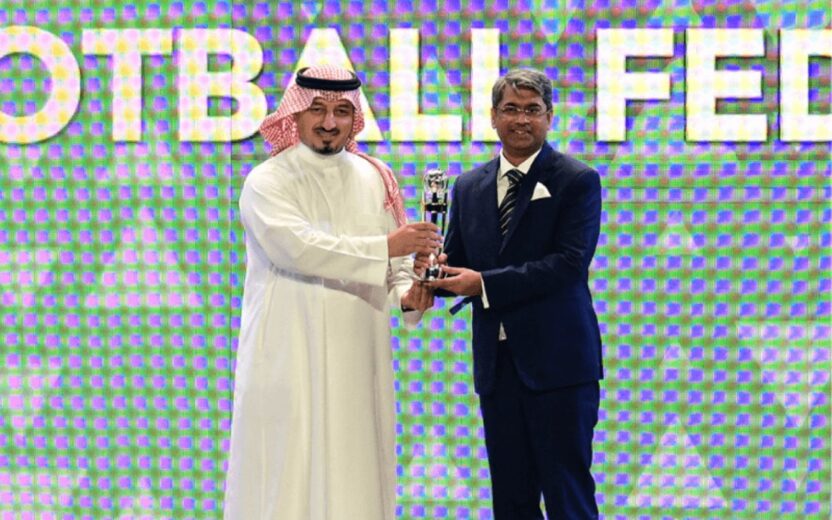 NEW DELHI: It was a night to celebrate for the Indian Football fraternity on Tuesday, October 31, 2023 as the All India Football Federation has secured its second Grassroots Football award, with the previous one being earned in 2014. The accomplishment reflects AIFF's commitment to promoting football at the grassroots level, characterised by several innovative initiatives.
Numerous special projects have been initiated as part of this endeavour, including the AIFF Blue Cubs programme, Blue Cubs Coaching Courses, Blue Cubs Leagues, Blue Cubs Football Schools, AIFF Grassroots Awards, AIFF Institutional League for Non-Professional Entities, AIFF Project Diamond and several other projects at the grassroots level.
The AIFF's commitment to expanding participation is evident through various activities and events, including the AFC Grassroots Day 2023, AIFF Academy Accreditation, AIFF Golden Baby Leagues, Grassroots Coach Development Courses, Blue Cubs Leader Courses, and Grassroots Coach Educators Courses. It demonstrates AIFF's continuous efforts to nurture footballing talent from the grassroots, and ultimately raising the standards of both youth and senior teams in the country.
Commenting on the award, AIFF President Mr. Kalyan Chaubey said, "It is a good achievement for Indian Football and with this recognition from AFC, we are further motivated to do our best to impact the development of grassroots football in India. Our Grassroots Committee deserves much appreciation. Our aim and focus has always been to develop football from the grassroots level across the country and the result is ther for everyone to see."
AIFF Secretary General Dr. Shaji Prabhakaran said, "This award by the AFC for our grassroots work reflects that our flagship grassroots initiative 'Blue Cubs' will transform India's grassroots landscape in the next few years. We have a lot of work ahead to engage more children in the beautiful game, and our goal should be to win the AFC Diamond Category Award with our exceptional work in grassroots football. We would like to compliment our MAs and other stakeholders for their improved focus towards grassroots football and we as one team will shape a better future of football in India by having a robust grassroots structure and system in India."
Also Read: MSP edges Soccer XI FC 3-2 in thrilling MFA Super League encounter
Also Read: Matchweek 6 Report: Odisha FC rediscover winning touch with comeback victory against Bengaluru FC
Follow us on Facebook, Twitter, and Instagram for all the latest happenings in the world of Indian Football.