Saurabh Bhanwala exclusive: my Parents and my Coaches are my 'Driving Force'
Saurabh Bhanwala, the 6 feet tall defender, hails from the Indian Capital. He has represented Delhi as a youth footballer and now plying his trade with RoundGlass Punjab FC in the Hero I-League. Earlier this week, we sat down for a chat with the young center-back.
Growing up in Delhi with his father's constant encouragement to play sports from a very young age has helped him to understand the importance of playing sports as part of a healthy life. Saurabh spent a lot of time at school and in his neighborhood playing a variety of sports such as basketball, football, and swimming. At the age of six, a young Saurabh fell in love with the beautiful game.
Recalling his journey, Saurabh said, "I was six years old when I first played football and really enjoyed the feeling of being on the pitch. After a few years, I represented my school team in various tournaments including the prestigious Subroto Cup. My first club was Hindustan FC in Delhi and since then, it has been a fulfilling journey in professional football, and I look forward to moving forward as a player with RoundGlass Punjab FC."
The drive to improve and keep getting better motivates Saurabh. He idolizes American swimmer Michael Phelps and admits that The most decorated Olympian has been his inspiration for the longest time.
Saurabh, who believes in pre-match rituals, says, "there is a pre-match ritual that I always follow on matchdays, that is putting my right shoe on first."
When asked about the difference between playing for a local club and RoundGlass Punjab FC, Saurabh said, "playing for RoundGlass Punjab FC in the I-League has been phenomenal. The atmosphere in the team is totally different as compared to a local club. The expectations are much higher and there is healthy competition in the squad. The Club has a clear ambition and long-term goals. The fact that the club seeks to inspire children to play sports as part of the club's mission to provide holistic wellness and experience the joy of playing, resonates very strongly with me.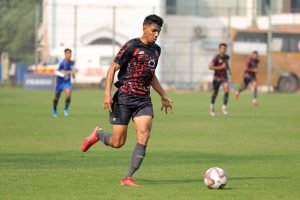 In football, Saurabh considers former Manchester United captain Antonio Valencia as his idol. Saurabh is a huge admirer of the Ecuadorian's hard work, his darting forward runs, and his excellent crossing abilities. In Indian football, Saurabh is a fan of his club teammate Sumeet Passi and also a fan of his character both on and off the pitch. Saurabh acknowledged Passi as "an inspiration to many".
In the end, Saurabh signed off the interview by being grateful to his parents and coaches, addressing them as his 'driving force'. He said, "My father instilled the value of hard work and discipline in me from a very young age. Some of the life lessons imparted to me by my mother have been instrumental in shaping the person and the player I am today."
"From my school coach Sandeep Dhole to my current head coach at RoundGlass Punjab FC, Ashley Westwood – I am grateful to all of my coaches for their significant contribution to my career. They are the reason I have reached this level and their guidance has been invaluable", he added, concluding the interview.
For Trial related updates: Latest trials updates in Mumbai Football
Also Read: Stellar second-half show helps Bengaluru rally past Jamshedpur
Follow us on Facebook, Twitter, and Instagram for all the latest happenings in the world of Indian football