Kenkre finish their maiden Hero I-League campaign with a heartbreaking loss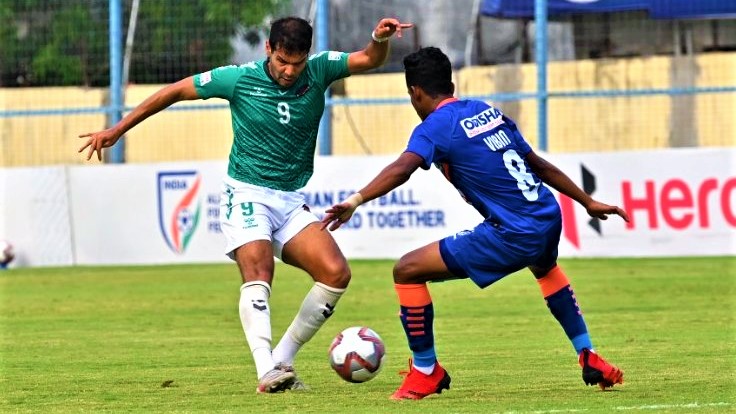 Kenkre FC has finished at the bottom of the Hero I-League following Wednesday's 1-0 loss to Indian Arrows
With Real Kashmir's 1–1 draw against TRAU FC in the other game, the defeat means Kenkre could not surpass the Snow Leopards and finish at the bottom of the table.
Kenkre head coach Akhil Kothari made just one change to the team which won 1-0 against Real Kashmir 3 days ago. In came Yash and replaced Ranjeet for today's clash who took a knock in the last game.
Indian Arrows kicked off the first half and after dealing with the pressure from the opponents in the opening minutes, Kenkre got their first chance to open the scoring through Vijay. In the 8th minute, Vijay took a shot outside of the box but his shot went wide.
In the 17th minute, Kenkre's Akeraj got a good opportunity to give them the lead but failed. A good ball from Aniket found Akeraj who took a shot but it was off target.
In the 29th minute, Indian Arrows earned a free kick on the left side of the box. Parthib took a shot which was brilliantly saved by our no. 1, Tenzin.
In the 40th minute, Kenkre's Akeraj was forced to get off the field due to injury and was replaced by Khongsit. Just before the break, Khongsit put a good ball into the box which met Pravitto's head. He was heavily marked and his close-range header just went wide. The first half ended in a stalemate. Elsewhere, Real Kashmir were winning 1-0 against TRAU FC at halftime.
In the second half, Kenkre stepped up their tempo and started playing attacking football.
In the 57th minute, Kenkre earned a free-kick just outside of the box. Aravind whipped it in which was missed by the Arrows goalkeeper but neither Yash nor Kiran were able to get at the end of it as another chance went begging.
In the 69th minute, Yash got a chance inside the box and took a shot but the Arrows goalkeeper denied him the opportunity to give Kenkre the lead.
In the other game, TRAU FC equalized in the 70th minute. Knowing that, Kenkre pressed on for the winning goal, Khongsit took a shot in the 72nd minute but it went wide.
In the 88th minute, Kenkre's Nam displayed top defensive action as he cleared the ball off the line after some attacking moves from the Indian Arrows.
In the 90th minute, Kenkre tried to move up the field in search of victory which would have guaranteed safety however against the run of play Arrows managed to sneak in a goal through substitute Himanshu to break the Mumbai outfit's hearts.
After the goal, Kenkre tried to level up in added time but failed to score as the game ended in a loss for them.
FT: Indian Arrows 1-0 Kenkre FC
Credits: Kenkre FC Media
For Trial related updates: Latest trials updates in Mumbai Football
Also Read: Mata Rukmani, PIFA Sports FC geared up for their second win
Follow us on Facebook, Twitter, and Instagram for all the latest happenings in the world of Indian football