League leaders Churchill Brothers aim to regain mojo by defeating Mohammedan SC
After tasting their first defeat of the Hero I-League season in a 3-0 loss to Gokulam Kerala FC, league leaders Churchill Brothers will aim to get back to winning ways and reclaim their lost mojo when the Red Machines clash swords against Mohammedan SC at the Kalyani Municipal Stadium in Kalyani, West Bengal tomorrow (March 15, 2021). The kick-off is slated for 7 PM IST and the match will be broadcast on 1Sports, whilst being streamed on their Facebook page.
With Gokulam Kerala FC and TRAU hot on the heels of the league leaders and Churchill's lead reduced to three points, Fernando Varela's side have to aim for nothing short of a win if they are to maintain a smooth sailing in their path to Hero I-League glory. With only three matches left in the season, a win for Churchill will also put the onus and pressure on the chasing pack to get results — making for an interesting showdown in the final few matches of the season.
Speaking at the official pre-match press conference, Fernando Varela said, "Mohammedan SC have been boosted by the arrival of Pedro Manzi and they have many good players that can change the outcome of the game within seconds. They are trying to play good football and it will be a tough challenge for us tomorrow."
"It will be difficult for us tomorrow but we aim to continue to play our brand of football and get the win. We need to stay on course and we are ready for the challenge that comes tomorrow," he added.
Defender Keenan Almeida said, "We are at the top of the table and we are three points clear so we are on track for the title. The defeat against Gokulam was hard for us to take in but we are ready to bounce back. We have a positive mindset and are looking forward to tomorrow's match."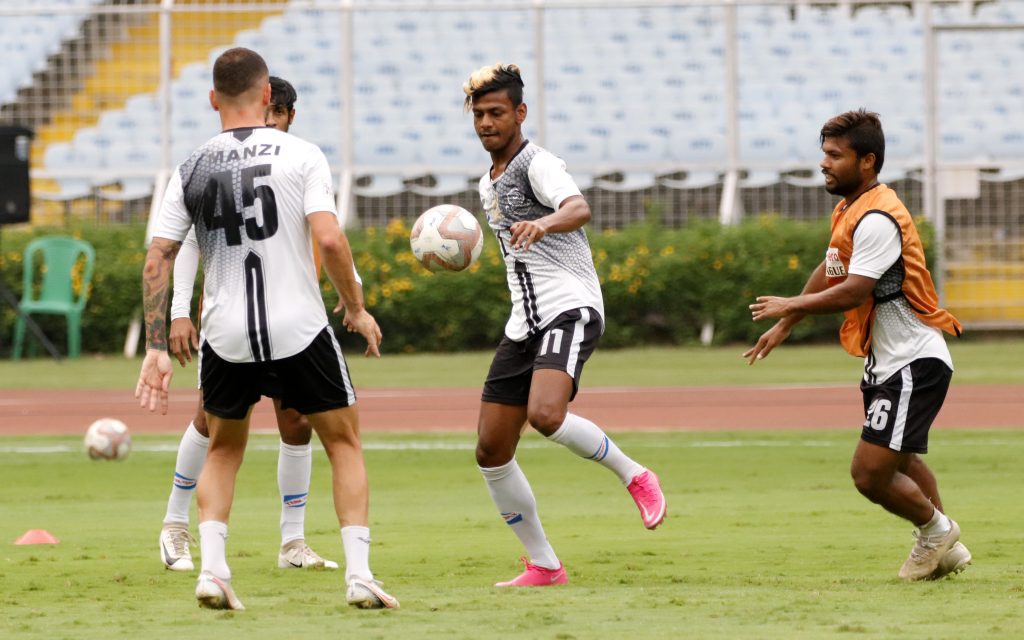 Mohammedan SC have had a resurgence in form of late. Their 3-3 draw against RoundGlass Punjab FC where they came from two goals behind showed signs of a team aiming to aspire higher, but the Black Panthers have to do better in terms of finishing if they are to match the leading pack of the Hero I-League.
A win will take them to fourth place in the table and the Black Panthers will be aiming for three wins in their remaining three matches, which could spice up the title race in its final lap.
Speaking at the official pre-match virtual meet, coach Shankarlal Chakraborty said, "We aim to win in every match and aim to learn in every match. We are focusing on the next remaining matches that we have and we will take them step by step. Our goal is to take maximum points in those matches and we will give our level best to get a positive result in those matches"
"We have worked a lot over the last few days in correcting our mistakes. We have to play aggressive football against one of the best teams in the Hero I-League tomorrow in Churchill Brothers"
"They (Churchill Brothers) are excellent in attack and they will press us for the entirety of the match. It will not be an easy game for us come tomorrow. Our goal should be to take maximum points out of Churchill," he added.
Midfielder and Bangladesh national team skipper Jamal Bhuyan said, "We have to be very careful tomorrow against a top attacking side. We still have a chance against them but we have to play at our level best. It will be a tough test for us but we are ready for it and will give our cent per cent tomorrow."
CREDITS: I-League Media
For Trial related updates: Latest trials updates in Mumbai Football
Also Read: MFA Women's League: Bodyline, Footie First, India rush clinch convincing wins on opening day
Follow us on Facebook, Twitter, and Instagram for all the latest happenings in the world of Indian football