5 Key Battles to watch out for in India vs Qatar
After a long break of 65 days, the Blue Tigers are back in action for their World Cup Qualifiers in Qatar. This time they play their round fixture against Qatar, the best team in Asia. 
The last time when India played Qatar, they made history by keeping a clean sheet.
Let us have a look at some of the key battles to watch out for in India vs Qatar:
#1 Brandon Fernandes vs Abdulaziz Hatem- (Md vs Md)
This was the battle we saw some days before when FC Goa played against Al Rayyan in the AFC Champions League.
Brandon is the only player this year for India who has given assists in the World Cup Qualifiers. His presence in the team always makes a difference, which he also showed for his club FC Goa, when he made history by assisting the first goal for an Indian club in the AFC Champions League.
On the other hand, Hatem is no less of a threat to the opponent. Alongside his defensive duties, he helps his team with goals and assists . He has five goals and three assists to his name in the Qatar Stars League.
A fair contest awaits  FC Goa's attacking midfielder lock horns against  Al Rayyan's defensive midfielder.
#2 Sandesh Jhingan vs Al Haydos- (Df vs Fw) 
Arguably, one of the best defenders in India is Sandesh Jhingan.! He showed his class again this year in the ISL with his club ATK Mohun Bagan where his side kept the most clean sheets of the season. Sandesh and the other Indian defenders can become a big mountain to climb for the Qatari attackers.
In contrast, the captain of the Qatar national team Hassan Al Haydos, one of the most influential players on Qatar's side who always creates enormous problems for the defenders. Al Haydos plays for Al Sadd. The team is managed by Barcelona legend Xavi. Haydos has two goals and nine assists to his name in the Qatar Stars League.
#3 Sunil Chettri vs Boulem Khouki- (Fw vs Df) 
The battle everyone will be most excited about—the face-off between Indian centre-forward and Qatari centre-defender. 
The highest goal-scorer and the captain of the Indian side, Sunil Chettri, can be a severe problem for any defence. He is not in his greatest form as we saw a disappointing campaign for his side Bengaluru in the ISL, but for the national side, Chettri is always ravenous than ever!
On the other side, another player from Al-Sadd, the champions of the Qatar Stars League, is defender Boulem Khouki. A complete package for any team, who can defend, score and assist. Till now, in Qatar's six games in the World Cup Qualifiers, he has scored a goal and managed four clean sheets.
#4 Pritam Kotal vs Akram Afif- (Rb vs Lw) 
A fight between a left-winger and a right-back is never dull. Pritam Kotal plays as a right-back defender for India and ATK Mohun Bagan, a team in the ISL with the most clean sheets. The wall he creates with his fellow defenders is challenging to break for any side.
Whereas, on this side, the third player on our list who plays for Al-Sadd is Akram Afif. He has been in exceptional form across the season, where he has five goals and seven assists (in 11 appearances ) in Qatar Stars League and four goals (in 6 appearances) in the World Cup Qualifiers.
Keeping Akram on the bay will be one of the primary tasks for Pritam.
#5 Amrinder Singh vs Al Sheeb (Gk vs Gk)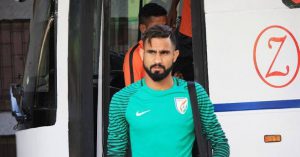 The final battle on our list is between the goalkeeper's – Amrinder Singh and Al-Sheeb.
Amrinder Singh, the captain of Mumbai City FC, has a slight edge over Gurpreet Singh of featuring in the Qatar game as he had an incredible season winning both the ISL Shield and Trophy! Amrinder managed nine clean sheets in 20 games, so netting the ball in front of him can be difficult for the Qatari's.
On the other hand we have the prolific Qatari goalkeeper Saad Al-Sheeb who also plays for the 2019 AFC Asian Cup winner Al Sadd SC. He will use all his experience of 65 international games to stop the Indian attacks!
This battle will be a treat to watch, as both of them will try their best to keep a clean sheet!
For Trial related updates: Latest trials updates in Mumbai Football
Also Read: Top Scorers of I-League from 2007-2021
Follow us on Facebook, Twitter, and Instagram for all the latest happenings in the world of Indian football