Spectator stands of St. Xavier football ground in Parel, Mumbai Collapses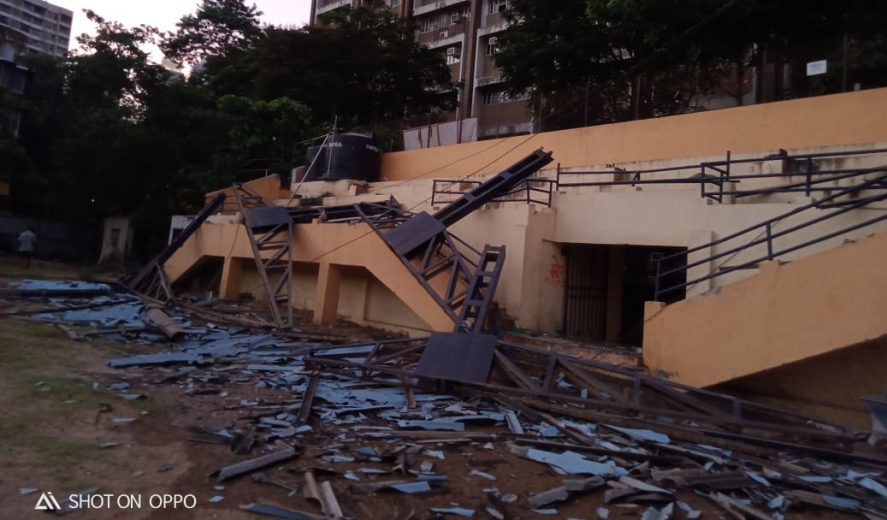 Mumbai's St.Xavier's Ground in Parel that has been host to various MDFA and MSSA tournaments suffered a mishap after part of its stands collapsed on early hours of Thursday morning.
The St. Xavier Ground also known as MDFA ground by city football aficionadas suffered an unfortunate accident on Thursday when around 5 AM part of its stand collapsed.
Usually the ground sees lot of activity early morning with people exercising or having their trainings etc however luckily no casualties were reported today, as the place was deserted this time around, courtesy of the ongoing city wide lockdown following Covid 19 Pandemic.
Fire Brigade was called in to look into the damage and remove the debris. Sudhakar Rane, who serves as the General Secretary of the MDFA, explained that the association would soon look into the matter. "Around 5.15 am, parts of the stand collapsed. Some workers who stay nearby saw this and informed us. Fortunately, there were no injuries or loss of life as the stadium was closed due to the COVID-19 pandemic. The fire brigade arrived soon and they will submit a report to BMC. The MDFA will soon convene a meeting to decide on the next course of action," Rane had informed Goal.
The St. Xavier Ground at Parel in Mumbai has been a host to various lower divisions leagues of Mumbai District Football Association (MDFA) like MDFA 1st , 2nd and 3rd Division as well as other tournaments like Republic Cup, Mumbai Schools Sports Association (MSSA) tournaments etc. The stands at the ground was built by BMC few years ago while MDFA President Aaditya Thackeray inaugurated the floodlights at the venue in 2016
Also Read: Bala is an inspiration to all women footballers: Praful Patel
For Trial related updates: Latest trials updates in Mumbai Football 
Follow us on Facebook, Twitter, and Instagram for all the latest happenings in the world of Indian football.