Indore to Palamós – Gautam Gawlani takes an interesting football journey
From Indore, Madhya Pradesh to the city of Palamos in Spain, 19 year old centre back Gautam Gawlani has taken quite an interesting journey in pursuit of his love for football
Most Indian Football fans are familiar with the young Indian Arrows squad filled with talented teen footballers handpicked by the AIFF scouts and destined to great heights courtesy of the training from trained coaches. Yet there are plenty of Individuals out there grinding out in various leagues around the country with the dream of playing for India, one such example is of Indore born Gautam Gawlani.
Gautam's tryst with football has not been as rosy as it looks. Having picked up the interest early in his school days, Gautam failed to make it to his school team early on, struggling with his excessive weight. Determined to get in to the team, Gautam started working out every day to become match fit. Watching his resolve to gain fitness, his coach finally gave him a chance to feature in his school team. From there on, Gautam soon went on to play for his School's senior team in Prestigious Subroto Cup, Delhi.
Despite his mother's apprehension around football injuries, watching his son's serious interest in football, Gautam's father Mr. Santosh Gawlani got him in to Emerald FC – a local club in Indore. After a successful stint with Emerald, Gautam tried his luck with one of the top football academies of the country – Punjab based Minerva Academy. Despite a successful trial, Gautam decided to back out within a month to complete his board exams.
Football being not the high profile game in India, there were many naysayers to Gautam's choice of sport. The youngster credits his family as the biggest motivator in his football journey, especially his brother Kabir Gawlani, who would constantly remind him to never lose hope in life. Having missed out on Minerva opportunity, Gautam struggled to find a club that could offer him National level exposure.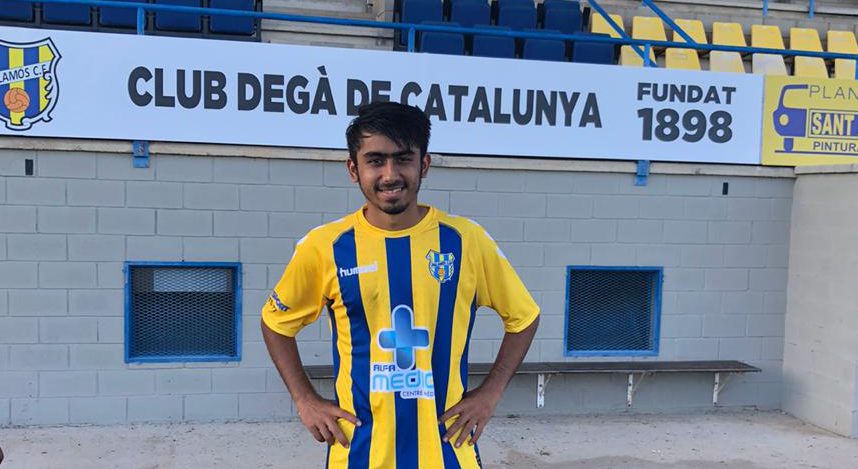 Gautam Gawlani during his stint at Spanish based outfit Palamós C.F.
In 2018, after another successful tryout with Bangalore based – Ozone FC, Gautam decided to join the club and be a part of team's U18 I League journey. Despite struggling to adjust to the pace of the team early on in the season, a determined Gautam soon managed to deliver what was expected from him and went on to represent the team for the rest of the league.
"Gautam has worked hard on his game and has a lot more potential. He has always been focused and determined when it comes to football. He has very good defending skills and I hope he gets in to one of the top clubs in India and eventually represent the Indian team."

– Ozone Coach Kaja Mohideen on Gautam's football potential
By the end of 2018-19 season, Gautam had completed his 12th board and was on a look out for fresh new season of football. After coming across AU Rajasthan trial news for their U18 and I League 2nd division teams, Gautam traveled to Mumbai to showcase his skills, after impressing the Coaches he was called in to Jaipur for final 7 day trial round. Unknown to him AU Rajasthan FC had collaborated with Spain outfit Palamós C.F. On the 7th day, Gautam came to know about his selection for the Spanish outfit and was offered scholarship to travel to Spain and train with the Palamós C.F.
Talking about his Spain experience, Gautam recalls, "It was tough at first, they have completely different pace to the game. After the initial tough period I had managed to adjust well to their game. I was given an opportunity with their U19 B team and later on promoted to their main U19 team. Overall it was a really tough one but a good learning experience"
The Covid – 19 Pandemic had disrupted the whole world and football fraternity was no different. Gautam's stint at Palamos CF came to an abrupt end and the defender is now back at his home in Indore. "For the time being in Indore, I am practicing with my mates. But still match experience is necessary but in this situation its only self practice" adds Gautam, who admires Sandesh Jhingan as a role model.
Talking about his future plans, Gautam states, "I am looking forward to getting an opportunity to play in I League 2nd Division and eventually move to ISL. My ultimate dream is to play for the Indian National Team." At 19, Gautam still has a long way to go and here is one hoping he gets to live his dream.
For similar articles on unknown talented footballers – visit here
Also Read: 
Makan Winkle Chothe's rise in 3 short years takes everyone by storm
Gaurs rope in Spanish striker Igor Angulo
For Trial related updates: Latest trials updates in Mumbai Football