Azza Noorani – The super sub livewire on the wings of Air India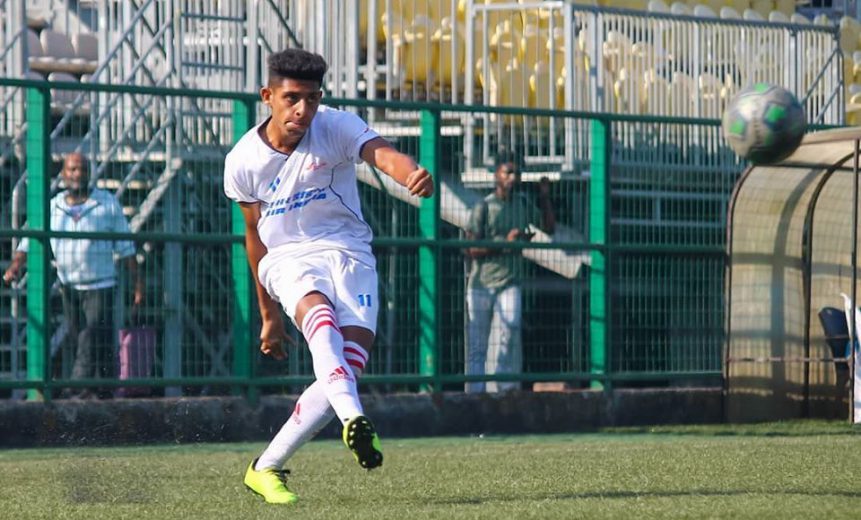 Since impressing everyone at the 2019 MDFA Nadkarni Trophy, Azza Noorani has become a vital cog in the Air India often coming as a super sub to change the complexion of games.
After an underwhelming but eventful season with KSA last year, where former India International Steven Dias and other Mumbai Football experienced players like Pragnesh and Nascimento were preferred on wings, Azza Noorani was picked up by Air India for the 2019 season. The youngster didn't disappoint as he came up with some important contributions to help his side lift the MDFA Nadkarni Trophy early in the season.
Growing up in Bandra, Azza Noorani's tryst with sports began as early as in his Kindergarten days. Inspired by his elder brother Arif Noorani, who used to play football for his school team, it didn't take long for Azza to take up the sport himself. At age 13, Azza joined his first ever club Carmelites SC and would go on to represent the club in Bandra Leagues.
After impressing everyone at Carmelites SC, Azza was picked up by Henry Picardo for the junior side of the then I-league Club Mumbai FC, where he was part of the squad that won MDFA Republic Cup. After the unfortunate disbanding of Mumbai FC, Azza went on to represent PIFA Colaba where he had his first exposure to top tier of Mumbai Football – MDFA Elite Division, before switching side last year to represent KSA.
Although chances at KSA came occasionally, it was the experience of the dressing room that Azza has benefited from. Talking up his time at KSA, Azza said, "At KSA, I have learned a lot from Steven Dias sir and also from the experience of Pragnesh and Tushar bhai and many other players. It was my first time under Shyam sir, so it was an excellent season of learning for me"
"Well I am so thankful to both these clubs for having faith in me and making me a part of their success story. It's not much of a difference between the two clubs. But I love the training sessions at Air India. It just gets the best of inside me out."

– Azza on representing the KSA and Air India
After an underwhelming yet eventful year at KSA, Azza Noorani was then picked up by Air India this season. The youngster had a stellar start to the season playing a vital part in Air India's title winning Nadkarni Cup campaign. "I always wished to play for Air India and I am so happy to be a part of this fantastic team and winning this prestigious cup with them." stated Azza
During the regular league season of Elite Division, Azza has often been used as a super sub at Air India. The wingers pace and energy in the latter part of the game has often put the opposition defence in trouble. Although known for his dangerous crosses, Azza has chipped in with vital goals through the season.
His injury time goal against UBI rescued a point for the former Champions while another injury time goal against Central Railway fetched them all three points. On being asked about his goal contribution to the side, Azza opined, "Scoring goals is not that important to me. Becoming a good team player and taking my team to victory is more important to me."
"Azza had a good season. He has improved over the course of season. His goals for us have been vital, mostly match winners. He is a very fit guy and has some really good crossing ability"

– Air India Captain Vijith Shetty on Azza's performance
Azza credits his family to have played an important role in his growth as a footballer. Talking about his parents support, Azza stated, "Me being what I am in football today is all because of my parents. They have always been there with me. There are a lot of people in my life, who have motivated me in this journey but the best motivators were my Mom, Dad & my Brother they mean the whole world to me." Further talking about his brother's influence, Azza adds "My Brother and Dad were my first coaches. My brother used to show me YouTube videos of football skills and training. He always pushed me to do well."
Azza prefers to keep his preparation before matches quite simple, "I sleep well before the game that's how I prepare. Before entering the pitch, I just pray to the Almighty to give me strength to perform well and remember all that my coach is expecting out of me."
Azza, whose favourite international player is Neymar Jr, counts fellow Mumbaikar and India International Farukh Choudhary amongst his favourite Indian player and looks forward to follow his path. While just 20, Azza has set his target to representing the national team, "My Aim is to wear the Indian National team jersey. That's the biggest aim I have in my life. And I am working on it. Inshallah, I will try my best to achieve this goal."
Azza signs off with, "I believe in this famous line – Always try to do better, no matter how much you think you are good." With this simple motto to do better every time, Azza could well be on course to achieve his ultimate dream.
For Elite Division League Fixtures and Table – – -> Click here 
---
For Trial related updates: Latest trials updates in Mumbai Football 
Follow us on Facebook, Twitter, and Instagram for all the latest happenings in the world of Indian football.