3 girls from Maharashtra to join National Camp in Goa for the FIFA U-17 Women's World Cup
Anjali Barke, Priyanka Sujeesh, and Sai Sankhe are all set to script history becoming the first female athletes to probably represent India in a FIFA World Cup from Maharashtra.
The AIFF will host the FIFA U-17 Women's World Cup next year in February. The FIFA age-group showpiece will see 16 nations from 6 confederations battling out to become World Champions. From Asia, Japan and South Korea are confirmed besides hosts India. Alongside New Zealand, three teams each from Europe, South America, North and Central America and Africa will be the other participants.
To leave no stones unturned, the AIFF organized a tri-nation series in December 2019 inviting Sweden and Thailand in Mumbai. After the tournament, where India lost to Sweden in Finals, the ramifications caused by COVID-19 stemmed the tide. Finally, as the nation is gradually unlocking, the AIFF has called 35 players from all over the nation for a camp in Goa. The camp was supposed to start early in July, but due to the unprecedented pandemic raging upon the world, the group will assemble after ticking the Standard Operating Procedures (SOP).
The Western India Football Association, the governing body for football in Maharashtra congratulated the three recipients. Three of them came to the limelight after performing meticulously for their state in various national competitions over the years. Sai Sankhe and Anjali Barke performed exceptionally in Sub-Junior Women's National Tournament back in 2017 at Manipur. Sai Sankhe scored in every game for Maharashtra and Anjali Barke was one of the best shot-stoppers in the competition. Last year, Priyanka Sujeesh was an instrumental performer in India's maiden victory at the U-15 Women's SAFF Championship held at Bhutan.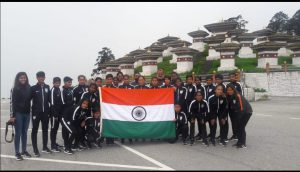 Apart from being an exceptional scorer, Sai is known for her leadership qualities. She is regarded as an intelligent, tactically sound and a lethal footballer. Priyanka Sujeesh on the other hand, is a versatile footballer. She understands her role and is adaptable. Anjali Barke is a stirring goalkeeper. Her ball-handling skills are at par with many notable footballers.
Speaking to their mentor and coach, Mr Firmin D'Souza, who groomed all three of them in various state and international competitions, he was full of praise for his students.
"I have been very privileged to work with all 3 of them. They are not only brilliant players but also amazing human beings. I hope they go on to fulfil the dreams of 140+ crore Indians and achieve great heights for India and themselves in football. All the best girls, I'm sure you'll make us proud" said Firmin D'Souza, who was the Head Coach of the SAFF U-15 Women's Championship winning Indian team in 2018.
He also lauded the technical abilities of all the players. "Sai Sankhe is intelligent, understands tactics, has good speed, good skill on the ball and can have any defender in the world have a run for their money while she is playing in an attacking position. Priyanka Sujeesh is a very versatile player who can play a lot of positions for the team. She understands her role, very intelligent, very skilful on the ball, and of course an entertainer for the team to keep us in good spirits. Anjali Barke is an amazing Goalkeeper but maybe a little shy so needs to work on her communication skills. But as a Goalkeeper, her ball-handling skills are pretty good and she is decent with her feet as well" quipped coach Firmin.
Speaking to Mr Souter Vaz, the General Secretary of WIFA, he congratulated the girls on making it to the camp. "I'm overwhelmed to hear that Anjali, Sai and Priyanka received a call up for the national camp. They are very bright prospects and their determination will bear the fruits. I wish them all the best" quoted Mr Vaz.
The Indian team is coached by experienced Swedish International, Mr. Thomas Dennerby. The support staff includes Asst. Coach Mr. Alex Ambrose, who hails from Dadar in Mumbai and was a part of the coaching staff at Mumbai City for many years. The technical team also has Nigerian legendary Goalkeeper, Ms. Precious Dede as the Goalkeeping Coach.
The U-17 FIFA Women's World Cup will commence on 17th February 2021, and will take place in Mumbai, Kolkata, Guwahati, Bhubaneshwar and Ahmedabad. Spain is the defending Champions who lifted the trophy in 2018 at Uruguay!
---
Also Read: The iconic green and maroon colours of the Mohun Bagan jersey retained
For Trial related updates: Latest trials updates in Mumbai Football
Follow us on Facebook, Twitter, and Instagram for all the latest happenings in the world of Indian football