Mumbai defeats Kolhapur to set up a grand finale against Nagpur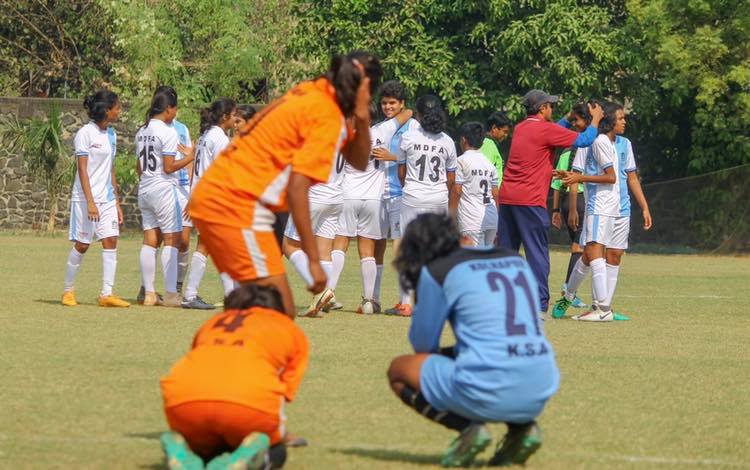 21st January 2019, Palghar: Defending Champions Mumbai District registered a hard-fought 3-2 win over Kolhapur District to set up a date with Nagpur District in the WIFA Inter-District Sub-Junior Championship Final at Palghar. At one stage of the match, Kolhapur was 2-0 down but they fought back and never looked back until the final whistle as they fell just a goal short and bowed out of the Championship.
On Sunday, Nagpur had defeated Pune via penalty shootout when both the outfits were locked at 3-3 after the end of normal time. With Nagpur already fired up after their win against Pune, it would be quite a final when they face Mumbai District on Tuesday morning.
Mumbai District started off brilliantly when last season's top-scorer Bhumika Mane broke the deadlock in the 6th-minute itself with a delicate chip over Kolhapur's goalkeeper. Six minutes later, Mumbai doubled their lead through Mehek Lobo who was set up by Tanisha Laud's pinpoint free-kick.
It seemed Mumbai District had already sealed the game but Kolhapur fought back in what turned out to be a classic semi-final encounter. Sanika Patil cut short the deficit for Kolhapur District but Mumbai restored the parity through Tanisha.
In the second half, a brilliant combination between Bhakti Birangaddi and Sanika Patil helped Kolhapur to get one goal back after a well-taken strike from Sanika. Kolhapur gave their best in the last stages of the game where they came close to level the score on several occasions but Mumbai's defense and the goalkeeper stood firm to keep their one-goal lead intact.
Final:  Nagpur District vs Mumbai District – 22nd January 2019.