Ranjeet Pandre and Sanjeev Verma – Two different personalities, one state – Chhattisgarh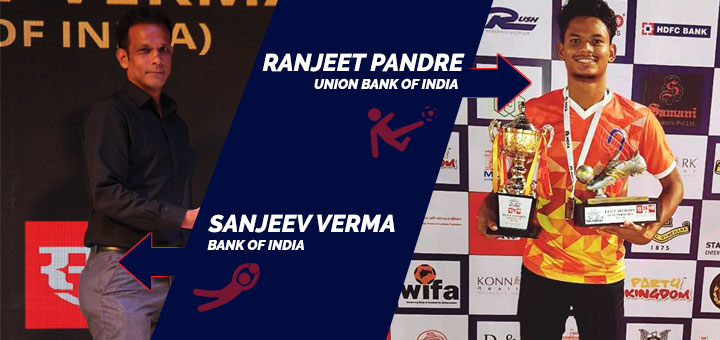 Mumbai: Earlier this year in February, National Inclusion Cup 2018 – organised by Slum Soccer, concluded successfully with Kerala and Chhattisgarh winning the Men's and Women's category, respectively.
What intriguing is, Chhattisgarh, a state which has never won a major tournament ended up winning the National Inclusion Cup, that too in the Women's category, a huge achievement. It was quite astonishing to see Chhattisgarh finishing on the podium who has produced so many emerging players over the years.
Most of those players have ended up in the city of dreams. Two prominent men's example lies in the Mumbai District Football Association (MDFA) Elite and Super Division. Ranjeet Pandre, a young and lanky striker, who joined Union Bank of India (UBI) this season and Sanjeev Verma who has been shielding the goal for Bank of India (BOI) in the Super Division.
Union Bank of India (UBI) had a great season in the top-flight of Mumbai Football. The Bankers ended up finishing third in the table behind Champions ONGC and Air India. Ranjeet played an instrumental role in UBI's terrific season who also finished as the runner-up in the RCF Nadkarni Cup 2018, losing to Air India in the last minute.
Along with Scott Ray D'Souza, Bryce Miranda, and Valentine Pereira, UBI formed a lethal attack which was unique and pleasing to witness. Ranjeet also went out to represent Maharashtra in the Santosh Trophy where he was their top-scorer. Ranjeet: "I am very delighted to receive this award in my very first season. Our campaign started brilliantly but a couple of loss against Air India and ONGC changed our fortunes. But finishing 3rd is a great achievement, I owe my teammates a lot."
Ranjeet's superb form and consistency earned him the best striker award for the Elite Division in the recently concluded MDFA Awards Night 2018. This was nothing but a dream year for Ranjeet whose dedication and tenacity helped him to shape his present.
Just like Ranjeet, Bank of India's Goalkeeper Sanjeev Verma inspired his club to finish fourth in the Super Division. But the interesting part lies somewhere else. Sanjeev is nearing the end of an inspiring football career. He is the senior-most player in the Bank of India side and guiding them to one of their best season finish is the best the veteran goalkeeper can offer.
Sanjeev Verma: "This was one of our best seasons. I am very delighted to win this award and I hope to continue the same form each time I step on the field. The very moment we signed Shailesh, it brought maturity and experience in our team. We had someone to guide and command the players from the back."
Sanjeev's reflexes and distributions are the ones to adore for any aspiring goalkeeper. It was quite fitting to see him getting the best goalkeeper award in the MDFA Awards Night which clearly proves an old adage – "Success has no age limit."
On one hand, we have Ranjeet Pandre who has just kick-started his ambitious football career in Mumbai, while on the other hand, we have Sanjeev Verma who has lived his football dreams wholeheartedly in the city of dreams. Two different personalities, making one state proud – "Chhattisgarh."