Transfer day deadline: What this means for Northeast United
The highlanders haven't announced a single foreign signing till now while other ISL clubs and even I league teams have been busy this transfer window
India has never seen a frenzied transfer window in a long time like their European counterparts but this season has been an exception. With I-league and ISL both set to run parallel and with the tournament now extended, Teams have been on look out for getting some quality foreign signing to boost the squad as well as attract fans. Aizawl, East Bengal, Mohan Bagan from I-league have been very active in this regard bring in fresh new foreigners while Shillong Lajong too announced a bulk foreign signings recently.
Back in ISL, Clubs have been busy in the transfer market too while few clubs looked for marquee signings others recruited players with previous ISL experience. But there has been one team that hasn't announced a single foreign recruit so far. Northeast has always taken pride in giving home grown players a chance and are in fact one of the biggest producers football talents in India. But the highlander's in-activeness in the transfer market as baffled a lot of fans.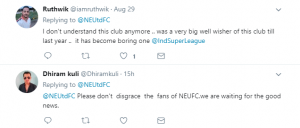 As the transfer window closes on 31 August, the opportunity of buying players from different clubs closes with it too. Even loan deals will be unavailable; the only option that Northeast will be left with is looking for free agents. While looking for free agents are not a bad idea since it saves the transfer money involved between clubs, it definitely reduces the talent pool available with the fact that Northeast United have not got even one signing should also be considered.
NUFC Fans have been quite vocal about this transfer silence on online platforms, urging the club to get some one. While the clubs had foreign players in previous season they have failed to impact the league having failed to qualify for the last four in the previous seasons. The effect of not bringing anyone in the transfer window will only be known once the season starts.
Also Read: FIFA Legends to join U17 WC Trophy Experience in Mumbai