Mumbai FC 0-0 East Bengal – Five things learnt
The dust has settled on an intense affair at Cooperage on Sunday which saw Mumbai FC hold Kolkatan giants East Bengal to a 0-0 draw. Once again Mumbai FC proved to be hard nut for East Bengal to crack as Sunday's draw stretched Mumbai FC's five game unbeaten run against the Red and Golds.
The result in the end was a fair reflection of the game which was clearly a tale of two halves with the home side dominating the first, while the visitors edging the second, leaving both managers scrapping about what might have been at the end of the ninety minutes.
Half a week on from tightly contested clash, we analyze what those ninety minutes in Mumbai taught us.
New Guards, but old resolve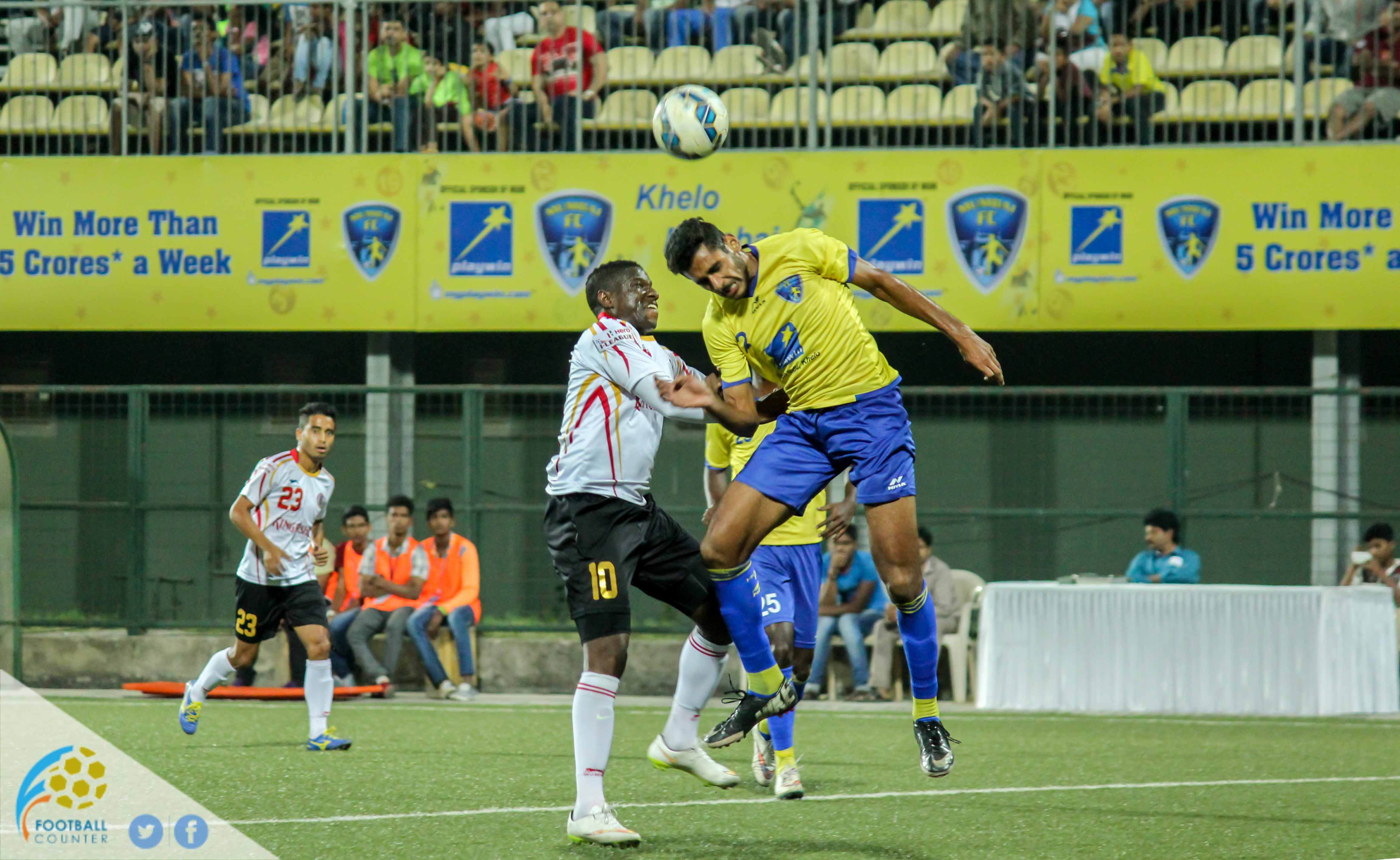 Nothing would have pleased Head Coach Khalid Jamil more than back to back clean sheets to start the I-League season. Although he would have loved a win at home in the first home game, Khalid Jamil would be quite delighted to have kept the back door shut against one of the most fiercest attacks in the country.
The characteristic isn't new about Mumbai FC with Chika Wali and Justine Stephen forging together one of the most solid defensive pairings in the league, but both leaving the club at the end of last season, the odds were against Khalid Jamil to reproduce a partnership of that strength.
It might still be early days, but by the looks of it Min Chol Son and Pratik Chaudhary proved on Sunday that it will take some doing to get past them. The duo completely shackled I-League's all-time leading goal scorer Ranti Martins and the Nigerian rarely had a sight of the goal. With the consistent Ashutosh Mehta and young Clyde Fernandes flanking them, Mumbai FC once again sport a secured rearguard.
Is East Bengal over-reliant on Ranti Martins for goals?

East Bengal failed to convert a host of changes which came their way in the second half as they had to settle for a point to take home from Cooperage. However neither of the chances fell to the man, the visitors would have most wanted them to fall to, Ranti Martins. Ranti was heavily marked by the Mumbai FC center backs during the game and that profited the once playing around the Nigerian. Winger Sanju Pradhan had two glorious chances to make the breakthrough for East Bengal, but he both of them. Similarly, Bikash Jairu, Harmanjot Singh Khabra and Do-Dong all had chances to give East Bengal the three points, but none could stick their efforts into the back of the net, although the latter was denied by a good save.
East Bengal's opponents to come might take note of this fact and probably unearth a weakness in Biswajit Bhattacharya's side. There is still time though for East Bengal to put that right, but with the all-important derby against Mohun Bagan coming up, the East Bengal attacking players will be urged to have their scoring boots on.
Khalid Jamil is yet to figure out his best attacking combination


Khalid Jamil's starting eleven had a bit of a surprise element about it. Jamil started with three wide players in the team, but two of whom started the game centrally. Jayesh Rane who spent most of the time playing on the wings last season, started in the hole behind the striker, ahead of Arata Izumi, who was handed a slightly deeper role besides the industrious Taisuke Matsugae. Eric Brown, who had usually played in the number ten role started wide out on the left. This combination did seem to work well in the opening half an hour of the game, but proved to be largely ineffective as the game wore on, before Jamil tweaked it by putting Jayesh Rane on the left flank as Brown switched to the right hand side. N.P. Pradeep was drafted into the number ten role.
That's three different combinations in two games already that Jamil has used in attack. With a plethora of attacking options, it seems Khalid Jamil is still trying to figure out his best combination going forward. He won't be too worried though as he is dealing with some really quality players and it is just matter of time before he gets it right. Maybe, Sunday's game against Salgaocar might be the day.
How will Bernard Mendy fit into this strong East Bengal team?


East Bengal announced in the week prior to the Mumbai FC clash that the club had acquired the signature of the former PSG defender Bernard Mendy who recently skippered Chennaiyin to their maiden ISL triumph.
East Bengal have made a good start to the I-League season, picking up four points from two away games so far and the team looks pretty much complete at the moment. Arnab Mondal and Bello Rassaq seemed to have formed a very good partnership at the heart of the East Bengal defense that has plenty of quality options in full back positions as well. Similarly, the central midfield too looks very strong with Khabra and Mehtab giving a very good account of themselves in Sehnaj Singh's absence on Sunday.
There is little doubt about Mendy's quality and the experience he brings to the side, but Biswajit Bhattacharya would need to take some harsh decision to accommodate Mendy into this already settled East Bengal side. This East Bengal side has been on a roll for a while now and one may wonder if Mendy's entry into the scheme of things, might unsettle, what looks like a complete and balanced side. But as the old saying goes, only time will tell what Mendy adds to this talented East Bengal side.
Winds of change at Mumbai FC?


Coach Khalid Jamil talked up making the leap to the next level in his post-match press conference when asked about his reaction to the result. With eight draws in their last eleven games in the I-League, Jamil stressed on converting the one point to three, especially at home. The overall make up of the squad this season and Mumbai FC's approach while signing players indicates to a change of sorts that's taking place at the club.
The team for once doesn't have a big centre forward or a target man in the squad which is blessed with plenty of creative players like Eric Brown, Arata Izumi, Jayesh Rane, N.P. Pradeep, Steven Dias, Taisuke and Malem Metei. It is difficult to imagine that a team with so many attack-minded players hasn't found the back of the net yet, but one must envisage the fact that the club is undergoing an evolution and the coach too is evolving with it.
To his credit, Jamil was able to curb his defensive instinct against East Bengal and field an attacking side and also come away with a decent result, adding to a credible point from Shillong. There is no doubt that Mumbai FC has the right ingredients, a good cook, but it might take some time to device the right recipe. But crucially for the Yellow Submarines, the evolution hasn't suffered a blow yet and results have been coming. It will be interesting to see what the Salgaocar game has in store for us.