I-league sponsor Coca-Cola committed to the Indian Football
NEW DELHI: Back in the 1980s, a Bengali kid, after his school used to run to the Maidan to spend the afternoon with his friends and obviously a football, his oxygen. 12 years later, the grown-up boy completed his graduation from Presidency College (Back in 1992, Presidency College was still under CU). After college, when others preferred to have a round of coffee in the Coffeehouse, this bloke used to think otherwise. The nonchalant football lover used to find his solace neither at the College Square nor at the Princep Ghat but in the dust of Maidan. 24 years passed since then, the South-Kolkatan completed travelling almost every corner of the globe but the football lover within himself is still unscathed, unhurt, perfectly nurtured.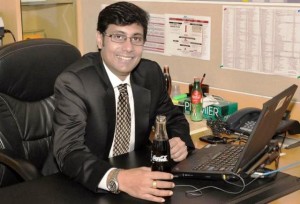 Debabrata Mukherjee, Vice President- Marketing & Commercial, India & Southeast Asia, Coca-Cola is an avid football lover since his wee days. The visionary, an East Bengal lover by heart, did not hide his agony as well as his ecstasy while discussing every nook and cranny of Indian football. On an exclusive tete-a-tete session with www.i-league.org, Debabrata Mukherjee aka Debu (he's mostly popular by this name) confirmed that he would be present at the Sree Kanteerava Stadium tomorrow when Kingfisher East Bengal will fight with Bengaluru FC to stay alive in their quest for their maiden Hero I-League.
EXCERPTS:
After a long time, you are going to watch a Hero I-League match at the stadium, that too when Kingfisher East Bengal are going to fight out to stay afloat in the league. How are you feeling?
Exactly, it has been a long time since I watched a football match from the stands, especially this season, I couldn't follow the Hero I-League closely, all thanks to my frequent travelling. Even I've some other commitments on 10th itself. Fortunately, my schedule is permitting myself to take some time out to go back to those days when I used to cheer from the stands.
As a partner of the Hero I-League and a friend of the entire football fraternity, I would love to watch an enticing 90 minutes of football. As the league is poised at a crucial juncture right now, we have no reason to think otherwise.
It's an open secret that since his childhood, Debabrata Mukherjee has a close bonding with Kingfisher East Bengal, let alone Kolkata football. Does the Vice President, Marketing & Commercial, Coca-Cola miss those days?
Yes, of course. Although I grew up as an East Bengal fan, I have good friends in the Mariners' camp too (laughs). Keeping that aside, I miss those Maidan days badly. Because of my hectic schedule, sometimes I fail to catch up with the day-to-day activities of Indian football, still I recall those golden days from the 70s when Bablu Da, Goutam Sarkar, Surajit Sengupta used to mesmerise us with their stupendous skills and authority over the game.
As you have been an avid follower of Indian Football, where do you notice the changes now?
Primarily, the mindset of the spectators and then comes the footfall at the Stadiums. I still remember the crowds thronging the stadium and their passion, oh absolute madness! We failed to capitalise on it and the European football entered our drawing room. Recently, the crowds, particularly, the young generation are coming back to their roots, the fans are reviving their passions. That's really a positive sign for the Indian football.
Barasat Stadium is drawing almost 10,000 strong crowd every day, it's massive. Mostly, I felt overwhelmed by the passion of the Mizoram people. The other day, I noticed they were even watching the match from the top of the hill, that's the passion for the game, that's the sublime love for football.
Now, from the Sponsor's point of view, which are those aspects those are yet to be cultivated?
See, a sport garners its own fan-following when the national team prove their mettle. In Cricket, our boys have done it, so they have the fanatic crowd behind them. As football is being played by more than 200 nations, the contest is tougher as well as demanding. Once we attain the benchmark, definitely the fan base will come our way.
Then comes our biggest challenge, the International football. In our childhood, we had no alternative apart from Mohun Bagan, East Bengal, Mohammedan Sporting. Now the scenario has changed completely. Just push the remote button and you can watch Manchester United, Arsenal, Real Madrid, Bayern Munich who are giants in world football. They can recruit a youngster pretty easily as a fan. That's the real test for our clubs, our league. From Sponsor's point of view, it's our target to overcome these hurdles along with All India Football Federation. U-17 FIFA World Cup might turn the table, we all are working closely towards it.
 U17 FIFA World Cup is going to be the biggest football extravaganza till date in India and Coca-Cola is one of the biggest supporters of the event. What are your plans for that?
We are working very closely with All India Football Federation for the upcoming U17 World Cup. Firstly, the 'Mission World Cup', which would propel more youngsters to come and play the game, it would play a major role towards popularising the game of football amongst them. Secondly, we have already lent our hand to run the training process smoothly. Coke has worked closely with Nicolai Adam setting up a few exposure trips, some of the training facilities so that our boys find themselves in best possible shape before the World Cup. Thirdly, the Coca-Cola Youth Cup is scheduled which will be an ideal platform for a youngster to prove himself. Remember, Nicolai is still on the road to find more talents. This Coca-Cola Youth Cup might be the stepping stone for a prodigy who might don the national colour in the forthcoming U17 World Cup. Then comes our consumer awareness programme, which will roll out towards the end of 2016, to encourage our fellow citizens to come to the stadium to cheer for our boys in the U17 World Cup.
If the boys fail to live up the expectation, will your business be affected to some extent?
Not really, at least, I don't feel that way. We believe in 'Moment of Happiness'. Every moment of the game must be cherished and that's what Coca-Cola believes strongly. That's why we are associated with the FIFA World Cup since 1974, that's the sole reason behind it.
It's going to be a historical moment for all of us when our boys will rub their shoulders with some of the great footballing nations. Be it U17, end of the day it's nothing less than a great show and fortunately, we're part of it. Regarding our business, these two aspects never cross their pathways. Even after Brazil's humongous loss in the World Cup semi-final against Germany, our business didn't get affected.
Coca-Cola is closely associated with Indian Football since 2007. Down the line after 10 years, how do you see the relationship growing?
See, none of us can predict the future, mostly in business. As you said, we are strongly connected with AIFF and since 2007 we have been hosting the Youth Cup. It has been truly a happening journey till now and definitely the association will grow stronger with time. Coca-Cola is committed to football and we can't think ourselves alienated from Indian football either.
By Shoubhik Mukhopadhyay
I-League Media