Five Mumbai FC players to watch out for this season
The new I-League season kicked off in grand style yesterday as title contenders Mohun Bagan and Bengaluru FC began the campaign with victories. Sunday will see East Bengal play their first match of the season away to Sporting Club de Goa where the Red & Golds will look to match their rivals' results. However, the name of Mumbai FC is being taken in the same breath as these three giants and many believe that Mumbai FC have strengthened enough to mount a genuine title challenge this season.
Touted by many as the 'Season of Hope', Mumbai FC season gets underway in chilly Shillong, few hours from now. Mumbai FC start the game as slight favorites, despite losing the previous game to their opponents today, by a margin of 6-0 not so long ago. That is down to the renaissance of sorts that has taken place in pre-season which saw the likes of N.P. Pradeep, Steven Dias, Arata Izumi, Eric Brown and Min Chol Son add to the side which already included Taisuke Matsugae, Jayesh Rane and Ashutosh Mehta.
So just as the season is about to get underway, we take a look at five players from Mumbai FC one needs to watch out for.
Taisuke Matsugae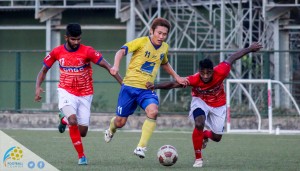 Taisuke was Mumbai FC and Mumbai FC was Taisuke. This sentence summed up Mumbai FC's season last time out as Mumbai FC failed to win a game when the magnificent Japanese midfielder was out of the side. Such is Taisuke's drive and industry on the pitch that his presence lifted Mumbai FC to the next level.
Looking at the season ahead, Taisuke has been installed as the skipper of the side and some of the signings which Mumbai FC have made have been on his recommendation. So Khalid Jamil has built a team around Taisuke, which consist of players with whom the midfield maestro has either played with before or knows very well.
From scoring goals from your own half, to making lung busting runs to finish off a counter attack, adding to his relentless running at the heart of the midfield, there is virtually nothing which the terrific midfielder doesn't offer. Head Coach Khalid Jamil knows, in Taisuke he has an ace in his pack.
Arata Izumi
There are no marquee signings in the I-League anymore, but Arata Izumi's arrival at Mumbai FC was no less marquee for the club and the fans after the Japanese born Indian midfielder was among the best Indian players in the ISL. Having scored the most goals in the ISL by an Indian midfielder, Izumi adds another dimension to the Mumbai FC attack.
Izumi has great technical ability and is extremely versatile. The former Pune FC midfielder can play anywhere in midfield, while retaining his ability to score and pick out defense-splitting passes. Arata's ability to speak Japanese could be a skill which is underestimated, but in a team with three more Japanese speaking players his command over both English and Japanese will be an asset to Khalid Jamil's set-up.
Not just wil Arata Izumi get the fans to the stadium, he will give them plenty of reasons to celebrate.
Ryuki Kozawa
Kozawa is an unknown quantity not just for the opponents, but also for the Mumbai FC faithful. Kozawa is expected to spearhead the Mumbai FC attack and a lack of a back-up of similar quality shows, how much Khalid Jamil has faith in the abilities of Kozawa. Signed from Polish Third Division side Gwardia Koszalin, Kozawa has the experience of playing in Europe which adds good credibility to his ability.
Kozawa has pace to burn and many close to the club believe the Japanese striker is going to strike terror among I-League defenses this season. With a lack of quality back-up in the forward department, Mumbai FC's fate this season hinges a lot on Kozawa's performance.
There hasn't even been a glimpse of him so far, but it is this unknown factor that could make Kozawa so dangerous for the opposition. If he can get among the goals, Mumbai FC will be there or thereabout at the top of the I-League table.
Min Chol Son
North Korean Center Back Min Chol Son was signed from Shillong Lajong ahead of the season to replace Chika Wali who joined Dempo after last season. Son is no alien to Indian Football, having spent three years at Shillong Lajong and played sixty one times for the Meghalaya club.
Son is an imposing presence in defense, one which Khalid Jamil has always liked to have in his ranks. The Korean who was born and brought up in Japan, is also a leader and one which demands hundred per cent from those around him.
Son will have to forge a center back partnership Anwar Ali who too has loads of experience having represented the Delhi Dynamos in the ISL recently. Son is critical to Mumbai FC as the creative players will always have an assurance having him in the defense.
Jayesh Rane
Jayesh Rane, the Indian Neymar as he is called is an absolute darling of the Mumbai FC fans. His local fan base is ever present in the stands at Cooperage cheering him on as he tries to weave his magic on the wings.
The last few months have been huge for Jayesh Rane, having won the ISL and most importantly being the provider for Stiven Mendoza's title clinching goal. Rane received high praise from Chennaiyin manager and former World Cup Winner Marco Materazzi who called Jayesh's attitude on and off the pitch of the standards of some top European players.
This I-League season is expected to see the coming of age of Jayesh Rane and the twenty two year old might prove to a real potent weapon for Khalid Jamil's side. He is already a star in these parts of the world, but the kind of growth that Rane has graphed in the last year or so, you would believe that the mazy winger might just be waiting to take the I-League by storm this season.