Phalguni Singh's goal takes North East United into the semifinals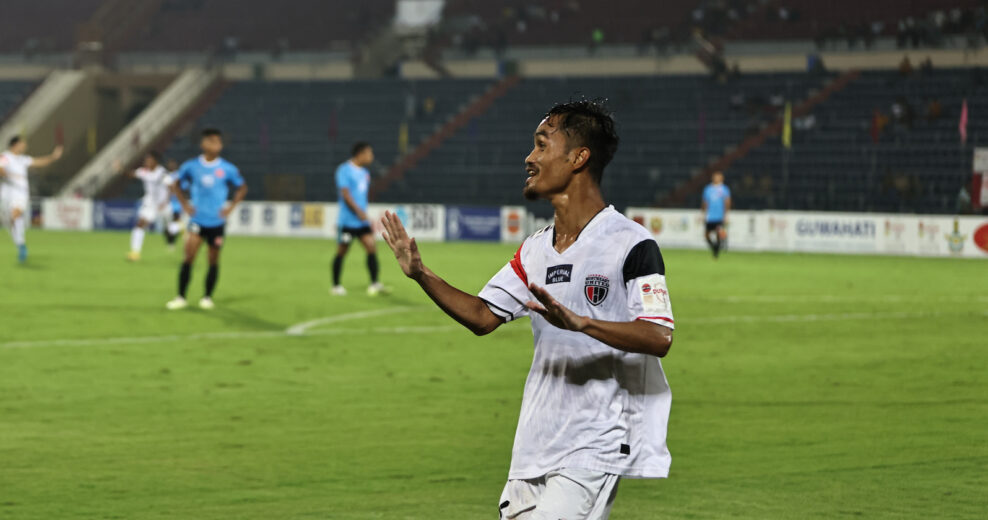 Konsam Phalguni Singh's second-half goal was enough for ISL side North East United FC to overcome a spirited Indian Army Football Team in the first quarterfinal of the 132nd IndianOil Durand Cup played here at the Indira Gandhi Athletic Stadium.
In a thrilling encounter at the 132nd IndianOil Durand Cup, North East United FC secured their place in the semi-finals by defeating a spirited Indian Army Football Team with a score of 1-0. The intense quarterfinal match took place at the Indira Gandhi Athletic Stadium, leaving football enthusiasts on the edge of their seats.
Indian Army, led by Head Coach L. Anthony Ramesh, made tactical changes to their starting lineup, bringing back Captain Bhabindra Malla Thakuri after suspension, along with Liton Shil. On the other side, North East United FC's Head Coach Juan Pedro Benali made strategic alterations, introducing Soraisham Dinesh Singh, Gaurav Bora, Gani Ahmed Nigam, Redeem Tlang, and Konsam Phalguni Singh into the starting lineup.
The game kicked off with North East United quickly asserting dominance in midfield possession. Indian Army adhered to a defensive strategy, focusing on organized counter-attacks. Liton Shil tested NEUFC's goalkeeper Mirshad with a long-range effort, followed by a combination with Rahul Ramakrishnan, whose shot narrowly missed the target.
NEUFC responded by pressuring Indian Army's defense, with French midfielder Romain Philippoteaux's curler hitting the crossbar. Rochharzela had a golden chance to take the lead for NEUFC but sent his shot over the crossbar. Indian Army, meanwhile, started pressing higher and generating attacking opportunities.
Liton Shil's skillful maneuvering inside the box resulted in a shot that was saved by Mirshad. Just before half-time, Samir Murmu had a chance to put Indian Army in the lead, but his shot veered wide, and both teams entered the break goalless.
The second half saw a tactical shift as North East United FC's Juan Pedro introduced Manvir Singh and Nestor Roger as substitutes. The move paid off when Nestor's precise cross-field pass found Manvir Singh, whose header set up Konsam Phalguni Singh to score the decisive goal. Singh's precise finish beat the goalkeeper and the rushing defenders, giving NEUFC a vital lead.
Indian Army intensified their efforts to level the score, increasing their attacking pressure. However, they struggled to find the finishing touch in the final third. On the flip side, North East United FC's second-half substitutes, Jithin M.S and Manvir Singh, caused trouble for the Army defense with their runs down the wings.
As the match neared its end, Indian Army launched a final push for an equalizer, injecting fresh energy with substitutions to enhance their pace. Despite mounting pressure on NEUFC's defense, the Highlanders remained resolute, preserving their one-goal advantage and securing a coveted spot in the semi-finals.
This hard-fought victory propelled North East United FC into the next stage of the tournament, showcasing their determination and strategic prowess. The spirited clash highlighted the passion and competitive spirit of the Durand Cup, thrilling football fans across the nation.
Also Read: Mumbai City to play AFC Champions League home games in Pune
Also Read: AFC Champions League 2023-24: Mumbai City FC set to challenge Neymar's Al Hilal
Follow us on Facebook, Twitter, and Instagram for all the latest happenings in the world of Indian Football