MFA Super League Week 1 Recap: Goals, Drama, and Thrilling Action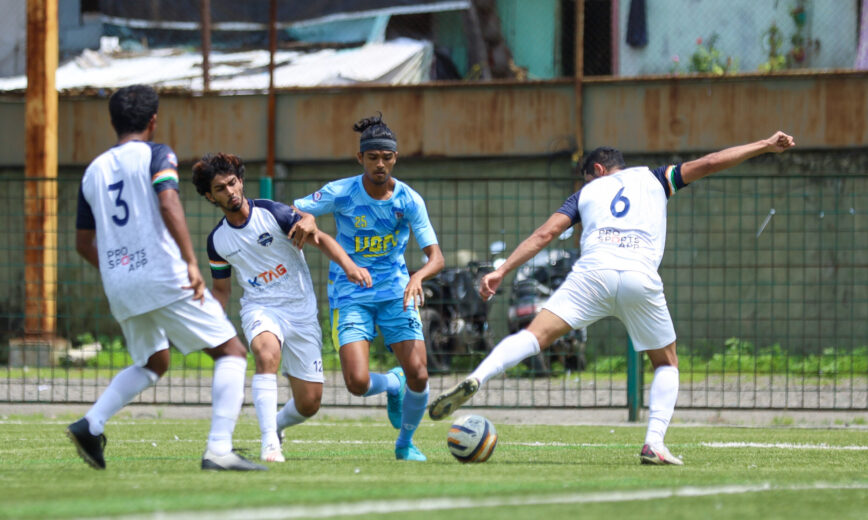 From late-game heroics, defensive masterclasses to sensational comebacks, the opening week of MFA Super League had it all.
The MFA Super League burst into action with an exhilarating Week 1 that left fans on the edge of their seats. From last-minute winners to dominant displays, here's a comprehensive round-up of the exciting action that unfolded during the opening week
Game 1: Mumbai Marines SC vs. Young Boys SC (1-0) In the opening match, Gaurav More's late strike sealed victory for Mumbai Marines SC against Young Boys SC. The 1-0 win set the tone for a thrilling week of football.
Game 2: Salsette FC vs. Millat FC (3-1) Devansh Chavan's stellar performance, including a double, propelled Salsette FC to a triumphant 3-1 win over Millat FC, offering a flying start to their campaign.
Game 3: West Zone United FC vs. Charkop FC (1-0) West Zone United FC displayed their strength with a solid 1-0 victory over Charkop FC, laying the foundation for what promises to be an exciting season.
Game 4: Soccer XI FC vs. Tarun Sporting FC (0-0) Soccer XI FC and Tarun Sporting FC battled to a goalless draw, showcasing their defensive prowess and setting the stage for intense clashes ahead.
Game 5: Skorost United FC vs. ROQS FC (3-2) A sensational comeback by Skorost FC, coming from two goals down, stunned ROQS FC with a 3-2 victory. Shubham played a pivotal role in the second-half revival for Skorost United.
Game 6: Mumbai City FC (U19) vs. Young Guns FC (4-0) A dominant season opener for Mumbai City FC (U19) saw them trounce Young Guns FC 4-0, highlighting their ambition in the competition.
Game 7: Somaiya FC vs. ICL Youngstar FC (6-0) Somaiya FC made a brilliant start, crushing ICL Youngstar FC 6-0, showcasing their potential as strong contenders in the league.
Game 8: Oranje FC vs. KSA Junior's (2-1) Rahul-Prateek's dynamic duo secured victory for Oranje FC as they edged past KSA Junior's 2-1 in a thrilling encounter.
Game 9: Mumbai Soccer Prodigies vs. United Villagers WA (3-0) Mumbai Soccer Prodigies delivered a dominant performance, blanking United Villagers WA 3-0, with Nihal Colaco, Gaurav Adhikari, and Varad Parab as the goal scorers.
Game 10: India On Track vs. FSI (4-0) India On Track announced their presence in style, dismantling FSI with a convincing 4-0 victory. Nathan Braganza scored twice, while captain Saurabh Nikam and Joshua Dsouza added one each.
Week 1 of the MFA Super League showcased the passion, skill, and unpredictability that make football the beautiful game. With exhilarating matches and memorable performances, the stage is set for an incredible season ahead. Stay tuned for more thrilling action as the MFA Super League unfolds.
Also Read: Mumbai Soccer Prodigies clinch a convincing 3-0 win over United Villagers WA
Also Read: Punjab FC signs Colombian forward Wilmar Jordan Gil
Follow us on Facebook, Twitter, and Instagram for all the latest happenings in the world of Indian Football