Best Tweets from the Indian Football Stars
When the two Sunil shares the same birthday. Yeap, both Indian Football Team legend Sunil Chhetri and Sunil Grover from the Kapil Sharma show shares their birthday on the same date, 3rd August.
I bet you didn't know this. 
The level of Bromance between Robin Singh and Eugenson Lyngdoh is too damn high.
It's amazing how a single tweet of 140 words can make you explain what India is all about.  I don't see a Christian , a Muslim and a Hindu in this picture. All I can see is brotherhood, love and respect for each other.
In Which country but India can this be witnessed ?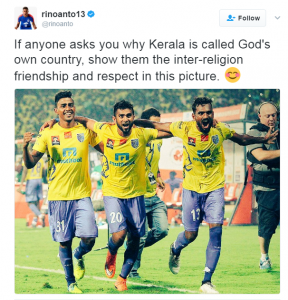 One of  the best feeling in the world is when you see two of your Legends sharing a moment like this.  The tweet from Gurpreet is enough to make any Indian football fan's heart melt.
Baichung Bhutia is so good at that trademark bicycle kick of his that he will be able to pull it off even when he will turn 50 years old. I have got no doubt about it.
Girls are leaving no stones un-turned to flirt with Robin Singh and I on the other hand can't even get a reply back from them.By the way, why is she calling him a Doctor ? Is it because of Robin Singh's Clinical Finish?
Santosh Kumar, a Bengaluru FC fan tweeted this to Sunil Chhetri and I could'nt resist myself from sharing this with you all.
When the Guy, who has been making every other striker in the ISL and I-League look like a MAMU , finally becomes a Chachu. Pardon my poor joke.
Sandesh here, is talking about his nephew Ivaan Jhingan.
Hahahah ! Amrinder literally won the internet that day.  But what's up with Vineeth ?
Dayum ! I had no idea that Girls too can flirt just like us boys do untill I came across Robin Singh's twitter account.
Forget Casanova, Robin Singh is the real deal.
We will end the Article with this motivational tweet from Gurpreet Singh Sandhu.