Saurabh Nikam hat-Trick powers India On Track to 6-0 victory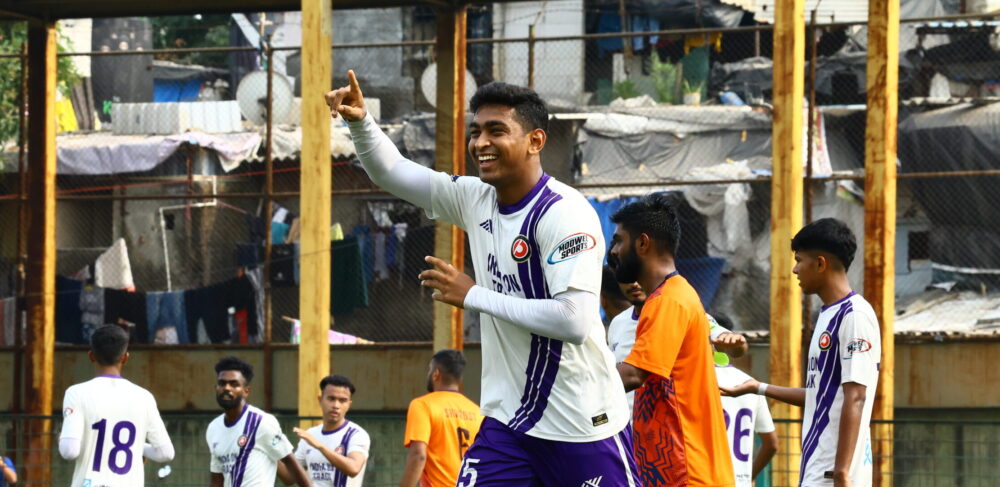 In a commanding display of football prowess, India On Track (IoT) riding on Saurabh Nikam hattrick orchestrated an emphatic 6-0 victory over Skorost FC in MFA Super League encounter.
Right from the outset, India On Track asserted their dominance with an aggressive style of play that set the tone for the entire match. The initial opportunity materialized from an unexpected blunder by the Skorost goalkeeper, presenting IoT with a free-kick just outside the box. Sana Singh's spectacular attempt was met with an equally impressive save, keeping the score level early on.
Throughout the game, IoT's adept control of possession posed a formidable challenge for Skorost, who struggled to seize momentum against the relentless IoT side.
The breakthrough came in a moment of individual brilliance as Sabestine Almeida, positioned on the wings, unleashed a looping shot that sailed over the keeper and dipped perfectly into the net. Ending the first half with a 1-0 lead, India On Track showcased their dominance.
The second half witnessed a thunderous start for India On Track as they swiftly doubled their lead. In the 51st minute, a well-orchestrated play from the midfield to the left wing resulted in Leisemba's cross, met by Saurabh Nikam's impeccable header into the back of the net. Nikam did well to arrive late into the box and head the ball ahead of Skorost's goalkeeper.
Maintaining their relentless attack, Saurabh Nikam doubled his tally in the 78th minute, collecting the ball outside the box, maneuvering past his marker, and unleashing a powerful shot from 25 yards out that beat the keeper, extending IoT's lead to 3-0.
India On Track continued their goal-scoring spree in the 84th minute when Leisemba skillfully bypassed his marker, danced into the box, and delivered the ball to an unmarked Veron Koli for an easy tap-in, making it 4-0.
Shortly after, Saurabh Nikam orchestrated another goal, making a penetrating run into the box before cutting it back for Anurag PC. The latter's clinical first-time shot eluded the keeper, further widening the scoreline to 5-0.
In the dying moments of the game, Saurabh Nikam received the ball on the left wing, drove into the box, and fired a low shot that deflected off a defender into the Skorost net, sealing the resounding 6-0 victory for India On Track.
Despite Skorost's efforts, they struggled to find their footing and create significant chances in the second half. IoT's cohesive play and attacking prowess left Skorost grappling to counter their aggressive approach.
In the end, India On Track's skillful and dynamic performance secured a resounding victory, leaving Skorost with much to ponder in their future matches.
Other MFA Super Division results:
Tarun Sporting 4-2 Young Guns FC
Om Saidham SM 14 – 0 ICL
Millat FC (B) 0 – 10 Somaiya FC
For Fixtures and Standing and News on the MFA Super League: Click
Also Read: MFA Super League: Mumbai Strikers SC, Iron Born pick big wins
Also Read: MFA Super League: MSP holds Tarun Sporting to a hard-fought draw
Follow us on Facebook, Twitter, and Instagram for all the latest happenings in the world of Indian Football