Matchweek 5 Report: Missed opportunities and edge of the seat action mark Bengaluru FC's goalless draw with FC Goa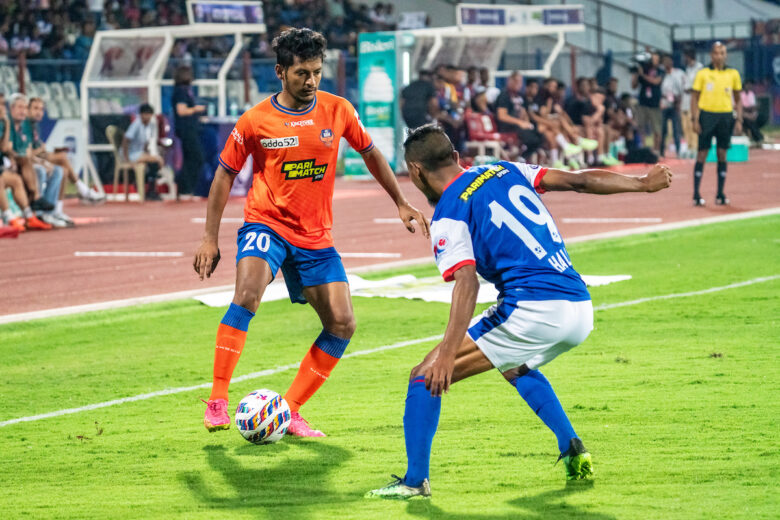 It is not often that a stalemate attracts resounding reception from the home crowd but the several close goal-scoring chances that led to Bengaluru FC holding FC Goa to a 0-0 result at the Sree Kanteerava Stadium tonight defied that notion.
This match was always going to be gripping and gruelling, given that the two teams barely concede an inch whenever they lock horns against each other. The Blues hold a formidable record over the Gaurs in the Indian Super League (ISL), with the latter having beaten Bengaluru only thrice in 14 contests thus far. Tonight, it appeared that the home side would record their eighth win in the league over them, all thanks to their talismanic leader Sunil Chhetri.
Nine minutes into the match, the striker had a fantastic opportunity with a headed effort.
Head coach Simon Grayson insisted prior to the game that his only objective at this moment is to make his team practice hard and implement those learning into the game. In a move straight out of the training ground, the 21-year-old Rohit Danu crossed in a delivery for his skipper and senior counterpart inside the box. Chhetri jumped impressively high, but one-time teammate and long-time friend Sandesh Jhingan joined hands with promising fullback Jay Gupta to deny the India skipper a goal that could have brought Kanteerava to its feet.
If Chhetri tried to get Bengaluru ahead on one end, seasoned goalkeeper Gurpreet Singh Sandhu ensured that the scores remained level on the other. Goa had their Spanish creative wizard Victor Rodriguez stepping up for a free kick, where all he did was dink the ball into the 18-yard box for striker Carlos Martinez. However, Sandhu stood tall and aware to thwart the ball from hitting the back of the net. The custodian was definitely not happy with the way his backline lined up for this set-piece, and he made it known with some instructions to his teammates.
That didn't stop the proceedings from calling him up for action once again, this time to stop a thunderous strike by Gupta. The ISL has given rise to new stars every other season, but for a 22-year-old left back to demonstrate such massive confidence not only whilst defending but also during taking serious attempts at notching goals for his side in an away game highlights the leaps and bounds by which youngsters have grown in their self-belief. Eventually, amidst substitutions and some tactical shifts, neither of the two sides broke the deadlock.
Key Performer of the Match
Gurpreet Singh Sandhu (Bengaluru FC)
The shot-stopper took on the challenge of the big game and lapped up the opportunity by making six crucial saves to steer Bengaluru to the draw. His tremendous presence between the sticks made it increasingly difficult for the Gaurs to find a way through him, but Gurpreet played an equally important role in consistently communicating with his defenders and helping them arrange in order during set pieces.
What's next for both teams?
FC Goa will next travel to Chennai to take on the Marina Machans on November 5, whereas Bengaluru FC will have an away fixture against Odisha FC on October 30.
Brief Scores
Bengaluru FC 0 – 0 FC Goa
Stat Pack:
For more information, visit our match center. Courtesy indiansuperleague.com
https://www.indiansuperleague.com/matchcentre/59436
Result :
Also Read: NorthEast United FC and Jamshedpur FC look to turn promising performances into victories
Also Read: MFA Super League: Maharashtra Oranje FC seizes win in nail-biting 1-0 showdown with Iron Born FC
Follow us on Facebook, Twitter, and Instagram for all the latest happenings in the world of Indian Football.